Seagull Scientific BarTender software is one of the leading label design and printing software on the labelling software market today. The software has revolutionised how people meet their labelling and barcode creation needs.
Today, Seagull Scientific offers two versions of the software: the traditional BarTender software and its newer, cloud-based counterpart, BarTender Cloud. Both versions of the software offer impressive features, but they have distinct differences.
To help you make an informed decision between BarTender software and BarTender Cloud, we have put together this ultimate comparison article. We will discuss the key differences between BarTender Cloud and BarTender software. We'll also provide some tips on how to choose between them to help you decide which one is most suitable for your needs. 
So, without further ado, let's dive deep into our comparison of BarTender Cloud and BarTender software.
BarTender Software Vs BarTender Cloud - The Main Differences
The key difference between the on-premise BarTender software and its new, cloud-based version, BarTender Cloud, is the hosting location.
While BarTender software is hosted on a personal computer or business server, the cloud-based version is hosted in the cloud. The difference in hosting location results in various changes and alterations in how users use, purchase and set up the product.
Other than the hosting location, there are a few other differences between BarTender software and BarTender Cloud. These include.
Printing flexibility

BarTender Designer tool

Online database integrations

Number of printers used

On-premise IT support

Software upgrade

Initial setup

System requirements

Subscription structure 
BarTender Cloud outshines BarTender software by enabling label printing operations from anywhere, on any printer, without requiring any on-premise printers and application licences. By eliminating the need for such licences, BarTender Cloud provides users with much more flexibility when printing labels. 
In contrast, the on-premise BarTender software requires users to have both an application licence for the PC or networked server using BarTender and a separate printer licence for each printer that prints labels. Such licences limit the number of devices and printers users can use, affecting their printing flexibility.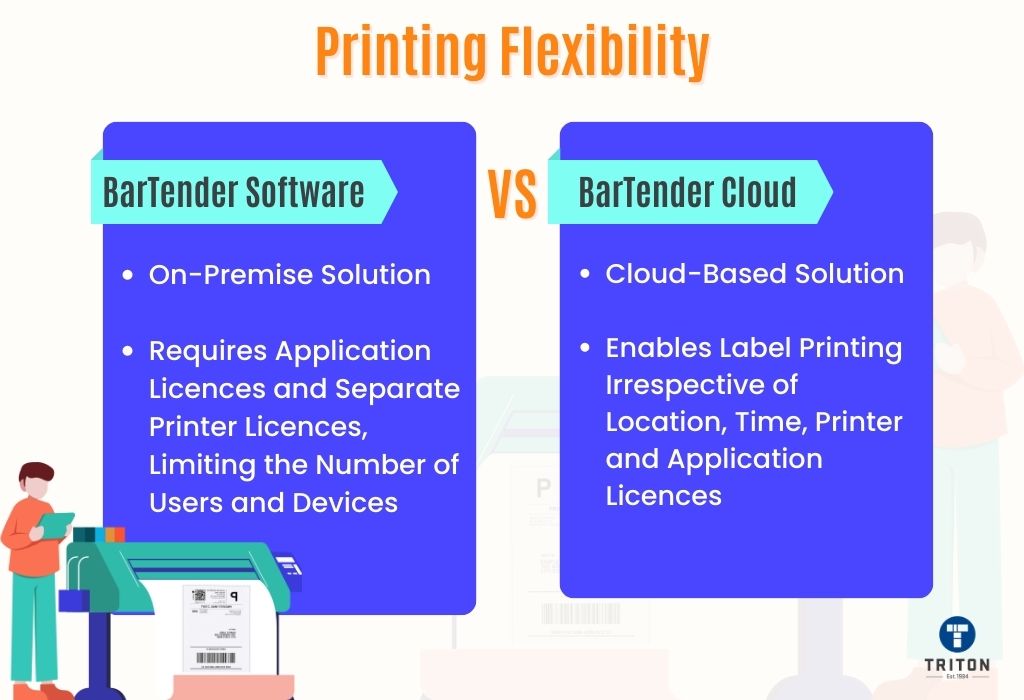 Initially, BarTender Designer was not available in BarTender Cloud, contrasting BarTender Software and Cloud versions.  However the latest release has now added the label design capability to BarTender Cloud. This innovative addition marks a significant milestone in the labelling software industry, being the first to enable label design entirely in the cloud.  
Key Features of BarTender Cloud Designer:
Cloud-Based Design: Users can now design labels directly in the cloud, offering unprecedented flexibility and accessibility.
Seamless Integration with BarTender Cloud: Combined with the existing BarTender Cloud platform, this feature allows for a complete end-to-end cloud labelling solution.
Elimination of On-Premise Requirements: The need for on-premise hardware and software is removed, streamlining the label creation process.
Reduced IT Support Needs: With cloud-based operations, the dependency on IT support resources is significantly lowered.
User-Friendly for Existing Users: Those already familiar with BarTender Designer will find the Cloud Designer intuitive and easy to use.
Cost-Effectiveness: As an existing feature for BarTender Cloud customers, the Cloud Designer is available at no extra charge, enhancing the value of the existing subscription.
This update enhances the capabilities of BarTender Cloud and aligns it with BarTender Software and the evolving needs of modern businesses, prioritising efficiency, accessibility, and user-friendliness. With BarTender Cloud Designer, designing and printing labels from anywhere becomes a streamlined, hassle-free process.
Online Database Integrations
BarTender software offers businesses an unparalleled level of flexibility with its database integration capabilities. The software is known for its ability to integrate with various databases, whether cloud-based or on-premise.
However, BarTender Cloud does not offer the same level of flexibility when it comes to database integrations.
Currently, BarTender Cloud supports only cloud-based databases, specifically Microsoft Excel Online and Google Sheets. However, Seagull Scientific has stated that more cloud-based integration options will be added in the future.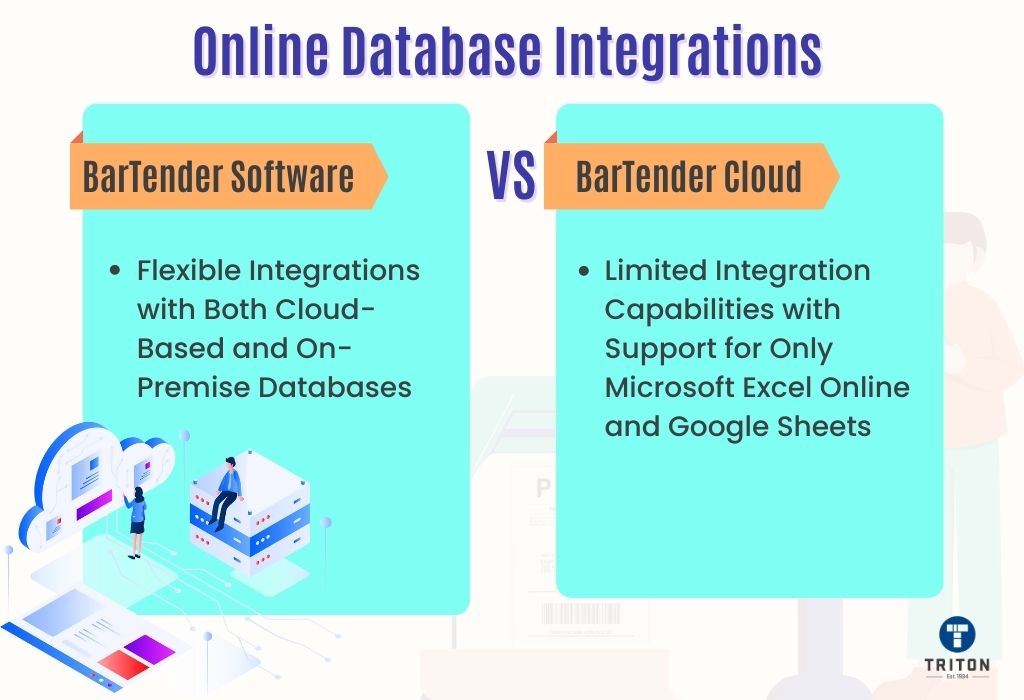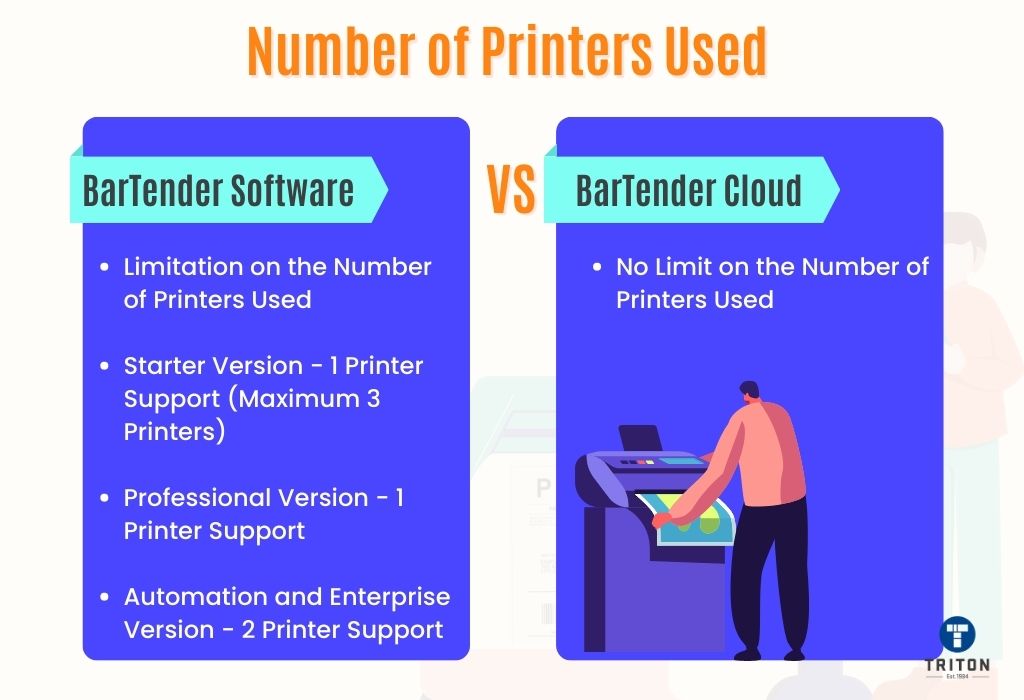 BarTender software has a limitation on the number of printers used. The number of printers allowed is determined by the BarTender version chosen. Each version already comes with a certain number of printer licences. However, if users wish to add more printers, they must purchase more printer licences as add-ons.
The Starter version of BarTender comes with one printer support and can have a maximum of 3 printers. Meanwhile, the Professional version comes with one printer support, and the Automation version and Enterprise version come with two printer support.
Please note that the Professional, Automation, and Enterprise versions let users add an unlimited number of printers by purchasing additional printer licences.
On the other hand, BarTender Cloud does not have any such limitation on the number of printers that can be used for printing labels. It allows users to connect to an unlimited number of printers. This makes it easier for businesses to scale up their printing operations without worrying about the licence limitations set by BarTender software.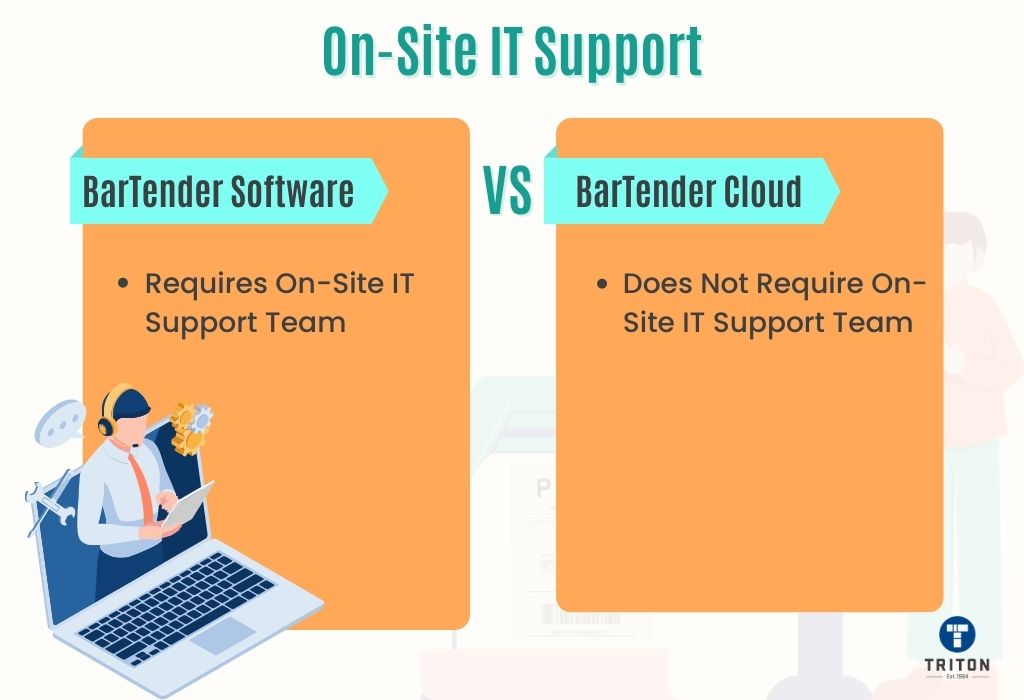 BarTender software generally requires users to have an on-site IT support team. This is because the software needs to be installed and configured on a computer or networked server. It also requires continuous maintenance from time to time to prevent any compatibility issues or security threats. Also, BarTender software requires printer drivers to be installed and managed on the computer or server it is hosted on.
On the other hand, BarTender Cloud does not require users to have an on-site IT support team. This is because the software is cloud-based and does not need to be installed or configured on a computer or server. Moreover, the cloud comes with Intelligent Printing that can auto-discover local and network printers and automatically print using one of nearly 8,000 Seagull Drivers, eliminating the need for printer driver management.
BarTender software requires users to manually install updates and upgrades in each client computer and server network they are hosted on. This process is time-consuming and tedious as it requires users to download and install the updates on every machine with access to the software.
In contrast, BarTender Cloud is automatically updated with new features and enhancements without any manual intervention from the user's end.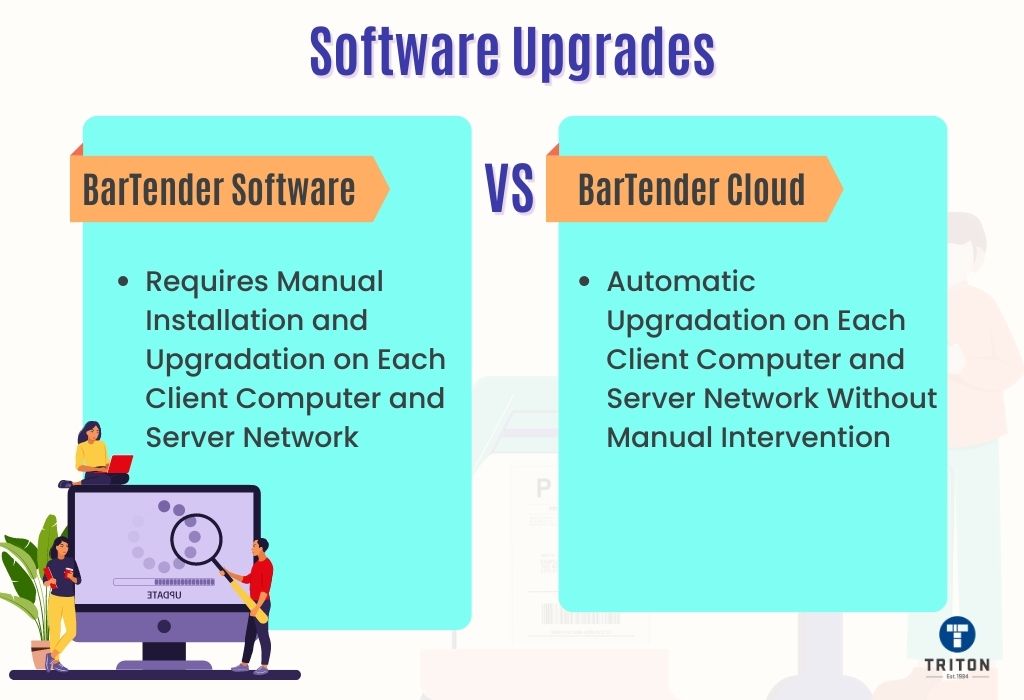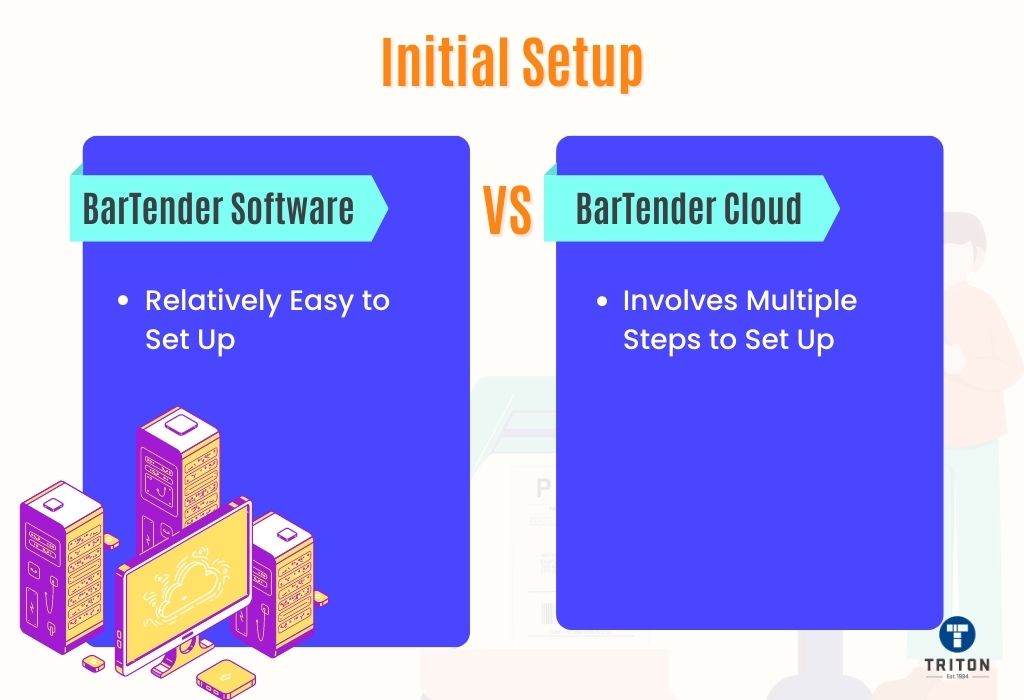 Getting started with BarTender software and BarTender Cloud is different. In comparison, BarTender software is relatively easy to set up and use.
For BarTender software, customers receive an email with a unique licence code along with a link to download the BarTender software. Once downloaded, customers enter their licence code and can start using the software.
For BarTender Cloud, customers receive an email with a unique login code and a link to BarTender Cloud. They then receive another email to schedule a one-on-one setup session with a BarTender representative. This session helps customers set up the software and start using it.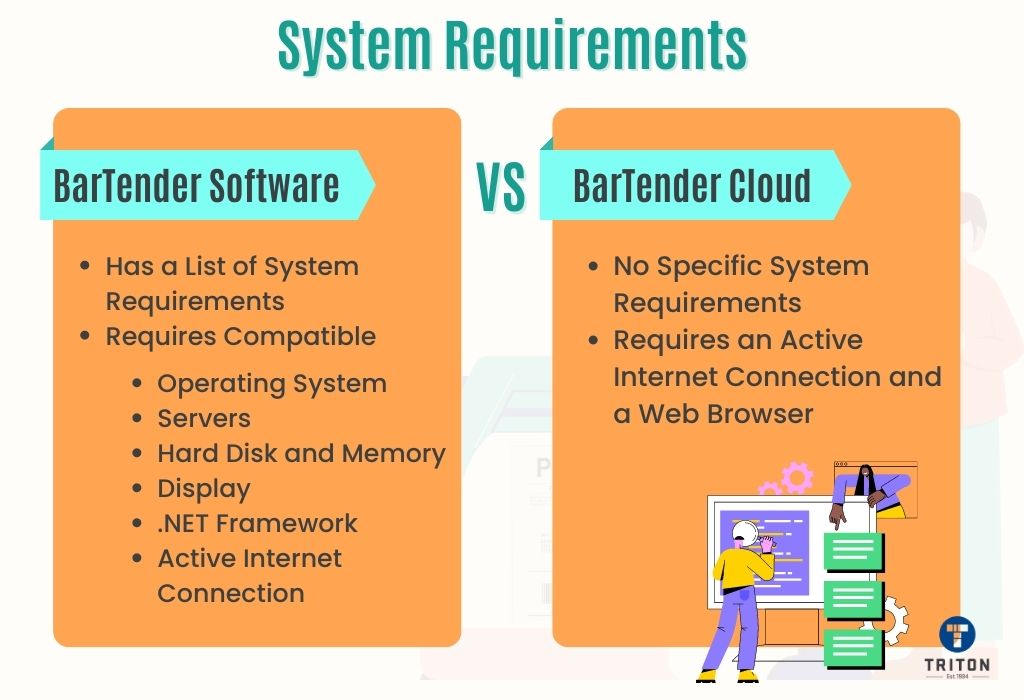 In order to run BarTender software, the following system requirements must be met.
Operating system (32-bit and 64-bit) – Windows 10, Windows 8.1, Windows 8, and Windows 7 with the latest Windows updates installed.

Servers – Windows Server 2019, Server 2016, Server 2012, Server 2012 R2, and Server 2008 R2 with the latest Windows Server updates installed.

Hard disk and memory for complete BarTender Suite Utilisation 32-bit – 4 GB RAM and 20 GB storage.

Hard disk and memory for complete BarTender Suite Utilisation 64-bit – 8 GB RAM and 20 GB storage.

Display – 1024 x 768 (Minimum). 1920 x 1080 or better (recommended)

.NET Framework – .NET Framework 4.7.2 (Minimum). Latest Microsoft .NET Framework version (recommended).

For database – Microsoft SQL Server 2012 or above (Express or Full edition)

Active Internet connection
BarTender Cloud does not require any specific system requirements; it is a cloud-based service that allows users to access the software from any device as long as it has an active Internet connection and a web browser (Chrome, Firefox, Safari and Microsoft Edge).
When it comes to purchasing, BarTender software and BarTender Cloud have different models.
BarTender software has four editions to choose from, namely, Starter, Professional, Automation and Enterprise. Each edition comes with a different set of features and functionalities. 
BarTender Cloud uses a subscription-based pricing model that requires an annual payment. There are two plans available: BarTender Cloud Essential and BarTender Cloud Automation. The price of each plan varies based on the number of labels to be printed annually.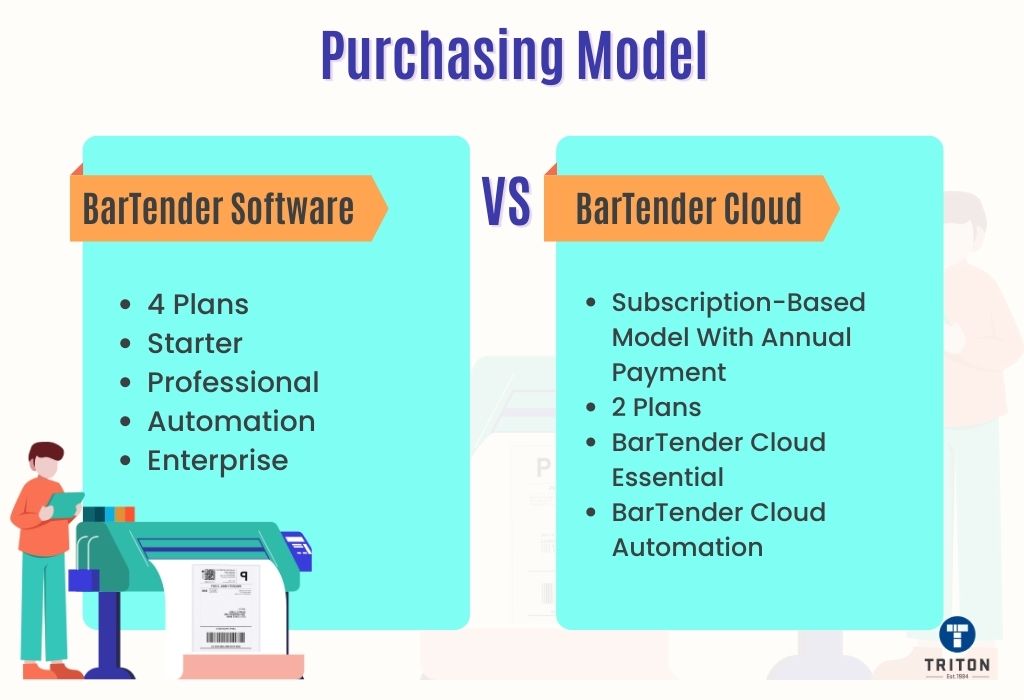 How to Choose Between BarTender Software and BarTender Cloud Software?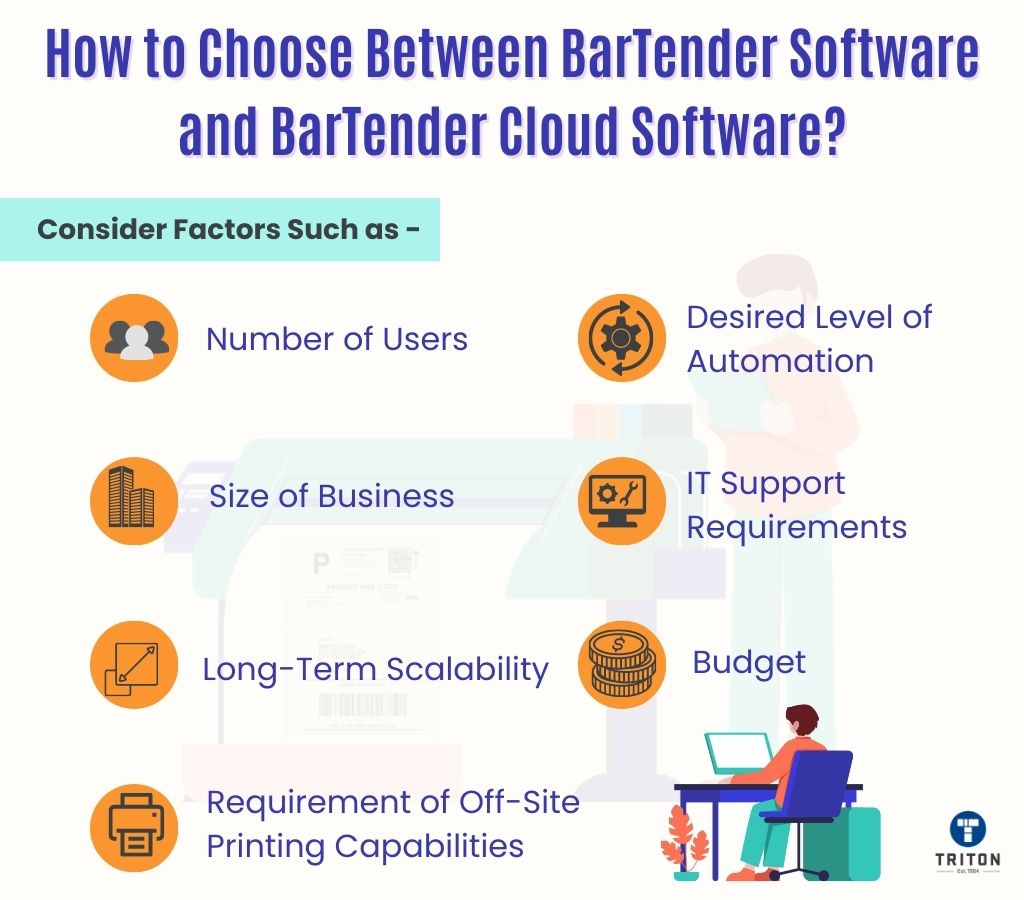 BarTender Software and BarTender Cloud are two excellent options for enhancing your label and barcode printing process. 
While BarTender Software offers a user-friendly desktop-based solution, BarTender Cloud provides a web-based platform that allows you to access your label data designs from anywhere. With both options offering a plethora of features, it ultimately comes down to your business's specific needs and preferences. 
Consider factors such as the number of users, the size of your business, budget, IT support requirements, desired level of automation, long-term scalability and whether or not you require off-site printing capabilities. Take the time to weigh the pros and cons of each option before making a decision. 
Regardless of your choice, BarTender's reputable name, reliable software solutions and excellent customer support are sure to help you achieve your label and barcode printing goals. 
BarTender Cloud and BarTender software are both powerful tools offering the means for businesses of all sizes to print various labels and barcodes. It is critical to consider the unique needs of your business, along with its potential growth trajectory, before deciding between these two powerful options. No matter which option you choose, Seagull Scientific's BarTender products will help ensure you meet your business needs efficiently and effectively.
Triton is delighted to be an official reseller of Seagull Scientific's BarTender products.
We strive to offer you unbeatable prices for BarTender software that you won't find anywhere else. The four editions of the software- Starter Edition, Professional Edition, Automation Edition and Enterprise Edition and the latest addition to the BarTender family – BarTender Cloud, are all available to satisfactorily meet your requirements.
Don't miss out on the opportunity to take advantage of the incredible savings and gain access to BarTender today!