You are currently in the Australian store.  If you are located in New Zealand please select the correct store below.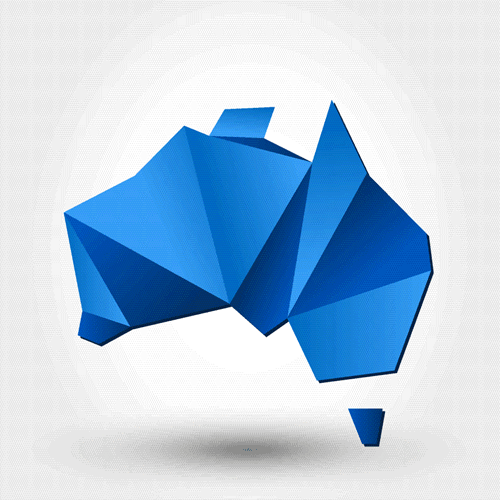 Australia
Honeywell Barcode Scanners
Introducing the advanced barcode scanning technology from Honeywell. With their expansive range of barcode scanners, you can now easily and accurately scan codes on any product, creating a more efficient and effective workflow. Whether you're looking for handheld scanners or corded/cordless scanners with built-in Bluetooth connectivity, we've got the perfect options in our range.
Barcode Scanner Attributes
All About Honeywell Barcode Scanner
Honeywell is a renowned provider of data capture solutions specialising in barcode scanners and mobile computers. Throughout its history, Honeywell has made strategic acquisitions of mobility and scanning companies such as Handheld Products, Metrologic, LXE, and Intermec. Such purchases have enabled Honeywell to diversify its product range and become a major leader in the barcode scanner industry.
Honeywell barcode scanners allow businesses to quickly and accurately capture data from barcodes, ensuring that every barcoding process runs smoothly and efficiently. Whether you're looking to use barcodes for inventory tracking, asset management, or something else, a Honeywell scanner can help you get the job done. 
Honeywell scanners are known for their innovative, high-grade area imaging technology and laser-based barcode reading technology. Their barcode scanners are of high quality and designed to be durable and reliable, allowing them to stand up to the rigours of everyday use.
Honeywell has a range of barcode reader models suitable for various industries, including healthcare, manufacturing, retail, and warehousing. With such an extensive selection of products, it is no surprise why Honeywell has become the go-to choice for businesses seeking reliable data capture solutions.
Types of Honeywell Barcode Scanners
Honeywell has succeeded in crafting a comprehensive range of barcode scanners uniquely designed to meet the ever-changing bar code scanning needs of customers in the most cost effective manner. Here's a quick overview of the types of barcode scanners Honeywell offers.
Refer to our guide on types of barcode scanners for a general overview of the different types of barcode scanners available in the market today.
General Purpose Handheld Scanners
Handheld scanners are lightweight scanning devices designed to be held in hand for scanning barcodes. They feature an ergonomic, pistol-like shape that promotes one-handed operation. 
Honeywell general-purpose hand held scanners are the perfect solution for businesses seeking to streamline and boost efficiency in their daily barcode reading processes. Built with versatility as a priority, Honeywell's scanners boast the ability to be deployed in a range of different settings, including.
Retail outlets

Inventory tracking

Library cataloguing

Tool tracking

Office management

Access surveillance

Light industrial applications
Honeywell's general purpose barcode scanners leverage state-of-the-art scan engines, empowering businesses to easily and accurately read damaged or distorted barcodes.
Additionally, Honeywell offers various barcode scanning solutions that integrate Bluetooth technology, allowing for simple plug-and-play installation and minimal downtime or disruption within the IT infrastructure.
Honeywell general-purpose barcode scanners are offered as both corded and battery-operated, cordless scanner models. They also offer scanners based on a scanning range (Standard Range (SR) and High Density(HD)) and the type of barcode (1D and 1D/2D) being scanned.
Visit our general purpose barcode scanner page to see our entire collection of general barcode scanners.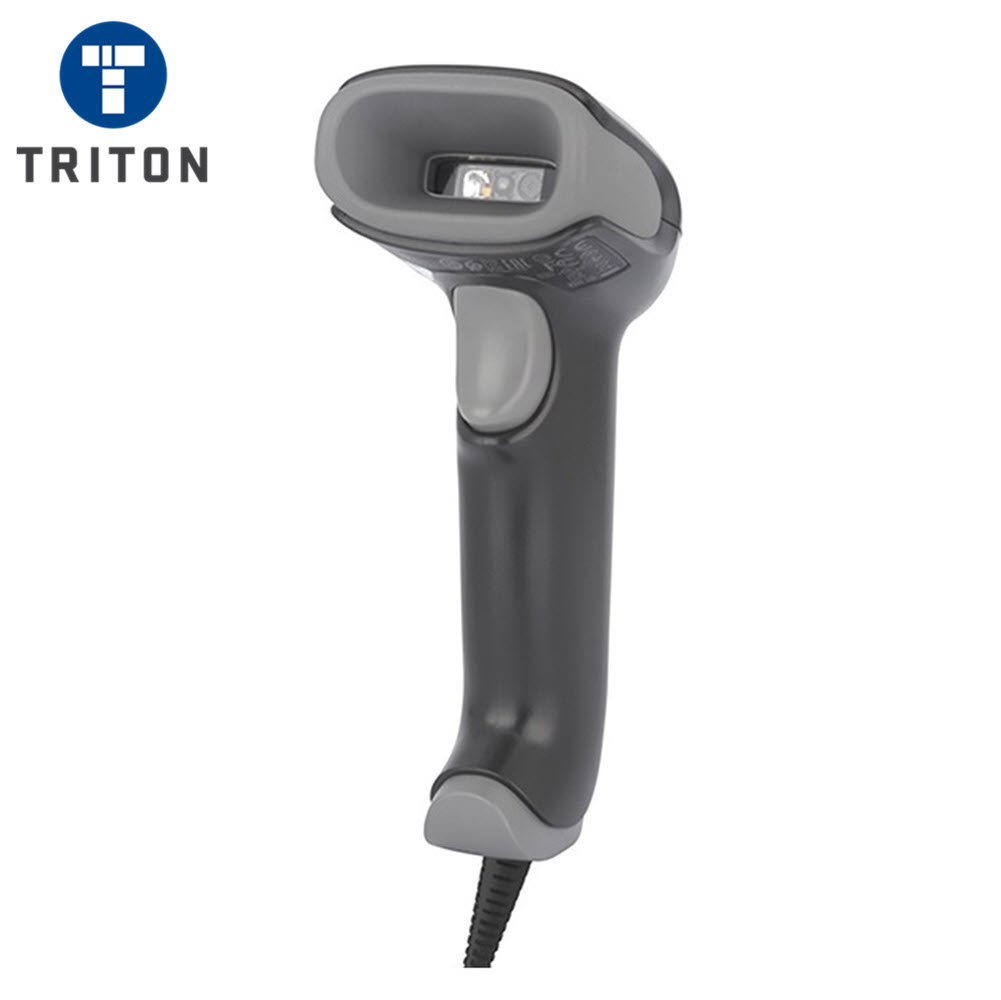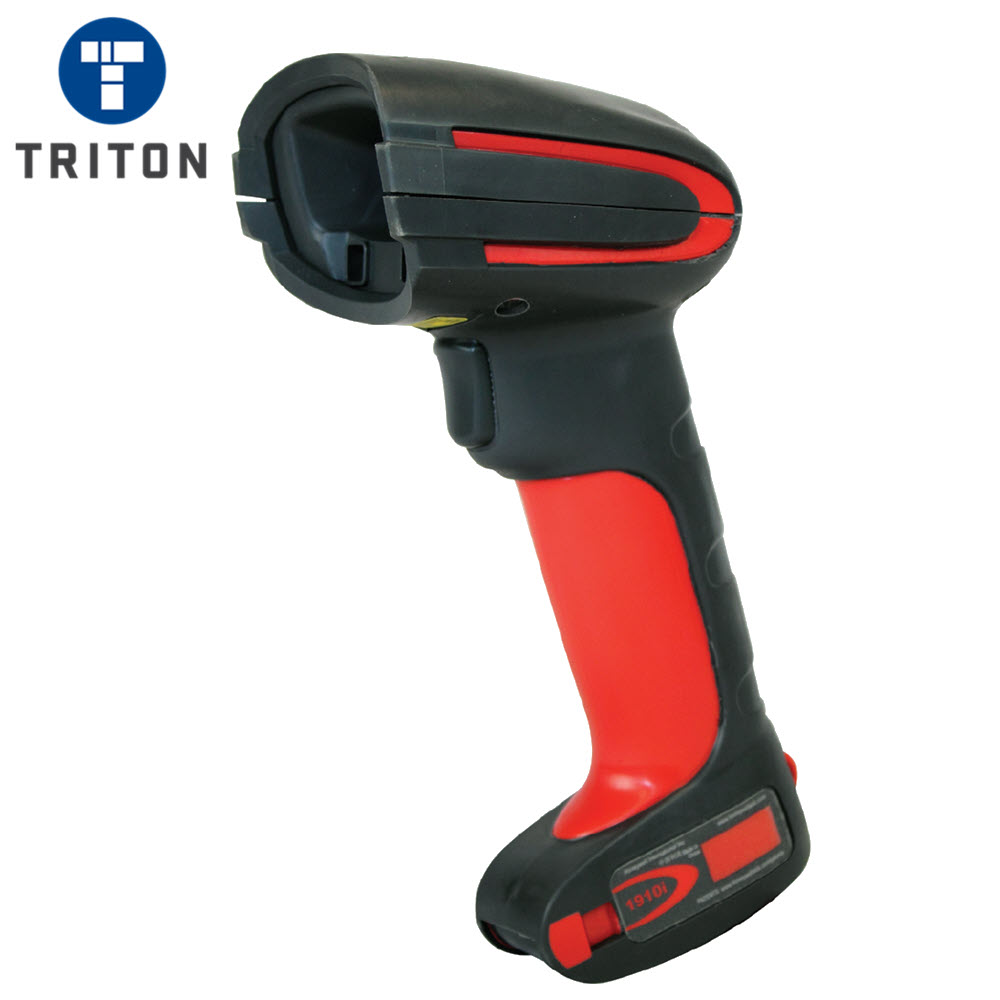 Rugged handheld scanners are hand-held devices specifically built to handle intense, high-volume use in demanding industrial and outdoor settings. The sturdy construction of these devices enables them to withstand shock, vibration, dust, moisture, and even extreme temperatures – making them ideal for tough working environments.
Honeywell rugged handheld, industrial-grade barcode scanners are designed to thrive even in the most challenging warehouse and manufacturing environments. Their precise engineering and strong construction ensure excellent scanning performance even with constant exposure to dust, water, accidental drops, extreme temperatures and other environmental hazards.
Honeywell industrial-grade barcode scanners are encased in durable, impact-resistant housings with water and dust-proof seals, ensuring a longer life span and lower long-term maintenance costs.
Honeywell produces an expansive selection of rugged handheld barcode scanners to meet the varied needs of different industries and applications. They have a variety of corded and cordless models.
Honeywell rugged handheld scanners models are further categorised based on three three scanning ranges which include FlexRange (XR), Long Range (FR/LR) and Standard range (SR) and different barcode decoding capabilities, which include 1D, 1D/2D, 1D/2D DPM (Direct Part Mark barcodes) and 2D only device.
Check out our rugged barcode scanner page to find the best-rugged barcode scanners for your needs.
Presentation Barcode Scanners
Presentation scanners, also known as On-Counter scanners, are devices specifically designed to be placed on countertops or desks for convenient barcode scanning. These scanners require the users to "present" the item's barcode to the barcode scanner's window for scanning.
Honeywell's presentation barcode scanners are a great choice for single-location workflows that require high-volume scanning and mobility, such as those in the retail stores, hospitality or transportation industries. These scanners have barcode reading speeds providing excellent customer experiences when digital loyalty programs or self-checkouts are utilised.
Honeywell presentation barcode scanners offer many features to streamline daily barcoding operations. Beyond simply decoding barcodes, these devices can also be used to verify identification, manage access control, process tickets, and deactivate EAS tags. Additionally, the scanners' image capture capability allows users to store digital copies of printed documents, personal checks, coupons and even damaged packages.
Honeywell offers two types of power connectors for their presentation barcode scanners – corded and M12. These scanner models are further classified based on the type of barcode they scan, which includes.
1D (only) (also called linear bar codes)

1D, 2D, PDF, Postal, OCR

1D/2D

 2D (QR, Datamatrix, Maxicode, Aztec)

 DPM

 PDF417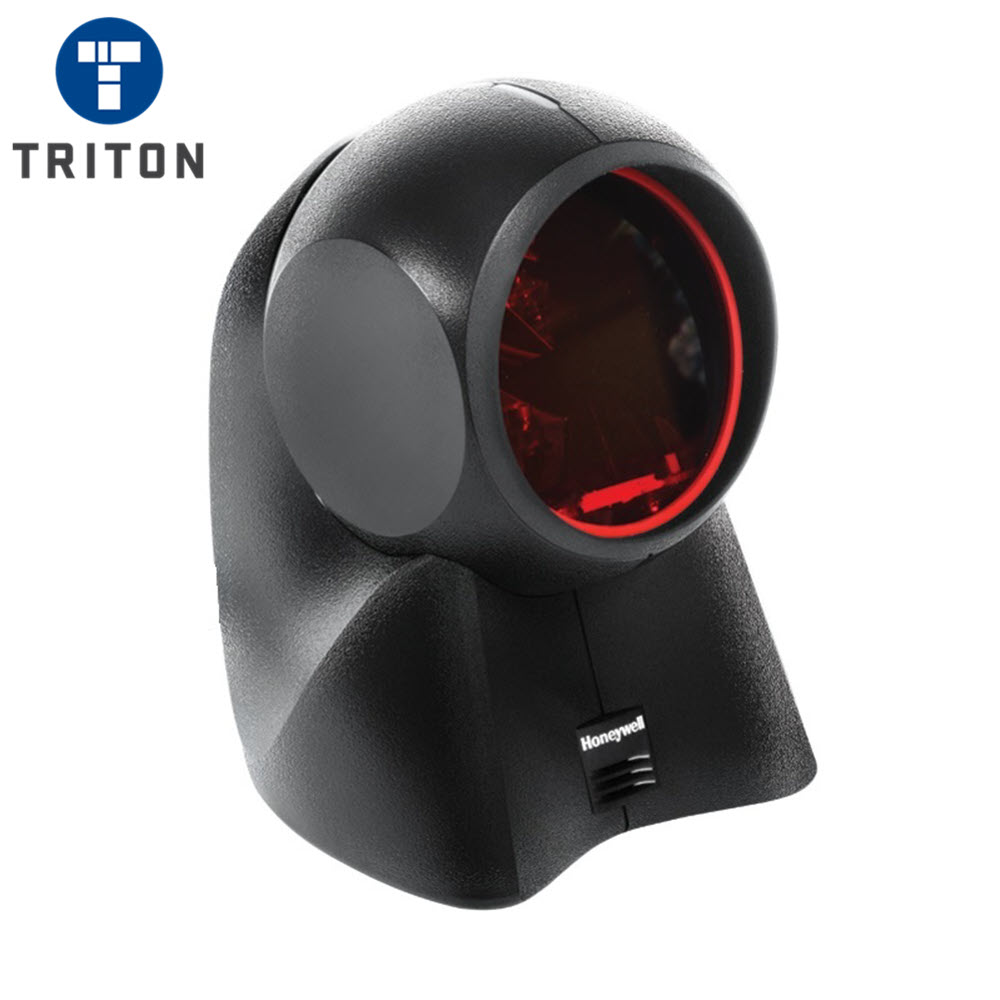 Wearable Barcode Scanners
Wearable scanners are portable devices designed to be conveniently attached to the user's body, such as their hand, wrist or finger, to facilitate barcode scanning. These scanners feature a range of simple mounting mechanisms, including hook-and-loop closures, velcro straps, and clips, to ensure they remain securely fastened while scanning barcodes.
Honeywell offers a range of powerful and durable wearable barcode scanners featuring Bluetooth connectivity and rugged construction. These scanners were specifically designed for mobile workers carrying out barcode reading operations in different areas, such as retail stores, warehouses, and field service departments.
Honeywell's wearable barcode scanners provide fast and reliable barcode readings with their hands-free design, making it possible for workers to carry out tasks like sorting, packing, and putting away items quickly and safely. Additionally, these time-saving tools enable businesses to streamline their high-volume workflows more efficiently than ever.
Honeywell wearable barcode scanners are all battery-powered, provide a standard scanning range, and can read 1D and 2D barcodes.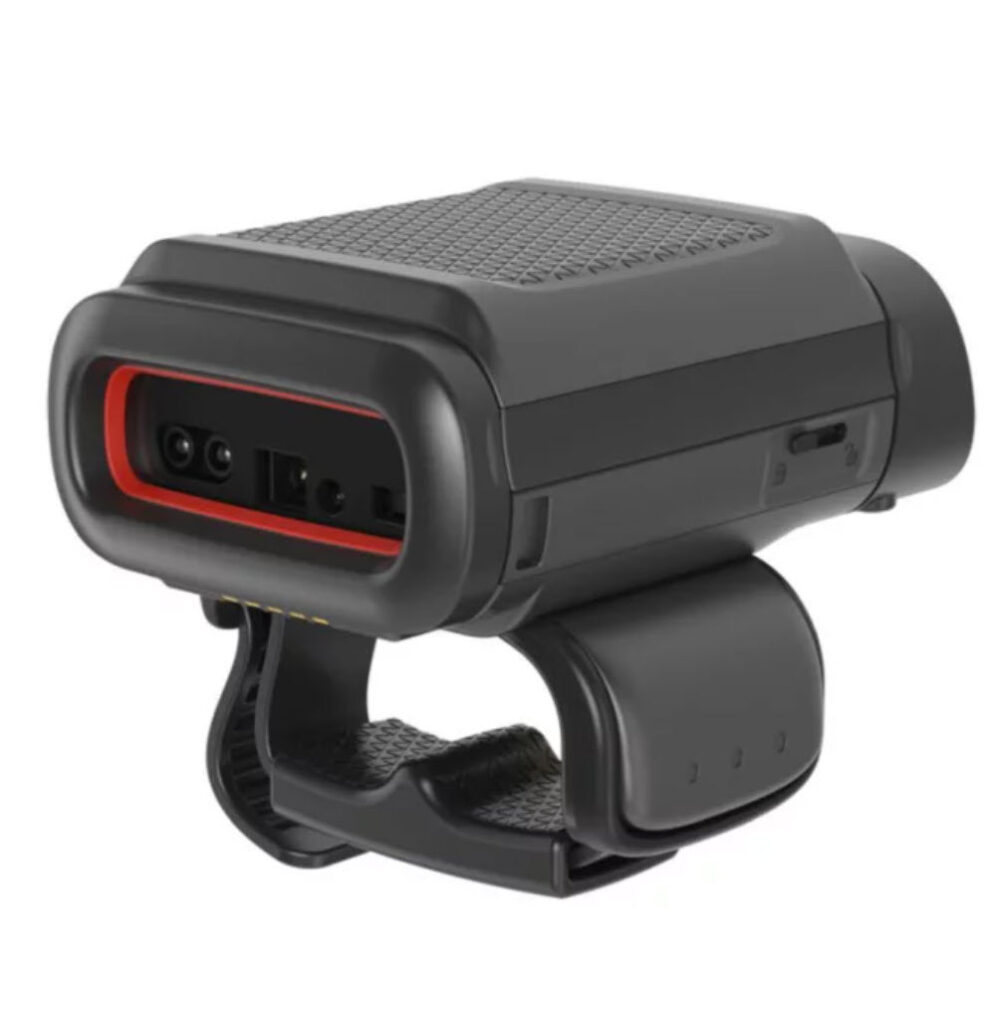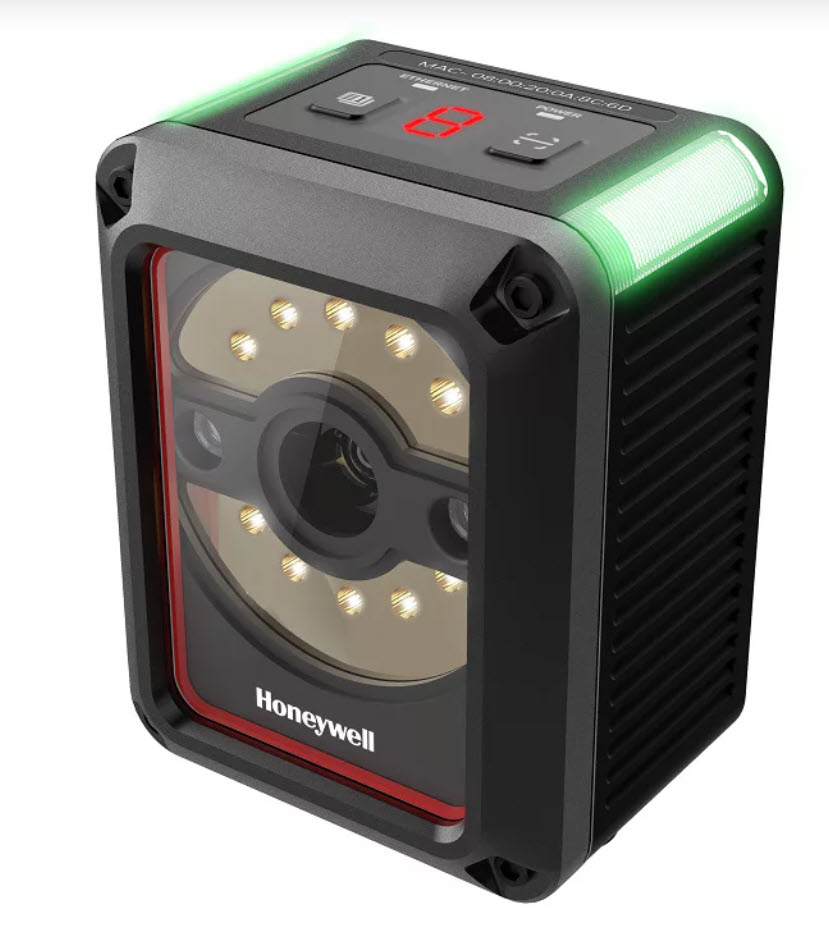 Fixed Mount Barcode Scanners
Fixed-mount barcode scanners are devices designed to be installed in a single, permanent location and can quickly and accurately read barcoded products as they pass by. 
Fixed-mount barcode scanners from Honeywell are highly beneficial for warehouses, distribution centres, and manufacturing settings where items move along conveyors or assembly lines. They have extremely fast scan speeds and can automate the barcode scanning process while reducing the risk of missed scans or the need to scan each item manually. 
Honeywell fixed-mount barcode scanner models are offered in two types of power connectors, RS-232 (100 V AC to 240 V AC, 50 Hz to 60 Hz) and M12. They have further categorised scanner models based on the barcode symbology they scan, which includes.
 1D Barcode

 2D (QR, Datamatrix, Maxicode, Aztec)

 2D Barcodes

 Aztec

 Datamatrix

 DPM

 Maxicode

 PDF417

 QR Code
All Honeywell fixed-mount barcode scanner models feature a standard scanning range of 22 mm to 480 mm (0.87 inches to 18.90 inches).
Check out our fixed scanner and sensors page to view our collection of fixed barcode scanners and sensors.
Healthcare Barcode Scanners
Barcode scanners play a critical role in the medical and healthcare industry, helping to ensure patient safety, accuracy in medication and protocols, and an overall increase in operational efficiency. In order to deliver the best care possible, all departments of a hospital must have a seamless communication system, as well as a barcode-based identification system.
Honeywell provides healthcare barcode scanners specially designed to fulfil the requirements of hospitals and medical facilities. These scanners boast easy-to-use, fast, and precise scanning capabilities, enabling hospital staff members to rapidly scan patient wristbands, medication labels, and sample tubes.
Additionally, Honeywell healthcare barcode scanners can read barcodes even if they have been damaged or have poor quality, reducing time wasted on each scan and increasing overall productivity.
By incorporating Honeywell's high-performance healthcare scanners into their workflow, medical professionals can reduce errors such as incorrect patient identification during admissions or before procedures, administering medications or meals, or when collecting specimens.
Honeywell healthcare barcode scanners are available in both corded and cordless models, with Standard Range (SR) or High Density(HD) scanning capability. All healthcare barcode scanners offered by Honeywell can read both 1D and 2D barcodes.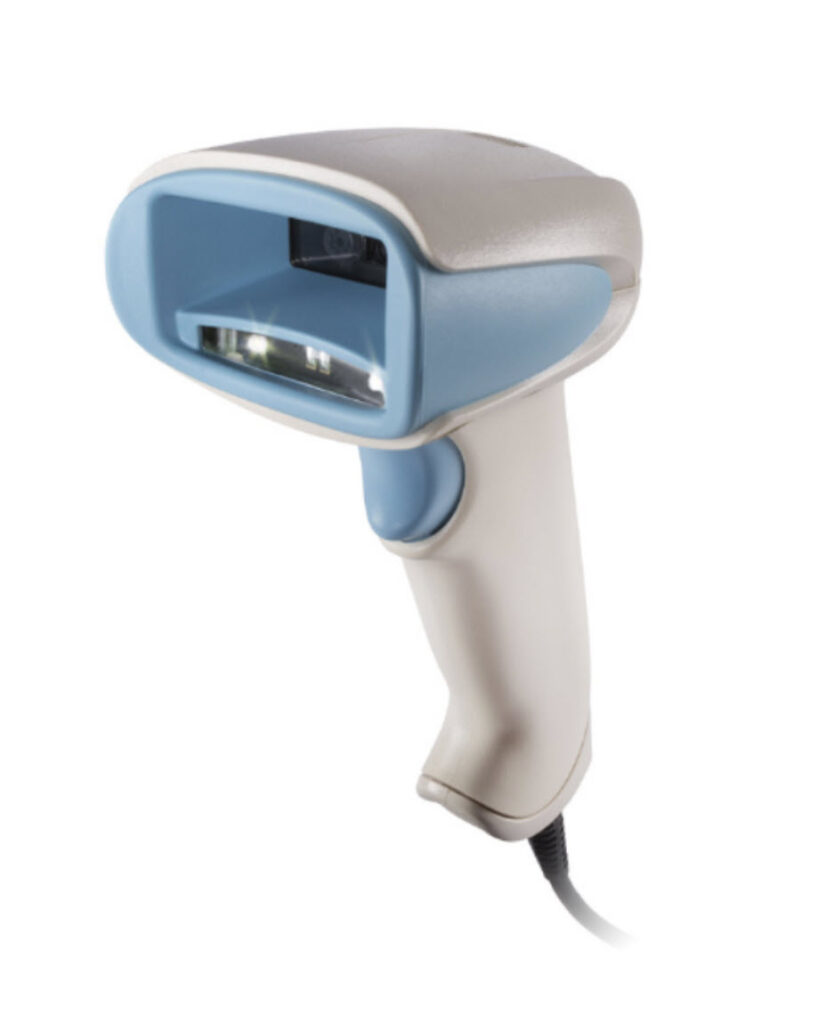 Who Makes Honeywell Barcode Scanners - A History of Honeywell Technologies
Honeywell Technologies Inc. is a leader in the development and manufacture of advanced sensing and control solutions for a variety of industries. Founded in 1906 by Mark C Honeywell, the company has since grown to become one of the largest multinational conglomerates in the world. Its products are used in commercial and industrial applications, including.
Aerospace and travel

Commercial real estate

Energy

Healthcare

Life sciences

Logistics and warehouses

Retail

Utilities for carbon neutrality
Honeywell Technologies is currently headquartered in Charlotte, North Carolina, United States. It is an American publicly traded company listed on the New York Stock Exchange (NYSE: HON).
Honeywell Technologies achieved a major milestone in 2021 when it was listed on the Fortune 100 list, ranking at 94th. In 2022, they achieved even greater success and moved to the 74th position on the Fortune 100 list. Their success is a testament to their dedication to developing advanced technological solutions and innovative products and remaining competitive in today's ever-changing market.
How Did Honeywell Enter the Barcode Scanner Market?
In 2007, Honeywell Technologies Inc. made a significant move in the field of mobile data collection and industrial computing by acquiring the well-known company Hand Held Products for $390 million. Hand Held Products was established in 1981 and was one of the world's largest imager technology-based barcode scanners manufacturers.
The successful acquisition allowed Honeywell Technologies Inc. to take advantage of Hand Held Product's long-standing expertise in developing and producing advanced scanning solutions. This allowed Honeywell Technologies Inc. to begin producing their own barcode scanners and enter a competitive market that was already dominated by more established manufacturers.
Later, in 2008, Honeywell Technologies Inc. made another significant acquisition when it purchased Metrologic Instruments for approximately $720 million. Metrologic Instruments was founded in 1968 and has flourished in the field of laser scanning, mobile imaging and remote scanning. At the time of the acquisition, Metrologic Instruments had over 350 registered patents and an additional 130 patents pending.
The acquisition of Metrologic Instruments was another significant step forward for Honeywell to expand their scope and access new technologies that would help them stay ahead of the competition.
In 2011, Honeywell acquired EMS (Electromagnetic Sciences Inc) Technologies for approximately $491 million. EMS Technologies was established in 1968 and had four major divisions EMS Aviation, EMS Defense & Space, LXE and EMS Global Tracking. The LXE division manufactured vehicle-mounted, rugged, handheld, and wearable mobile computers that were eventually added to Honeywell's barcode reader product line.
In 2013, Honeywell made a major move forward in the automated identification and data capture industry by purchasing Intermec for an estimated $600 million. Intermec was founded in 1966 and was a renowned supplier of equipment such as barcode scanners, printers, mobile computers, RFID systems, voice recognition systems, and life-cycle services.
The impressive array of products combined with Intermec's ownership of patents in RFID technology enabled them to attract large Fortune 500 and Fortune 100 companies that accounted for 75% and 60%, respectively, of their customer base.
By acquiring Intermec, Honeywell was able to bolster its already extensive product portfolio by adding RFID technology, voice recognition systems and life-cycle services. Honeywell also gained access to Intermec's impressive customer portfolio, significantly increasing its annualised sales and market share in the automated identification and data capture industry. Overall, Honeywell's acquisition of Intermec has proven to be a successful strategic move that has paid off significantly.
In 2015, Honeywell acquired Datamax-O'Neil for $185 Million. Datamax-O'Neil was founded in 1977 and is a well-known barcode label printer manufacturer. The takeover of Datamax-O'Neil provided Honeywell with its software Movilizer and its impressive customer base. The acquisition brought considerable success to Honeywell in terms of revenue growth and market share expansion.