You are currently in the Australian store.  If you are located in New Zealand please select the correct store below.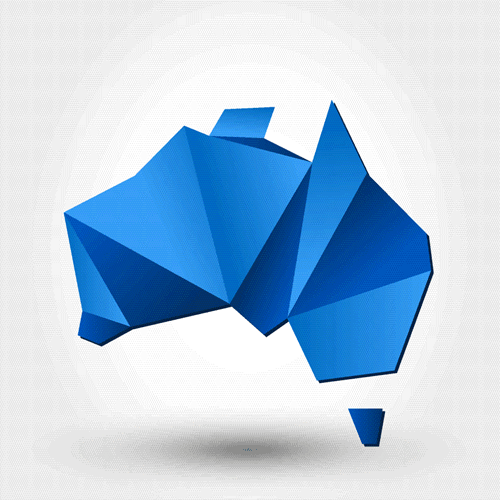 Australia
Honeywell PM45 and Honeywell PM45C Industrial Printer: Technical Details and Features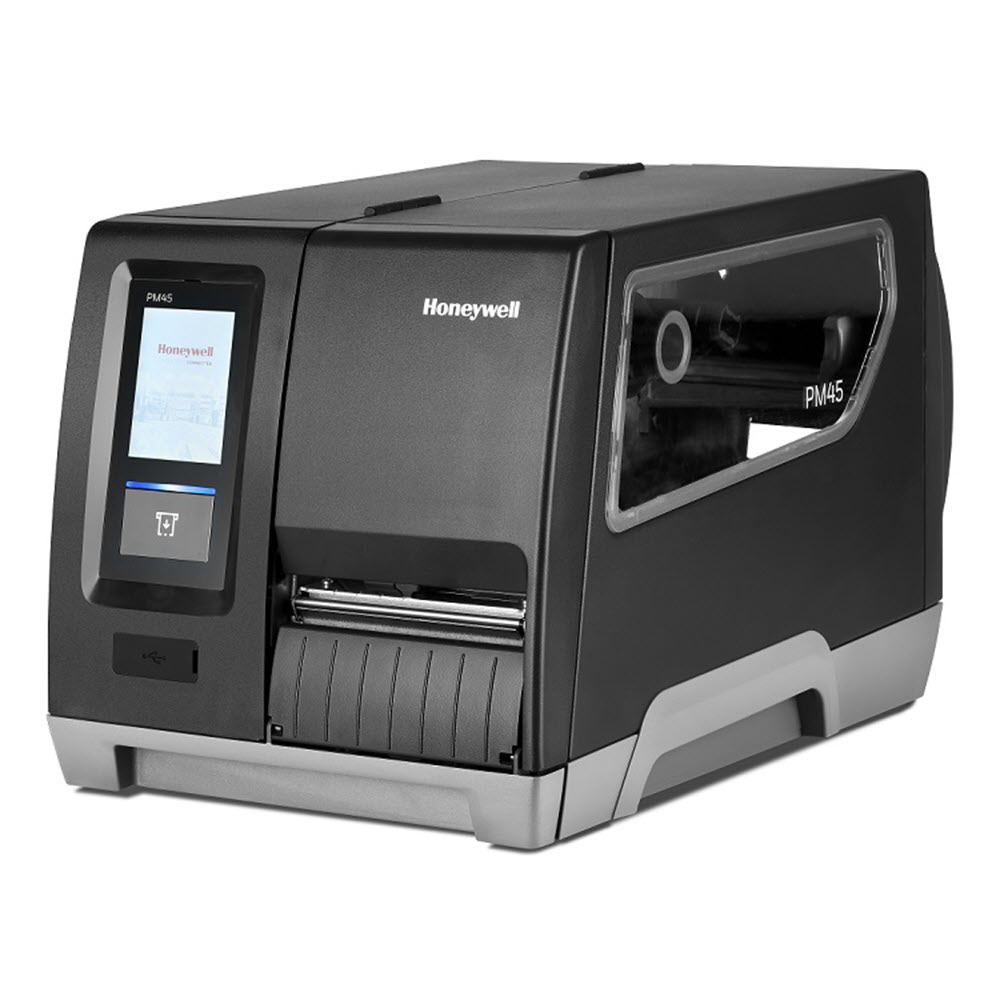 The Honeywell PM45/PM45C is a high-performing mid-range industrial printer. It is a newly upgraded printer that combines the features of the Honeywell PM43 and the I-Class printer into one device. 
The Honeywell PM45 is designed for smart label solutions. The printer helps enterprises enhance automation and intelligence in manufacturing and supply chain management for high operating efficiency.
The Honeywell PM45/PM45C features a robust design with many impressive technical details and features. This industrial printer is designed to provide an unmatched combination of reliability, connectivity, manageability, and affordability. 
The printer has a heap of features like Track-and-Trace Functionality, Honeywell Cyber Security, and Smart Printing. The printer is based on the Honeywell print platform, which provides high-volume printing at up to 14 inches per second. It also offers a high-resolution printing of up to 600 dpi.
The Honeywell PM45/PM45C is ideal for printing tags, labels, and barcodes. This printer is perfect for various applications, from warehouses and factories to healthcare settings and beyond.
Honeywell offers three variants of this printer.
PM45

PM45C

PM45C with Mega Door
All three variants are the same when it comes to the printing capabilities, connectivity options, and other features. The only differences lie in interface ports and structural specifications.
The PM45 has two USB host ports, one on the front and one on the back. The PM45C has only one USB host port on the rear panel.
Also, the three variants differ in terms of size and physical weight. Here are the dimensions and weight of each Honeywell PM45 industrial printer –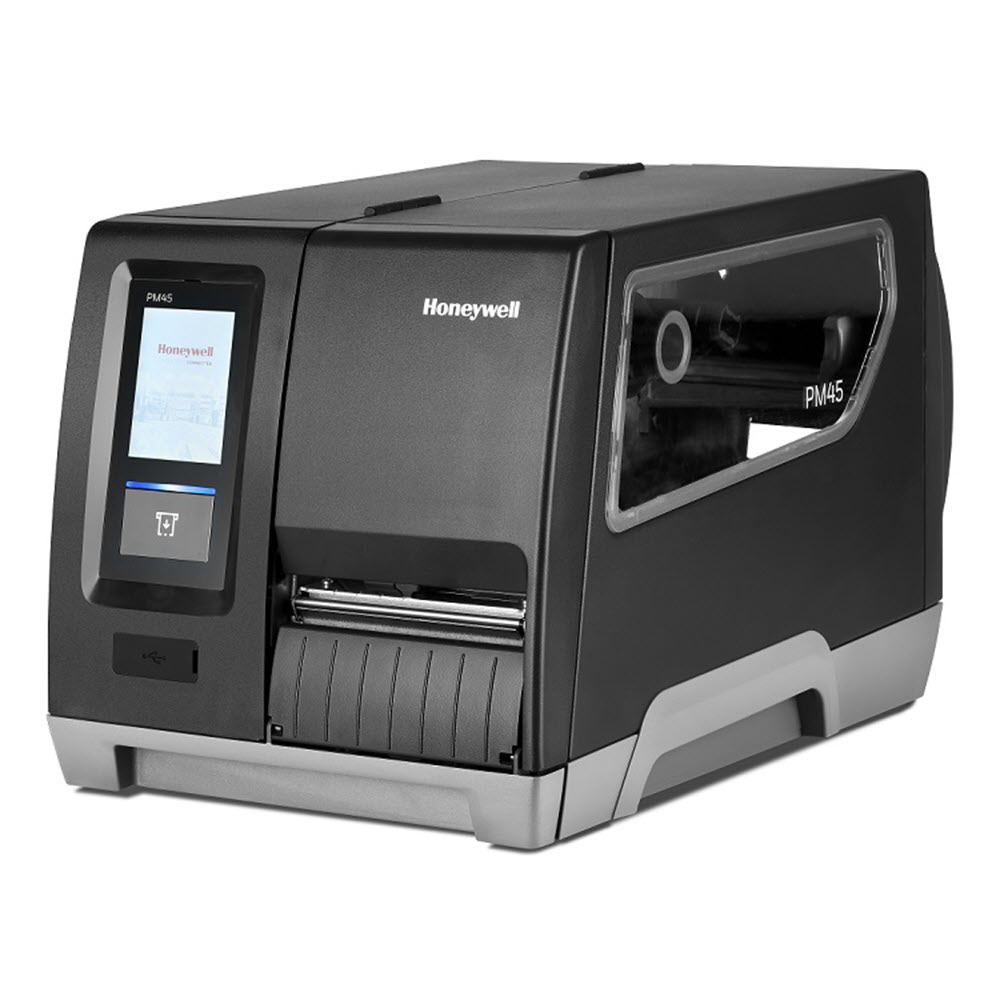 PM45
Dimensions (L x H x W) - 483 mm x 295mm x 284 mm (19.0 in x 11.11.6 in x 11.2 in) Weight - 13.2 kg (29.1 lbs)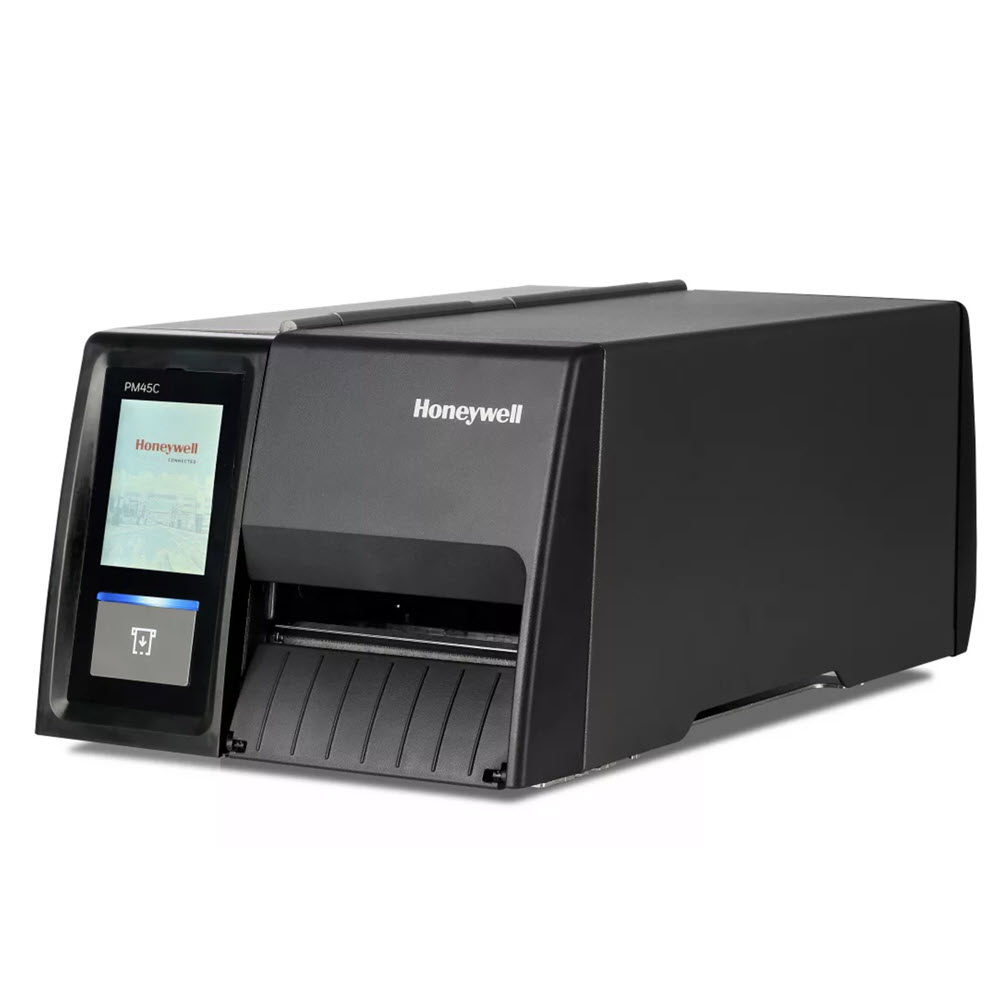 PM45C
Dimensions (L x H x W) - 432 mm x 181 mm x 253 mm (17.0 in x 7.1 in x 10.0 in) Weight - 12.6 kg (27.7 lbs)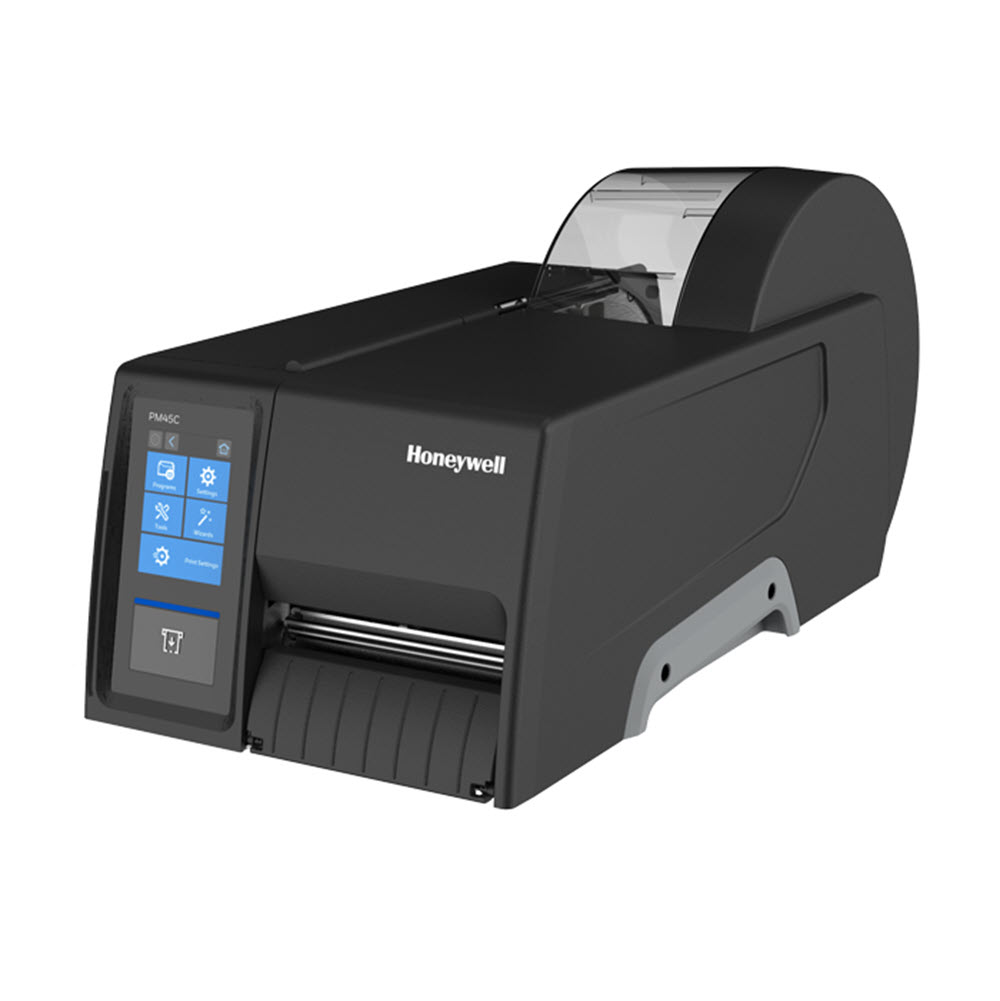 PM45C Mega Door
Dimensions (Dimenstions (L x H x W) - 500 mm x 245 mm x 253 mm (19.7 in x 9.6 in x 10.0 in) Weight - 12.8 kg (28.0 lbs)
The Honeywell PM45/PM45C boasts an ergonomic design that makes it easy to use.
On the front, you'll find a large 3.5-inch touch-screen display. This display allows you to navigate the printer's menus and settings.
Below the touch display, you'll find a print button. This button can be used to feed media, resume/pause print jobs, calibrate the printer, and test feed.
On the left side, you'll find a wide glass window. This window provides a clear view of the media path, making it easy to monitor the printing process.
The printer also boasts a handy side-opening design. This allows you to quickly and easily reload print media.
Honeywell PM45/PM45C comes with 512 MB flash memory and 256 MB SDRAM. This combination provides the printer with plenty of power to handle high-volume printing. The memory can be used to store more fonts, label templates, and graphics.
The memory also allows the printer to store print file data temporarily. As a result, the printer can quickly resume the print job even after a power outage and other interruptions.
Unfortunately, Honeywell PM45/PM45C does not have a built-in processor.
Smart Printing Capability
Honeywell PM45/PM45C features smart printing capability. With the help of this feature, users can configure and print files without needing a host computer.
Honeywell PM45/PM45C comes with Honeywell Cyber Security. This feature prevents cyber criminals from accessing your network and data via the printer.
Honeywell guarantees regular security updates throughout the lifecycle of the printer. As a result, you can be sure that your data is always protected against the latest Internet threats.
WWAN Connectivity Support
WWAN stands for Wireless Wide Area Network.
Honeywell PM45/PM45C is the first industrial printer with enhanced WWAN connectivity designed for M2M and IoT applications. This enables the printer to connect to the Internet via a cellular network.
With WWAN support, you can remotely manage and monitor the printer. You can also easily deploy the printer where wired Internet is unavailable.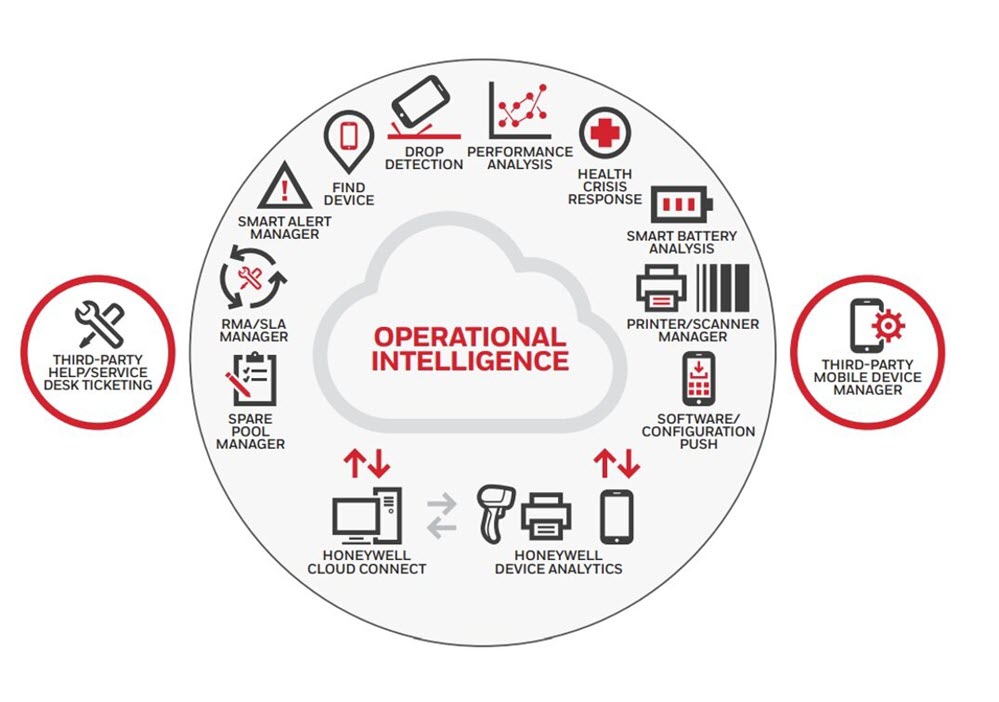 Operational Intelligence MDM Tool Support
PM45/PM45C supports Operational Intelligence MDM Tool. Operational Intelligence is a cloud-based printer management tool. With the help of this tool, you can remotely monitor and manage existing Honeywell printers.
Operational Intelligence MDM Tool gives users real-time visibility into the printer's status and performance. It also provides predictive analytics and printer health reports. Additionally, the tool enables users to quickly and easily update firmware, configures settings, and troubleshoot issues.
SOTI and PrintSet MC Support
PM45/PM45C also supports SOTI and PrintSet MC.
SOTI is a mobile device management tool that allows you to monitor and manage Honeywell printers remotely.
PrintSet MC is a free printer configuration tool. The application uses BTLE (Bluetooth Low Energy) to communicate with the printer. With the help of this tool, you can quickly and easily configure settings on your Honeywell printer. 
Honeywell's Smart Parse Software
The Honeywell PM45/PM45C comes pre-installed with Honeywell's Smart Parse software. This software allows the printer to quickly adjust the position of the label, the size of objects and barcodes, and font type without changing the backend system or doing any programming.
Track-and-Trace Functionality
The Honeywell PM45/PM45C features a track-and-trace functionality. This feature is aimed at improving print efficiency and supply chain transparency within a variety of industries. This feature can benefit food and beverage, pharmaceuticals, manufacturing, warehouse, and distribution centre management industries.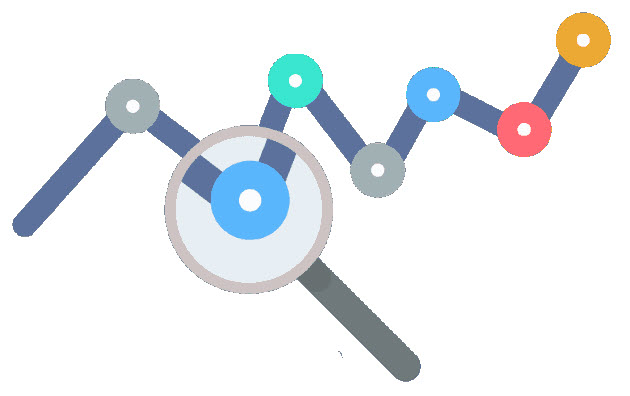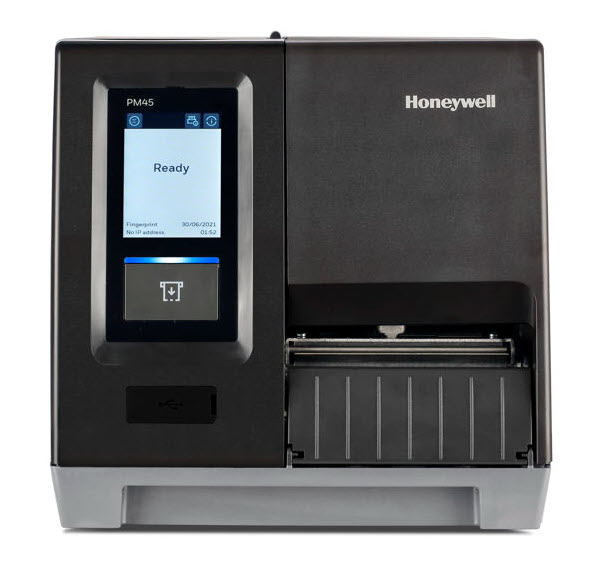 The Honeywell PM45/PM45C features a large 3.5-inch coloured touch-screen LCD. This display supports touch inputs from fingers, gloved hands, and stylus, making it easy to use.
The display makes navigating the printer's menus and settings a breeze. It also lets you see the printer's status, job progress, media type and level.
The Honeywell PM45/PM45C has two printing modes: Direct Thermal and Thermal Transfer.
Direct thermal printing is a process that uses heat to print on labels. The printer uses chemically treated, heat-sensitive material that turns black as it goes through the thermal printhead. Direct thermal labels are not long-lasting and may fade over time.
Thermal transfer printing, like direct thermal printing, also uses heat to print on labels. However, instead of heat-sensitive media, the printer uses a ribbon. A ribbon is a wax or resin-coated material. This material is melted onto the label as it passes through the thermal printhead. Thermal transfer labels are more durable than direct thermal labels.
Print Resolution and Efficiency
The PM45/PM45C is an efficient and high-quality printer. It has a print registration of up to ± 0.5 mm, ensuring high-quality label printing with sharp text and clear graphics. The printer can also print on small electronic components and medical device labels.
The printer supports the following print resolutions:
203 dpi (8 dots/mm)

300 dpi (11.8 dots/mm)

406 dpi (16 dots/mm)

600 dpi (23.6 dots/mm)
The printing speed of the PM45/PM45C is also quite impressive. The speed will depend on the print resolution you choose. Here is a list of the minimum and maximum print speeds for each resolution:
At 203 dpi – 50-350 mm/s (2-14ips)

At 300 dpi – 50-300 mm/s (2-12ips)

At 406 dpi- 50-250 mm/s (2-10ips)

At 600 dpi – 50-150 mm/s (2-6ips)
The Honeywell PM45/PM45C supports the following print media: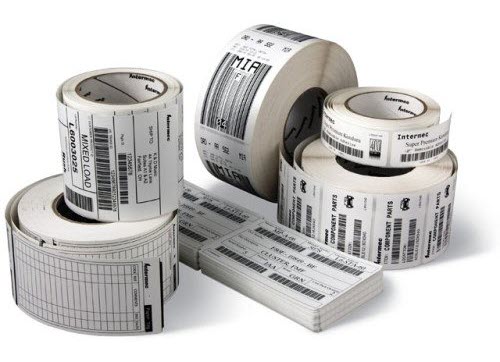 Barcode, Fonts & Graphics
The Honeywell PM45/PM45C supports all major types of 1D and 2D barcode symbols. These include:
UPC/EAN Shipping Container
UCC/EAN 128
Serial Shipping Container
MH10.8 Shipping Label
AIAG
Shipping parts label
LOGMARS
POSTNET
HIBCC
ISBT 128
GM1724
UPS Shipping Label
Global Transport Label
The Honeywell PM45/PM45C uses a Monotype font engine. Non-Latin fonts can be supported via WTLE, making the printer versatile for global applications.
The Honeywell PM45/PM45C supports the following types of image file formats:
However, other image file formats can be supported via Label Generation Tools.
Variable Network Protocols and Multiple Print Languages Support
The Honeywell PM45/PM45C supports multiple print command languages and variable network protocols. This makes the printer compatible with a variety of applications and systems.
Printer command language (PCL) is a set of instructions used to control printer functions. These functions include – 
Configuration of the printer

Returning the status of the printer

Control peripheral devices

Format a label or receipt for printing 
The Honeywell PM45/PM45C supports the following printer command languages – 
Direct Protocol (DP)

Fingerprint (FP)

Intermec Printer Language (IPL)

ZSim2 (ZPL-II)

DPL

XML-enabled for SAP AII and Oracle WMS

PDF

C#
Versatile Connectivity Ports
The Honeywell PM45/PM45C is a highly connected industrial printer. It supports both wired and wireless connectivity options. Most of the ports are located on the printer's rear side.
The Honeywell PM45, however, has a USB host port on the front. This port can connect a USB flash drive, keyboard, or barcode scanner.
The printer has the following connectivity ports:
RFID

WLAN – IEEE 802.11 a/b/g/n/ac; Wi-Fi certified, 1×1 SISO

Supported EAP – TLS, PEAP, TTLS, PWD, LEAP, FAST

Bluetooth V5.0

WWAN

CAT4 LTE Modem

MIMO – Main/Rx-diversity

LTE FDD

LTE TDD

UMTS

GSM
Industrial/Applicator interface port slot 

Parallel Interface IEEE 1284

USB 2.0 host interface (x2 PM45, x1 PM45C)

USB 2.0 device interface

Ethernet interface (transmission rate: 10/100/1000 Mbps)

RS-232 (transmission rate up to 115.2 KB/s)
Besides the standard connectivity ports, the Honeywell PM45/PM45C also has a micro sim card slot.
Both printers support multi-GB USB storage devices (FAT16/FAT32). This enables users to store and print label files directly from the printer.
Such connectivity options enable easy integration of the printer into any site network topology.
The Honeywell PM45/PM45C is compatible with the following operating systems:
Unfortunately, the printer is not compatible with macOS.
The Honeywell PM45/PM45C is also compatible with the following software:
Nicelabel

BarTender

Honeywell's Operational Intelligence software

Teklynx Labelview
The PM45/PM45C supports multi-language firmware, allowing users to operate the printer in their local language.
Currently, the printer supports the following languages:
English

Russian

German

French

Portuguese

Spanish

Italian

Korean

Thai

Japanese

Simplified and Traditional Chinese
The Honeywell PM45/PM45C supports the following options and accessories:
Integral self-strip unit with liner takeup

Label taken sensor (LTS)

Media low sensor

Media supply hub

Parallel interface board

RFID UHF

Applicator interface board (

2)

Industrial interface board (

1),(2)

Collapsible rewinder core

Cutter

Full batch label/liner rewinder (

2)
1 – Not applicable when using IPL firmware.
2 – Compatible with PM45 only.
Please refer to the PM Series Accessory Guide for complete details.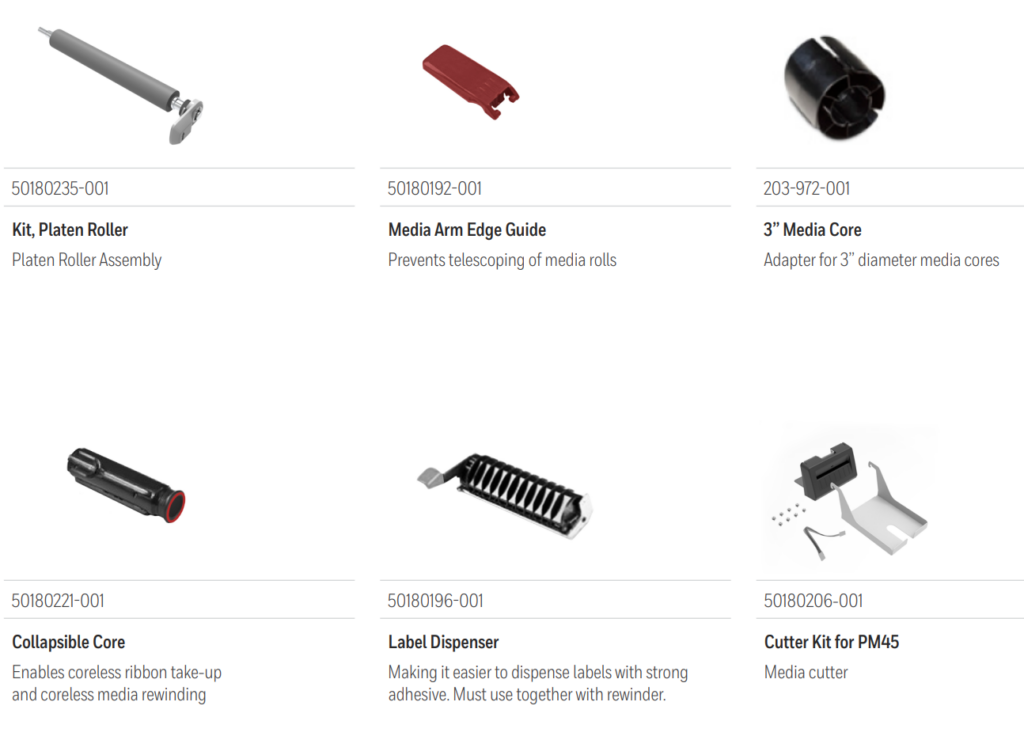 Media & Ribbon Specification
The Honeywell PM45/PM45C supports labels, tags, and linered media. Their specifications are as follows:
Minimum label width – 19 mm / 0.75 in

Maximum label width – 114 mm / 4.5 in 

Thickness – 3 mm to 10.4 mm

Configuration – Roll-fed or fan-fold

Media Sensing – Gap, Notch, Black mark, Continous, Media low, Media end

Other sensing – Label Taken sensing, Ribbon Low/End sensing, Head lift sensing

Maximum Label Roll Diameter – 152 mm (6 in) for PM45c long door models and 213 mm (8.38 in) for all other models of PM45/PM45C.

Label Roll Core ID – 38-76 mm (1.5-3 in)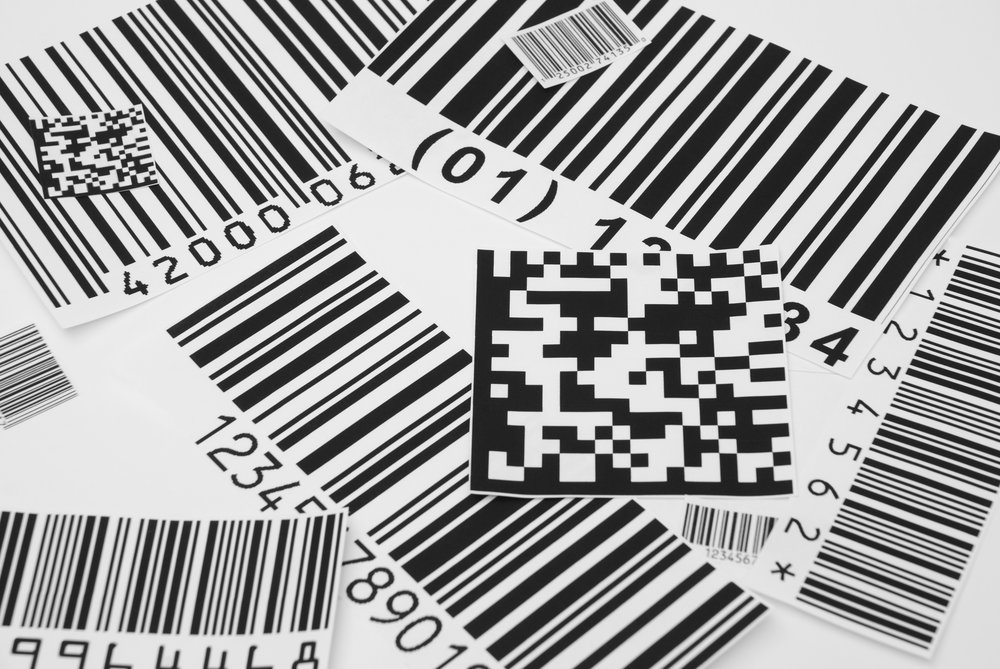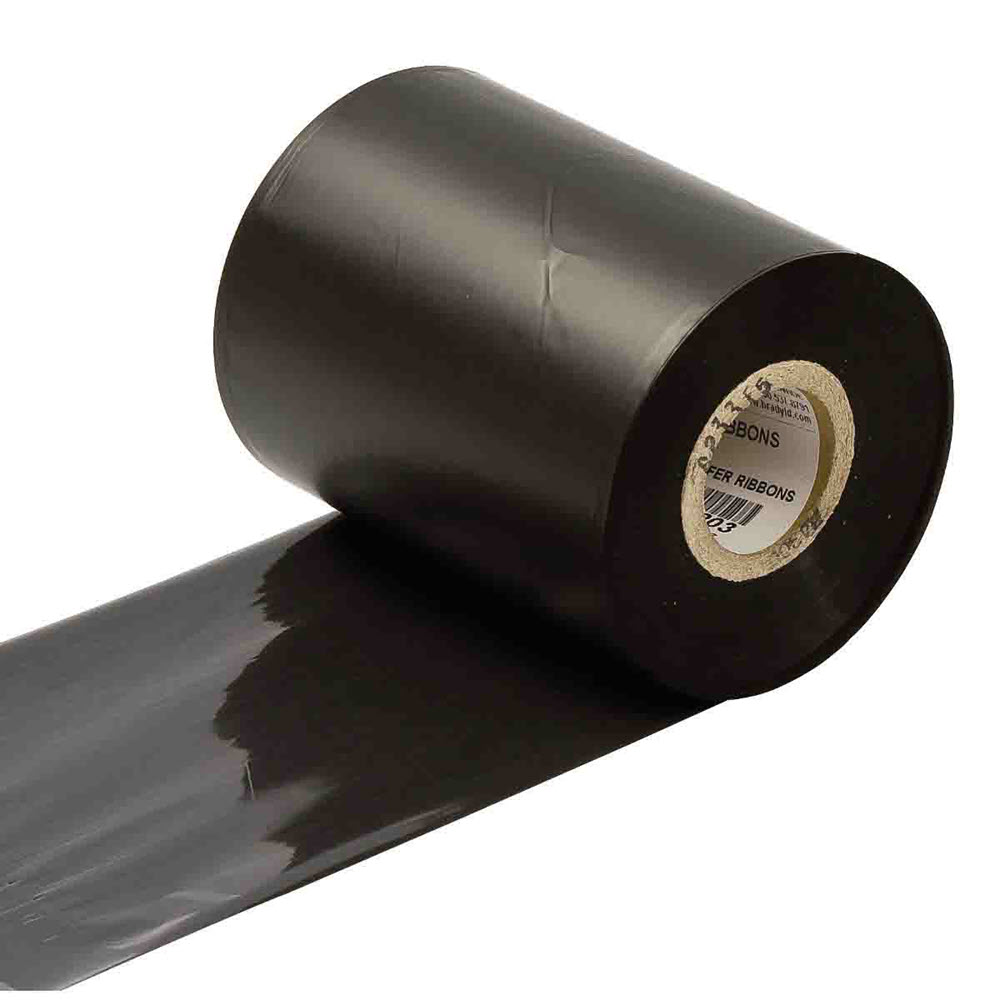 The PM45/PM45C supports three types of ribbons:
The maximum roll diameter of the ribbon differs based on the printer variant you are using. Here are the details:
PM45 – Maximum Roll Diameter – 80 mm (3.15 in), capacity of 450 m (1,476 ft)

PM45C – Maximum Roll Diameter – 61 mm (2.40 in), capacity of 229 m (751 ft)
The Ribbon Core ID, i.e. 25mm (1 in), is the same for both variants.
It is worth mentioning that the PM45/PM45C features a far better, simpler-to-use ribbon spool than its predecessor, the PM43. The spool now features clips that can hold the ribbon while the user is winding it. Additionally, compared to the PM43, it is much simpler to push in and release tension from the spool.
Power Requirements and Environmental Conditions
The PM45/PM45C operates on 100-240V AC, 50/60 Hz, auto-ranging internal power supply. The power consumption of the printer is as follows:
Standby – 9.6W

Peak 270W (24V)

Peak 145W (33V)
Please note that the printer does not come with a power cord.
The Honeywell PM45/PM45C is designed to operate in demanding and harsh industrial environments. It can operate optimally in the following environment:
Operating Temperature: +5°C to +40°C (+41°F to +104°F)

Storage Temperature: -20°C to +70°C (-4°F to +152°F)

Operating Humidity: 20 to 85% non-condensing

Storage Humidity: 5 to 90% non-condensing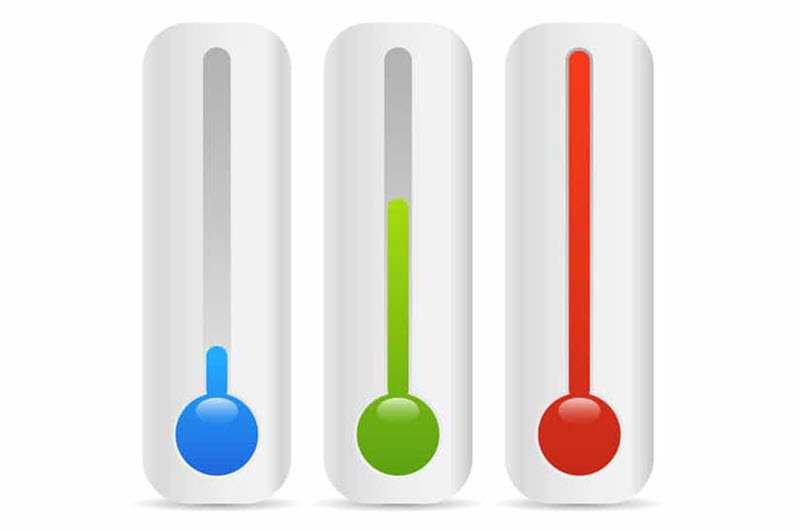 The Honeywell PM45/PM45C comes with a one-year limited warranty.