Barcode scanners are essential pieces of technology for businesses across a variety of industries. These devices quickly capture information from barcodes and are invaluable for inventory management and tracking, identifying products, streamlining checkout processes, and more.
But with so many barcode scanners on the market, choosing the right one for your organization can be overwhelming. In this buying guide, we will discuss several key considerations that should factor into your decision-making process when selecting a barcode scanner.
We'll cover topics such as types of scanners, scanning range and accuracy, wireless capabilities, ergonomics and more. By the end of this guide, you'll have all the information necessary to make an informed purchase and choose the best barcode scanner for your needs.
So without further ado, let's get started.
Decide the Purpose of the Barcode Reader
The first step in choosing the right barcode reader is determining your scanning needs. Different barcode readers are designed for different tasks, so deciding what you will be using the scanner for is important before you start shopping.
Will you be using it for retail checkout, inventory management, shipping and receiving, or some other purpose? Defining the purpose of barcode readers will help narrow down your choices of type of scanner and make it easier to choose the right barcode scanner for your organization.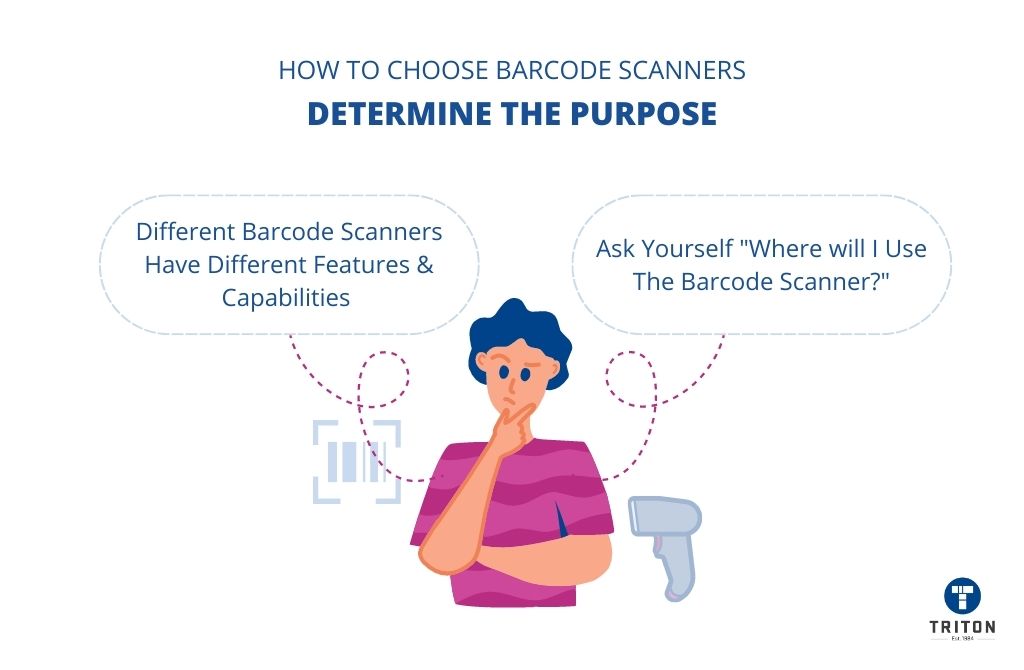 Consider The Types of Barcode Scanners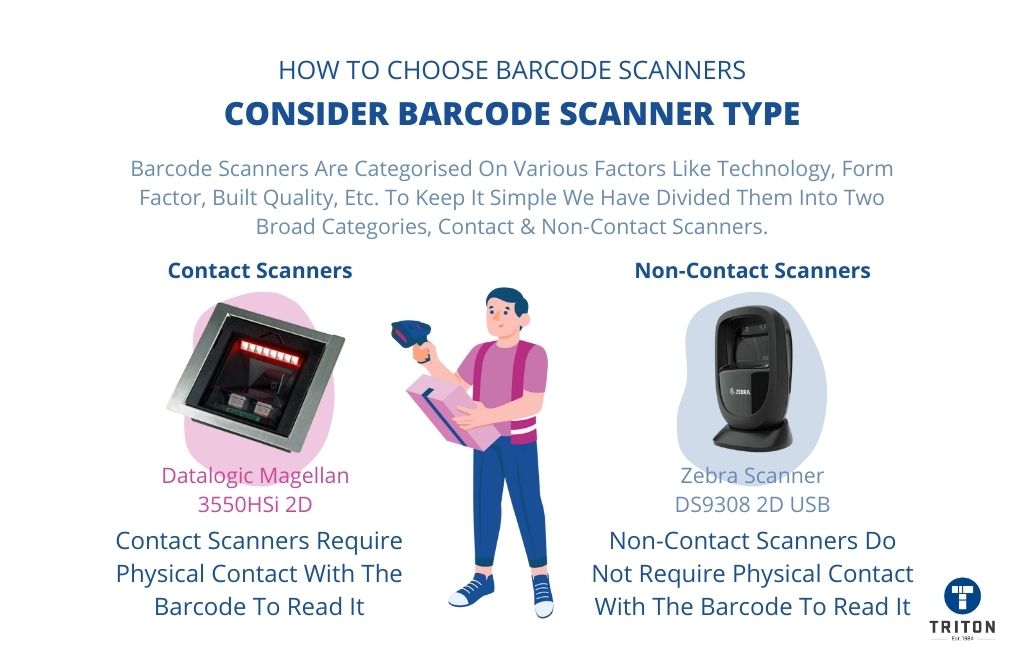 Once you have determined the purpose of your barcode scanner, it's time to decide what type of device is best for your needs.
Barcode scanners are categorized based on various factors such as technology (laser scanner, image scanner, etc.), form factor (handheld, fixed mount, etc.), build quality, connection option, interface and so on. 
To keep it simple, let's break it down into two main categories: Contact barcode scanners and Non-Contact barcode scanners.
Contact scanners are devices that require physical contact with the surface of a barcode to read its information. They tend to work well for smaller, less complex barcodes and are popular for retail checkout applications.
Non-contact scanners, on the other hand, use technologies such as laser or imaging sensors to scan symbols from a distance. Non-contact scanners are better suited to scan larger barcodes and provide higher accuracy.
Refer to our article on types of barcode scanners to learn about the different types of scanners available in the market today. 
Keep the Barcode Scanning Environment in Mind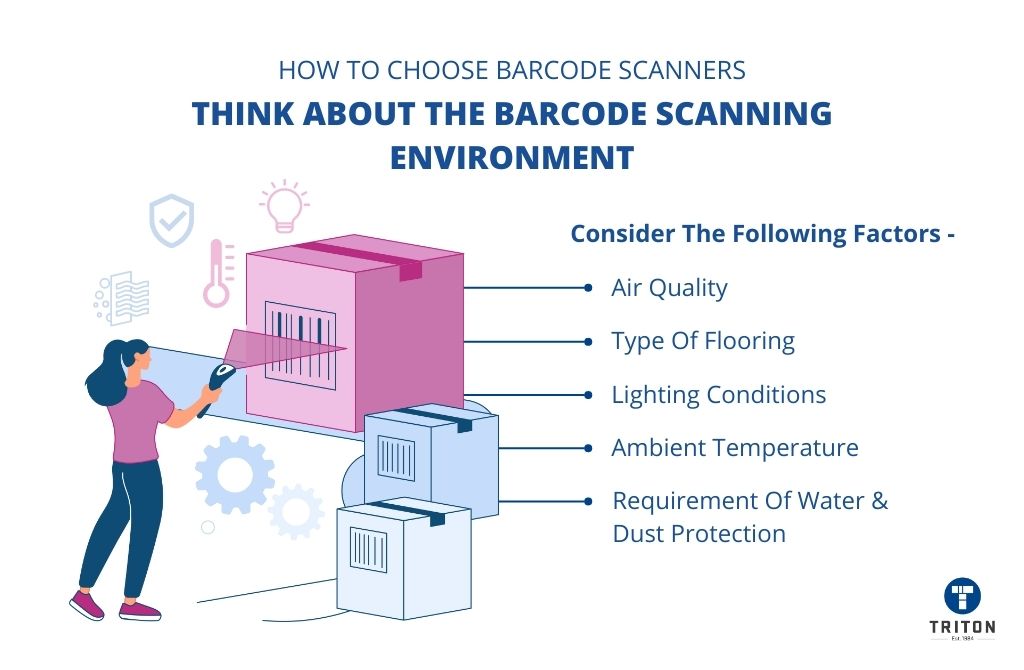 Considering the scanning environment is often overlooked, but it is an important factor to consider when selecting a barcode reader. Examine the following environmental factors.
Barcode scanners require adequate lighting to read the information on a barcode accurately. Therefore, opt for a scanner with illumination capabilities if your scanning environment is dimly lit or has indirect lighting.
Barcode scanners have an optimal operating and storage temperature range. So, ensure the device you choose can handle the environment in which it's being used.
Accidental drops are a leading cause of damage to barcode scanners. Therefore, the type of flooring your facility has should also be taken into account.
Hard surfaces such as concrete, tile, or wood can cause significant damage to scanners. In such environments, consider purchasing a rugged scanner that is specifically designed for harsh conditions. Look for scanners with drop ratings, tumble ratings, shock protection, or that have been certified in accordance with various safety standards such as ASTM.
On the other hand, soft surfaces like carpet and rubber matting provide a cushion that reduces the impact if the device is accidentally dropped. In such scenarios, investing in a special rugged device is no longer needed. A barcode scanner with reinforced housing, plastic covers, rubber bumpers and a lower drop rating should suffice.
Air Quality and Waterproofing
Certain particles in the air, such as dust, dirt, moisture and chemical vapours, will damage and affect the performance of barcode scanner components. Therefore, if your facility is prone to high levels of dust or water, then choose a barcode reader with an IP (Ingress Protection) rating.
We recommend looking for scanners with an IP rating of at least 68 to ensure that the barcode reader survives such harsh environmental conditions.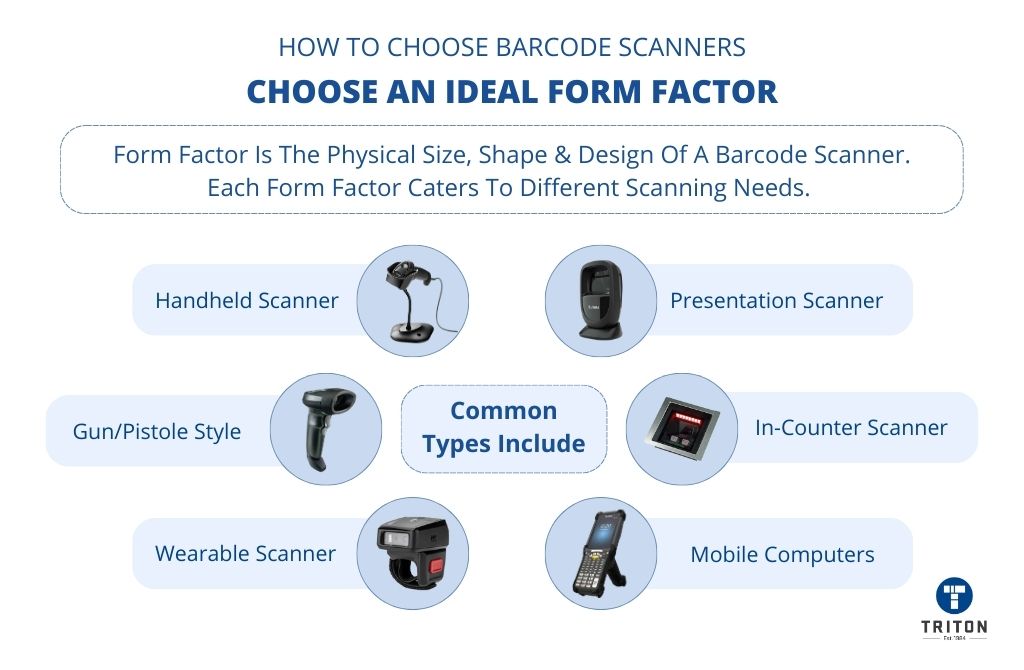 Choose an Ideal Form Factor
The form factor refers to the size, shape and design of a barcode scanner.
Barcode scanners come available in a range of form factors which includes gun-style scanners, handheld computer, presentation scanners, wearable scanners, mobile computer, fixed mount scanners and in-counter scanners. Each form factor caters to different scanning needs.
Choosing the form factor will entirely depend on one's scanning needs. For instance, a handheld scanner is best for situations where a user needs to scan items from a distance, such as in a warehouse. On the other hand, presentation and fixed mount scanners are ideal for point-of-sale applications.
Determine What Type of Barcode Symbologies Will be Scanned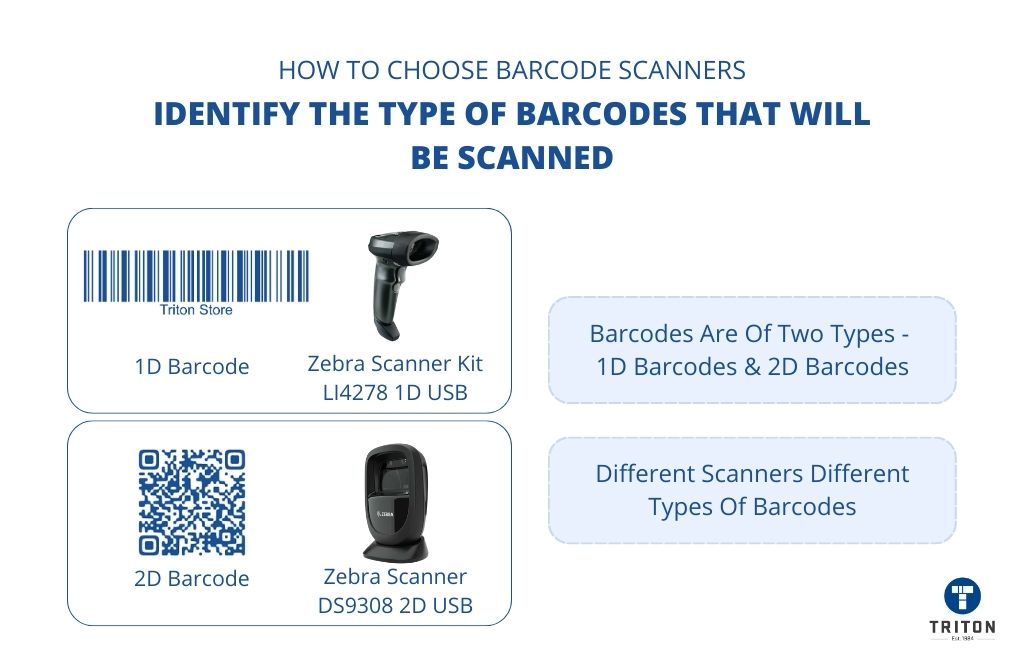 Barcodes are of two types: one-dimensional barcodes (also called linear barcodes) and two-dimensional barcodes. Triton's what is a barcode guide will provide you with a deep insight into the barcoding technology.
As different barcode scanners read different types of barcodes, it's important to determine the type of barcode you will be scanning.
Most barcode scanners (typically laser scanners) can read linear barcodes such as UPC or EAN codes, but some models don't support 2D symbols such as Data Matrix, QR codes and PDF417. It's also worth noting that some barcode scanners can read "stacked" linear barcodes such as GS1 Databar, which are used in different industries like the retail sector.
The key takeaway here is to analyze your business needs and choose a scanner that supports the type of barcodes you will be dealing with.
Consider the Barcode Scanning Range
A barcode scanner's scanning range is the distance from which it can successfully read and decode a barcode.
The scanning range you need will depend on your application — if your users have to scan barcodes at arm's length, then a standard barcode scanner should suffice. On the other hand, if your users need to read barcodes from items placed on racks or shelves, then you have to opt for a long-range or extended range capability barcode scanner.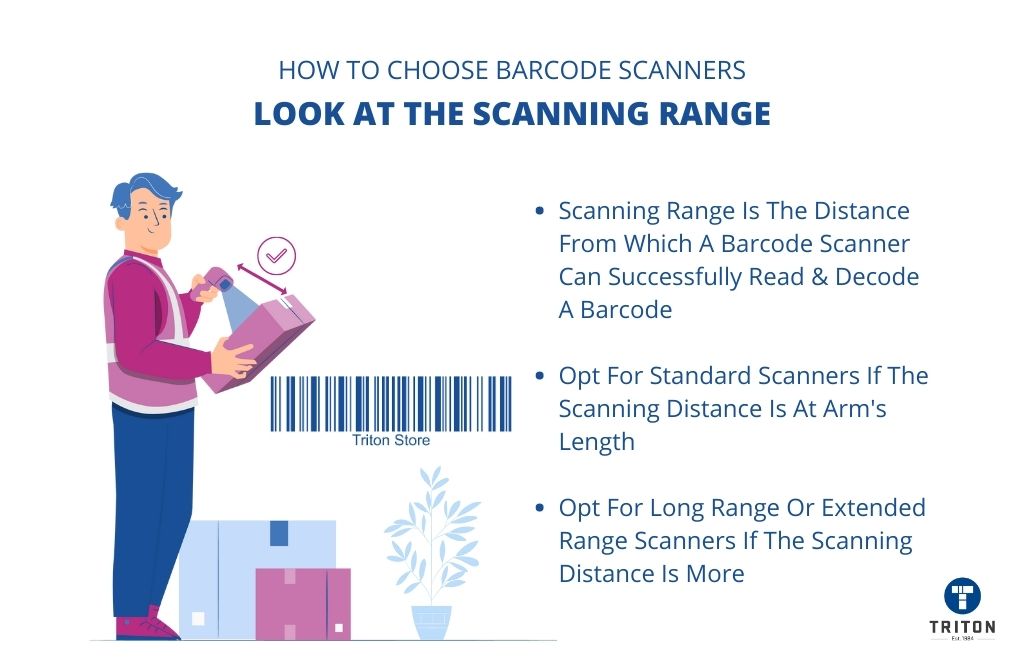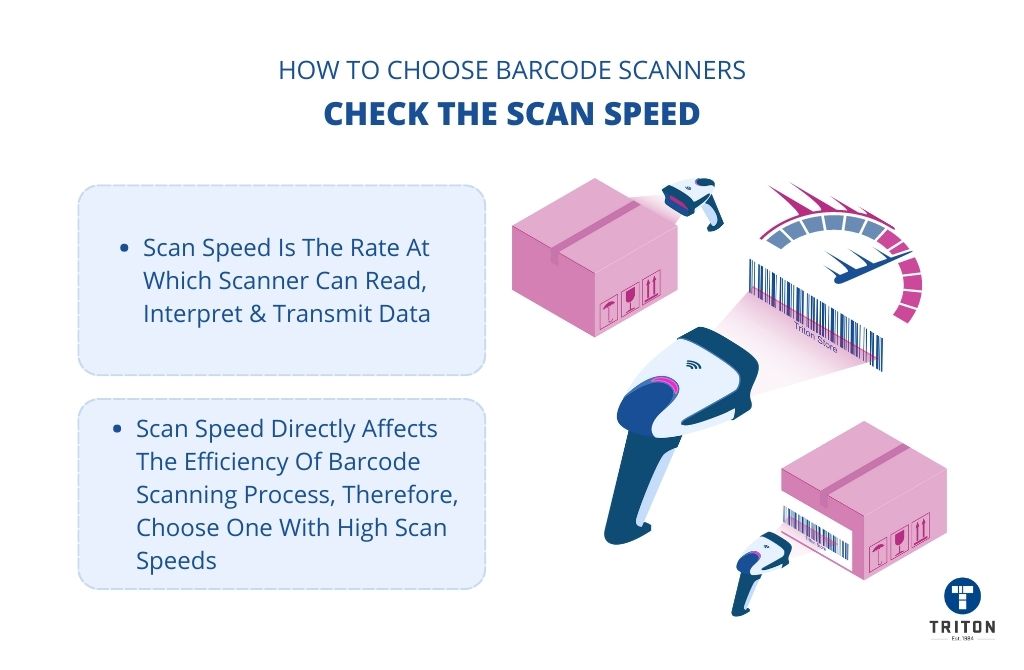 Review Barcode Reader's Scan Speed
The scan speed is the rate at which a scanner can read, interpret and transmit data for further processing.
Scan speed is important if you're implementing barcode technology in a high-volume application such as retail or health care. It directly affects the throughput and efficiency of the process. Therefore, look for scanners that can scan barcodes quickly and accurately.
Check the Barcode Scanner's Read Rates
Read rate refers to the percentage of barcodes that are successfully read by a barcode scanner. It is measured by dividing the total number of barcodes read by the total number of attempts taken to read them.
The closer the read rate is to 100%, the more efficient and reliable your data capture process will be.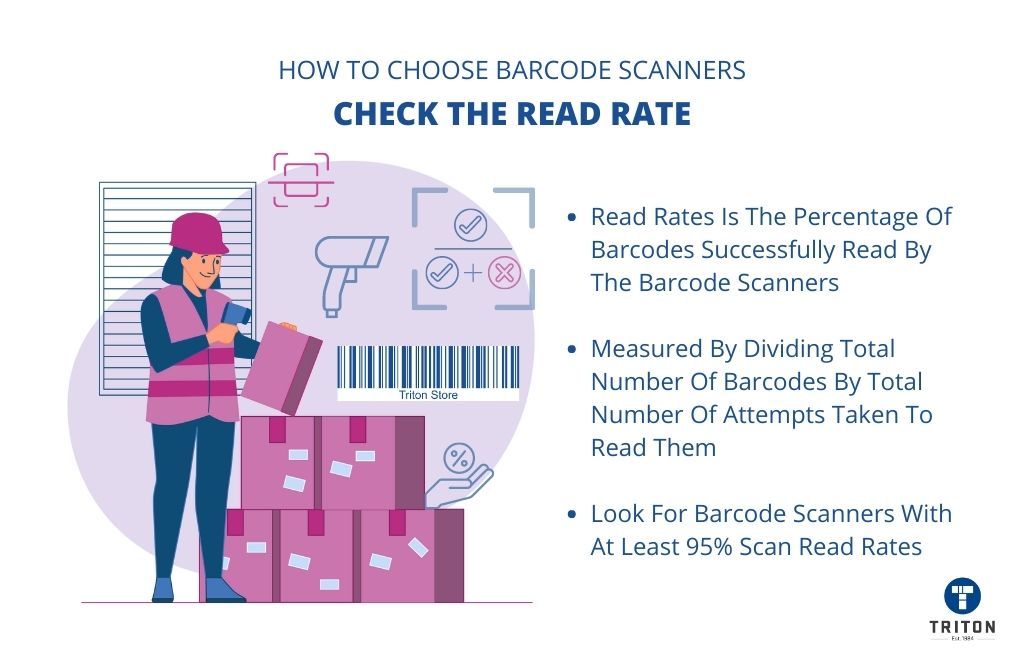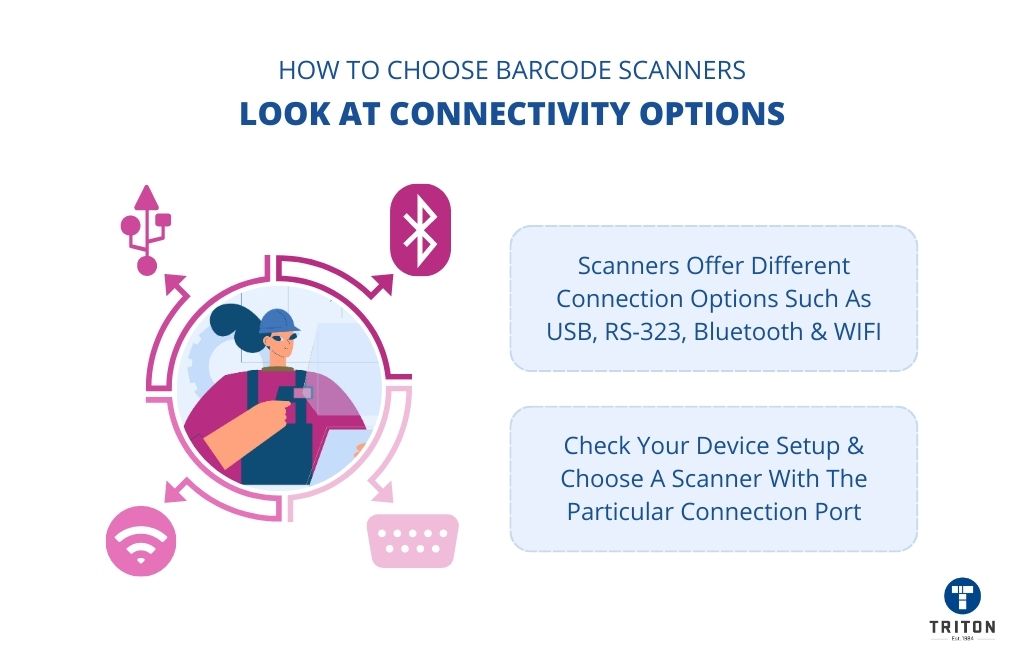 Take Connectivity Options Into Account
Most barcode scanners come with multiple connection options such as USB, Bluetooth, RS-232 and WiFi.
The type of port you need will depend on your device setup and workflow. If you need a device that can be easily moved around without worrying about cords getting tangled up, then cordless barcode scanners or a Bluetooth or Wi-Fi-compatible model is the ideal choice. 
Whereas, if you are connecting the device to a single PC, corded scanners or scanning devices with USB and RS-232 ports are a great option.
Determine the Type of Keyboard Required
Barcode scanners, particularly mobile computers and handheld scanners, are equipped with integrated keyboards. These keyboards allow users to directly input or edit data into the system, which saves time and effort compared to manually entering data.
Barcode scanners offer different configuration options for these integrated keyboards. The most common options are full alpha-numeric keypads, numeric keypads, alphabetic keypads and programmable function keypads. Choosing the right one will depend on the intended use of the scanner.
Additionally, some barcode scanners offer field-replaceable keypads, meaning users can easily switch between different keypad configurations. This is a great feature to consider if you anticipate having multiple scanning types in your workflow.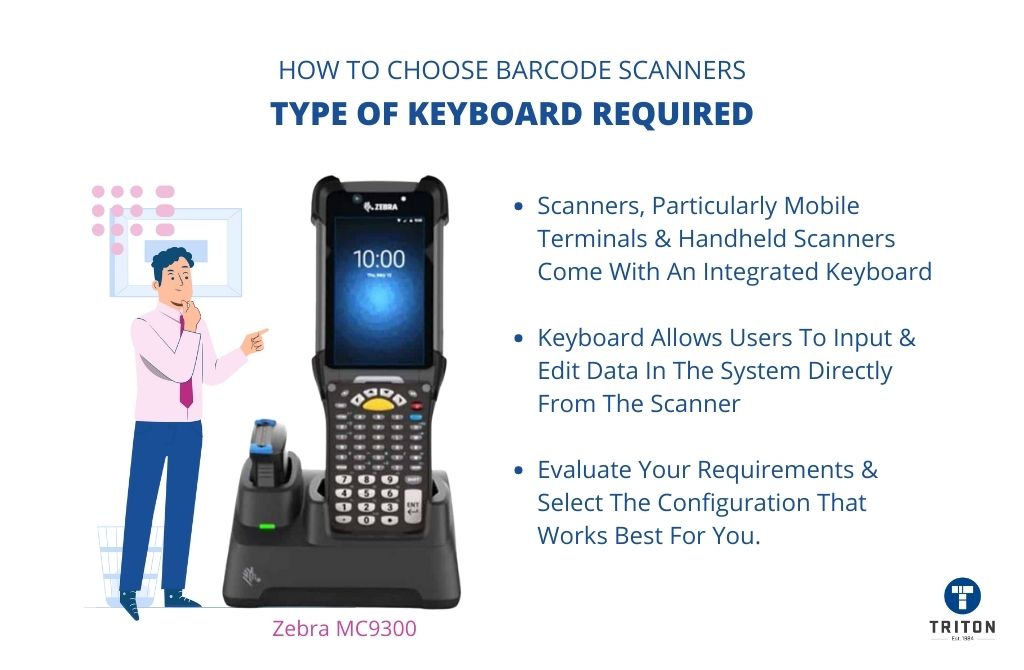 Compatibility With Existing Software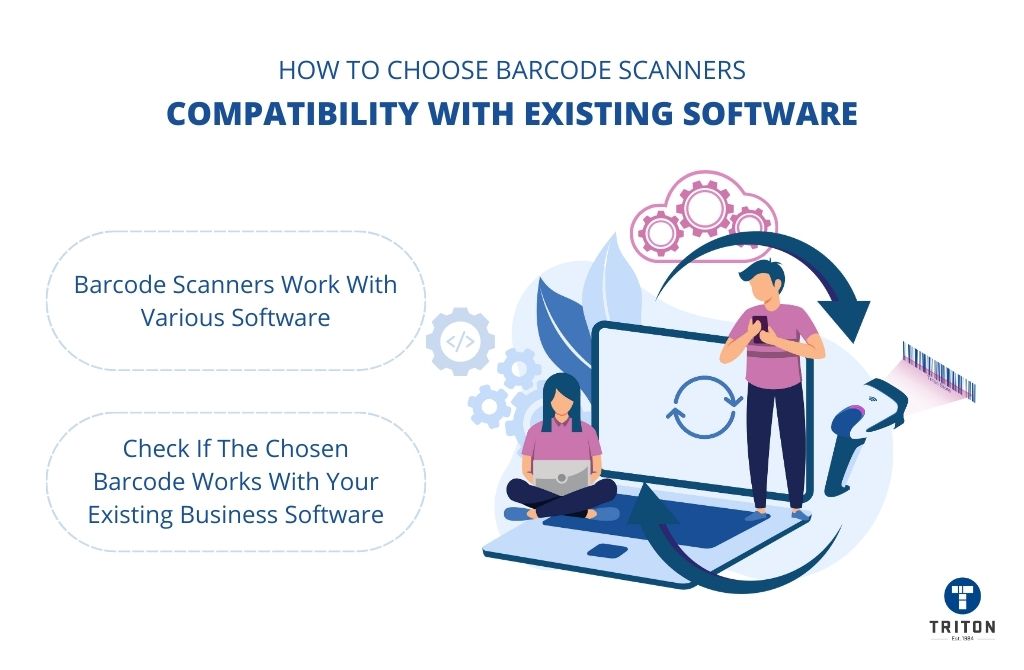 Barcode scanners are designed to be used in combination with existing point-of-sale and inventory tracking systems. To ensure seamless operation, check the compatibility of the scanning device with the software you will be using.
Moreover, some specialized software, such as BarTender, allows users to enter data into data management systems and labels directly via a barcode scanner. Therefore, if the software you are using supports this or any other specialized feature, then make sure to choose a compatible barcode scanner.
Seagull Scientific's BarTender software is one of the best label designing and printing software available in the market today, and Triton is proud to offer this software at unbeatable prices. We offer all four editions, namely, Starter Edition, Professional Edition, Automation Edition and Enterprise Edition. Contact us via the live chat widget below or fill out a form here for more information.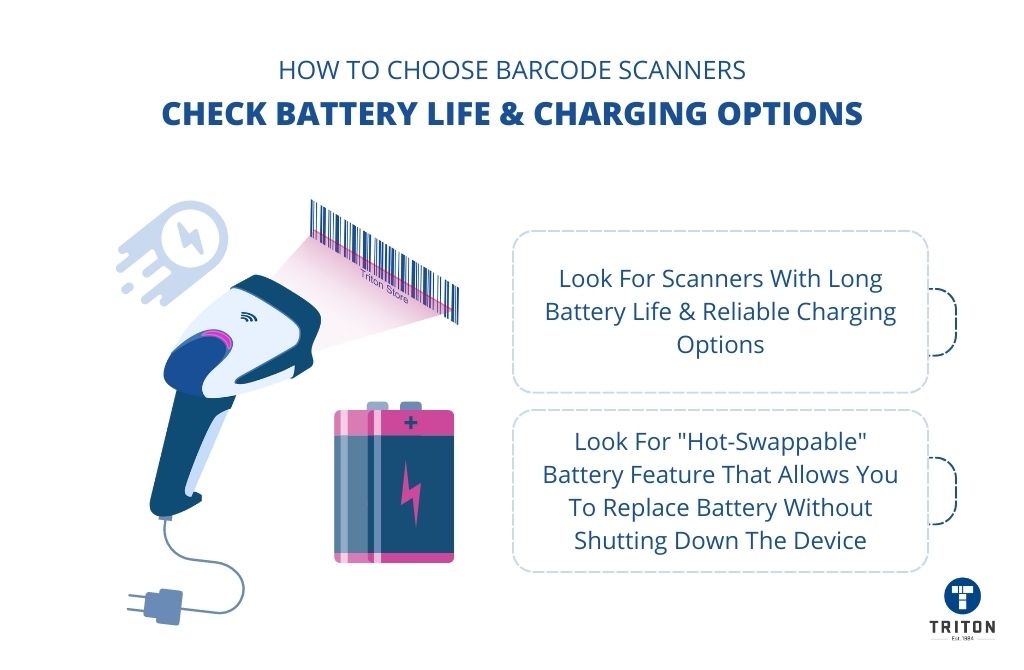 Check Battery Life and Charging Options
Checking the battery life of a wireless barcode scanner is of utmost importance as it will prevent unexpected downtime during peak periods of scanning. Look for scanners with long battery life and reliable charging options.
Some barcode scanners offer a 'hot-swappable' battery feature that allows you to replace the depleted battery with a fully charged one without turning off the device. Make sure to look for this feature if you use a barcode scanner for extended periods of time.
Ease of Use and User-Friendly Features
It is essential to make sure that the barcode scanner you choose is not only reliable and accurate but also easy to use. Oftentimes, complex user interfaces can lead to confusion and errors during data entry.
Look for models that offer intuitive, user-friendly features such as a backlit display, graphical menus, audible beeps and other valuable features that make the workflow a breeze.
Additionally, if you are buying a barcode scanner for your business, then it is important to consider how comfortable and easy it is for employees to use. Talk to your team and ask them what sort of features and form factors they would like in a barcode scanner to make their job easier.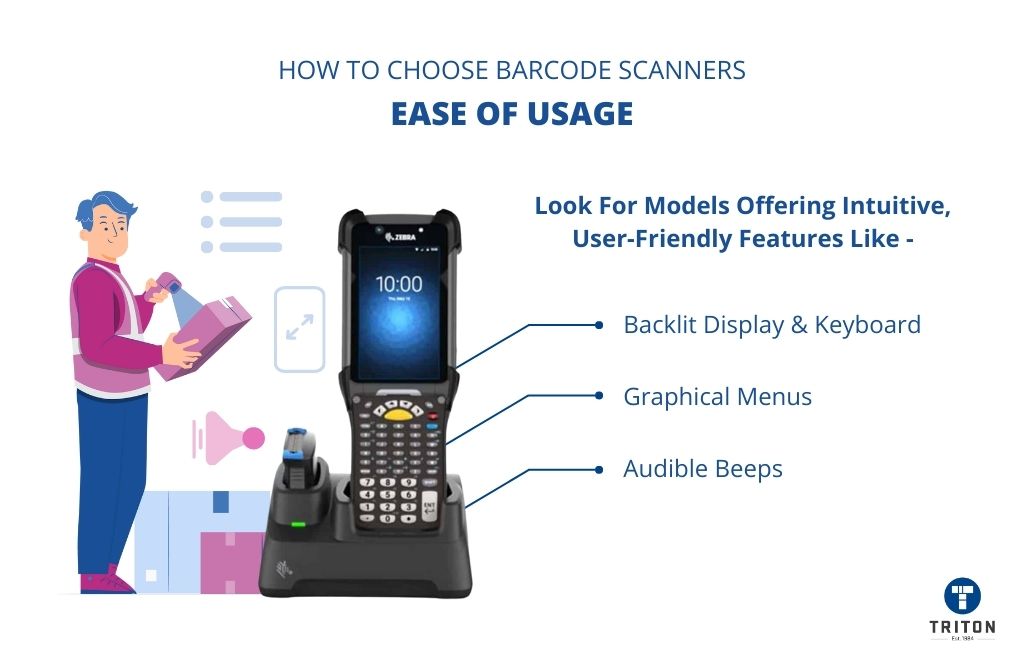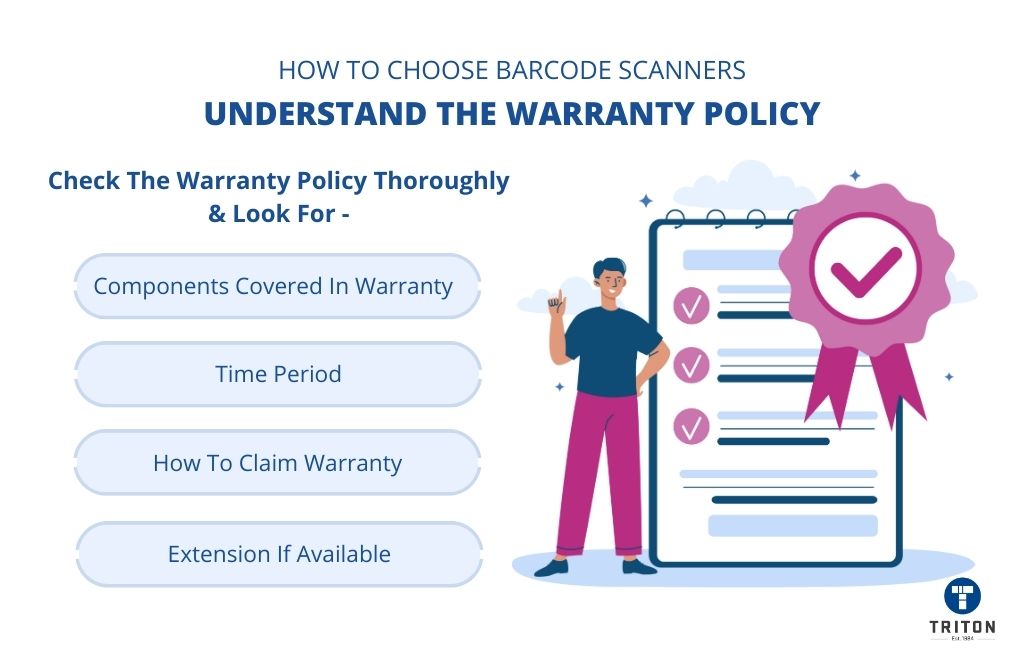 Understand the Warranty Policy
Make sure to check the warranty policy of the barcode scanner you are choosing. Warranty policies vary depending on the make and model, but usually include coverage for defects in materials or workmanship and repair or replacement services.
Most manufacturers offer a one-year parts and labour warranty from the date of purchase. Some barcode scanner manufacturers also offer extended warranties for an extra fee.
Checking the warranty policy before making a purchase will help ensure that you get the best value for your money and also have peace of mind in case something goes wrong.
Take a Look at The Available Customer Support From The Manufacturer
It is always a good idea to look into the customer support offered by the barcode scanner manufacturer. This will help you get answers to any questions you may have about the product and ensure that any issues are swiftly addressed.
Most manufacturers offer technical support via email, phone or online chat services, as well as tutorials and troubleshooting guides. Be sure to check the available support before making your purchase so that you can get the best possible after-sales service.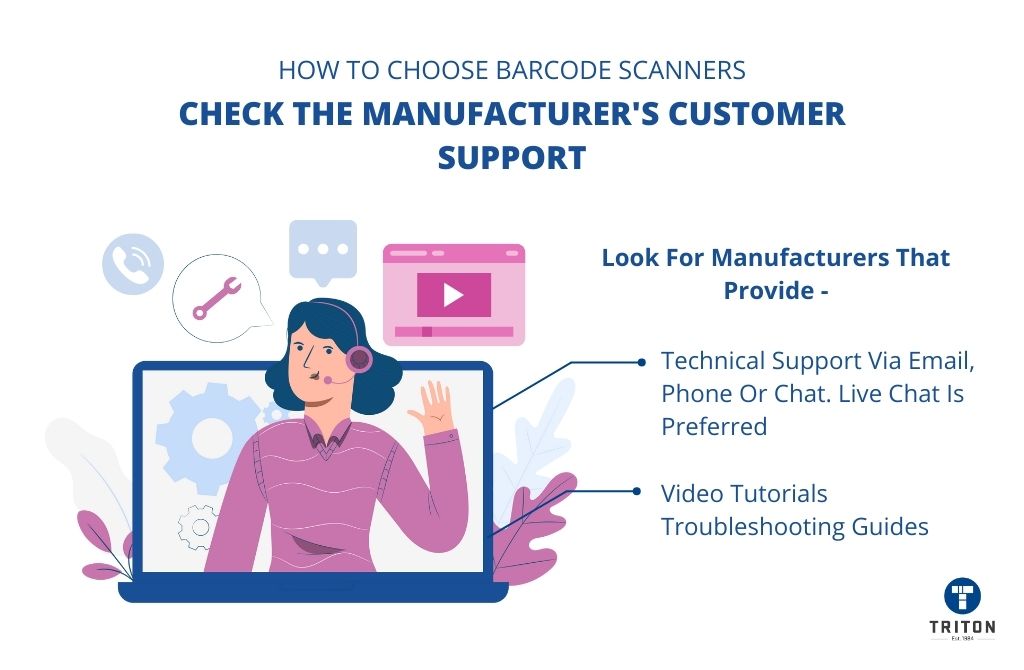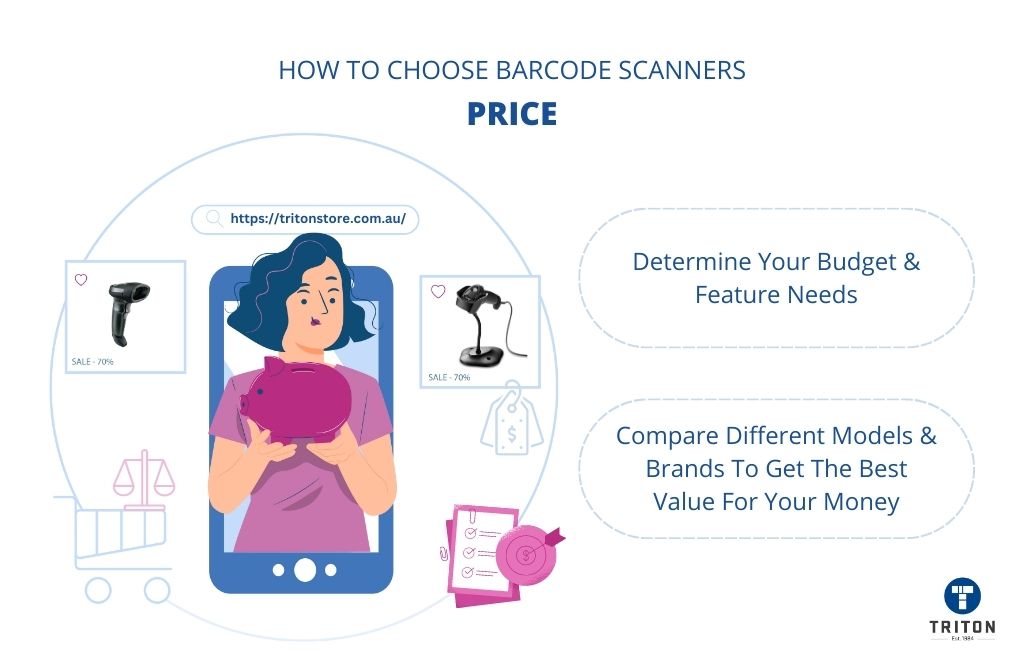 Price Point Considerations
The final thing to consider when purchasing a barcode scanner is its price. A barcode scanner's price can range from as low as a few hundred dollars to several thousand depending on the features and capabilities of the device.
Determine your budget and find a barcode reader model that fits within it while still offering all the features you need. Be sure to compare prices between different brands and models to ensure you get the best value for your money.
How Do I Buy A Barcode Scanner?
Now that you know all the things to consider when choosing a barcode reader, the next thing that might have crossed your mind is from where do I now buy a barcode scanner? Well, Triton is here to help! That's right – we offer a range of barcode scanners that are reliable, accurate and easy to use.
Our barcode scanner selection includes a variety of wired and wireless models that can be used for scanning barcodes in retail stores, warehouse facilities, manufacturing companies and more. All of our scanners are made from durable materials and designed to last for years with minimal maintenance. With advanced features and ease of use, our barcode scanners are perfect for any business that needs to quickly and accurately capture data.
Our top-notch barcode scanners include the latest models of mobile terminals, general barcode scanners, rugged barcode scanners, fixed scanners & sensors, wireless barcode scanners, 2D barcode scanners and Bluetooth barcode scanners all manufactured by industry-leading brands from Zebra and Honeywell. All our barcode scanner models are set at competitive prices, ensuring you get the best value for your money.
Not only do we offer barcode scanners, but we also provide barcode scanner accessories and spares to help you upgrade or maintain your scanners.
So, why wait? Shop from our wide selection of barcode scanners today and experience ease and convenience with best-in-class barcode scanner technology. Contact us today via the live chat widget below for more information.
Choosing the right barcode scanner for your business can be challenging, but with a bit of research and knowledge about what to look for, you will be able to find one that suits your needs. Before making a purchase, keep all of the points listed above in mind, compare prices, and read reviews to ensure that you get the best value for your money.
We hope this article helped you understand all the important factors to consider when buying a barcode scanner.
Thanks for reading!