Barcodes are an indispensable part of the modern business world. These ubiquitous little pieces of black-and-white stripes enable companies to identify, track and manage products throughout the entire supply chain.
Over the years, various types of barcodes have developed to meet the different needs of the ever-changing business environment. Each barcode type has its unique characteristics, advantages, and disadvantages, making it difficult for businesses to select the best barcode type for their products.
So, to help you select the correct barcode type, we have outlined a few key factors to consider when choosing barcodes. 
But before diving into the article, we highly recommend you to read our barcode 101 and types of barcode guides to familiarize yourself with the basics of barcodes.
#1 Determine the Purpose of the Barcode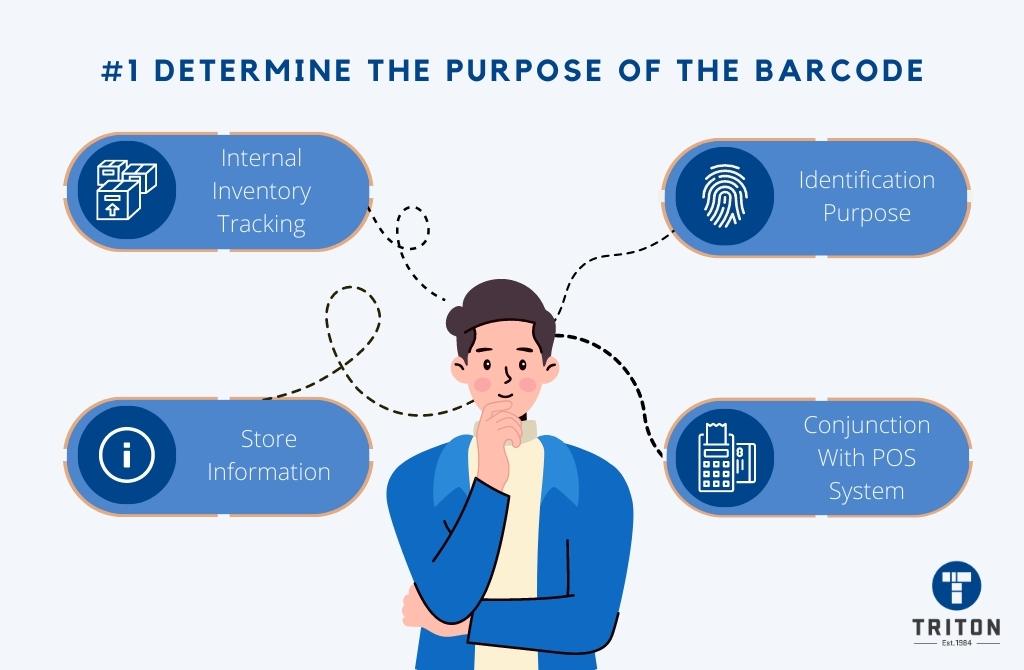 The first step in choosing the right barcode type is to identify why you need it and what purpose it will serve.
You should ask yourself questions such as. 
Is the barcode just for identification purposes? 

Will it be used for internal inventory tracking? 

Is the barcode to be used in conjunction with a POS system? 

Do you need to store information such as product details, price, company URLs, or social media profiles in the barcode?
Once you know the barcode's purpose, it becomes easier to narrow down the barcode types and select the best one. 
For example, if the products need to be identified at the retail point of sale (or checkout), UPC codes and EAN codes are the popular choices. On the other hand, if you just need barcodes just for transportation and logistics tracking, Code 128 and GS1-128 barcodes are the ideal choices.
#2 Consider the Type of Data That Needs to be Encoded
Barcodes are capable of storing various types of data, such as numeric, alphanumeric, special characters, Kanji, and byte/binary. By determining the type of data or character set you need to encode, you can limit your choices between a 1D (also called linear barcodes) or 2D barcode.
1D barcodes only store numeric, alphanumeric, and special characters. In comparison, 2D barcodes stores all 1D compatible character sets and Kanji and byte/binary data.
Here are some barcodes based on the type of data they can store.
The following is a list of the numeric-only barcode.
UPC barcodes

EAN barcodes

MSI Plessey

Interleaved 2 of 5
Here are some alphanumeric barcodes.
GS1 Databar Expanded Stacked

GS1 Databar Expanded

Code 39
The following barcodes support special characters.
Code 49

Code 128

ISBT-128

Telepan
Here are some barcodes that support the encoding of Kanji characters.
The following is a list of barcodes that encodes byte/binary data.
Data matrix code

Aztec code

PDF 417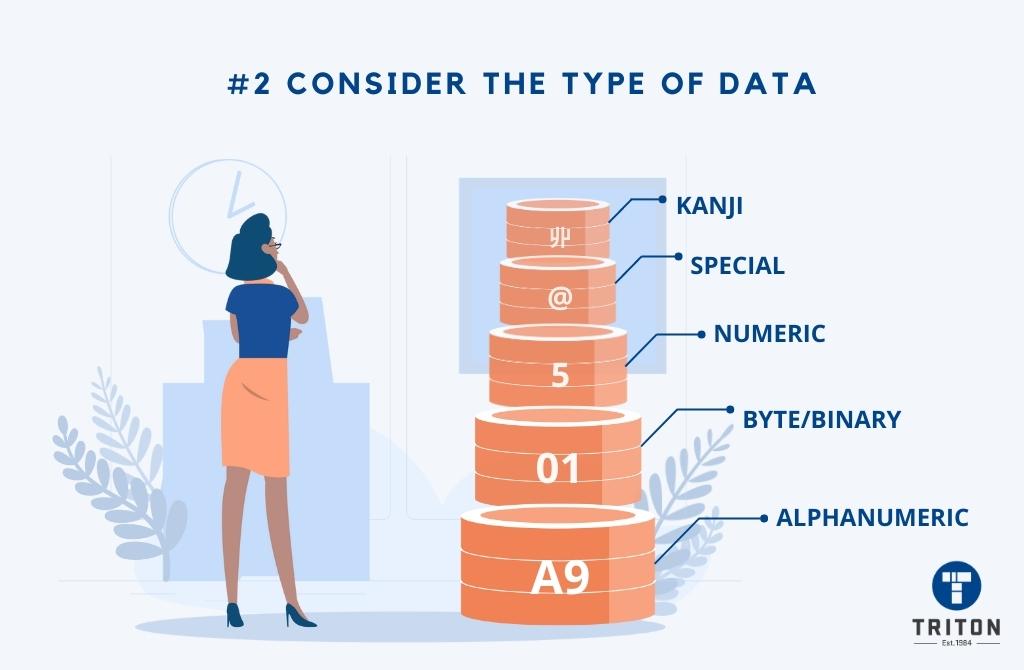 #3 Consider the Data Capacity Limits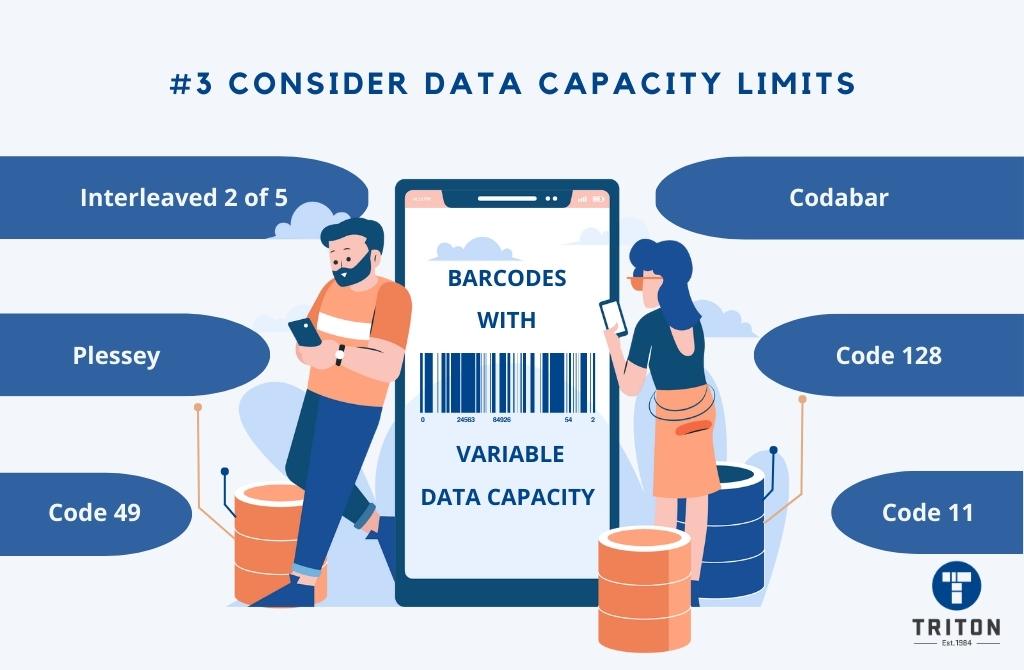 Data capacity limit refers to the maximum number of characters or data encoded into a barcode. Each barcode type has its data capacity threshold, so it's essential to take this into account when selecting a barcode type.
In general, 1D barcodes have a lower data capacity when compared to 2D barcodes. This is because 1D barcodes store data horizontally, whereas 2D barcodes store data horizontally and vertically.
Please note that some barcodes have variable lengths, meaning they don't have a fixed data capacity limit and can accommodate more data by increasing the size of the barcode symbol. Plessey, Interleaved 2 of 5, Code 11, Code 49, Code 128, and Codabar are some examples of barcodes with variable length capabilities.
#4 Take Space Constraints Into Account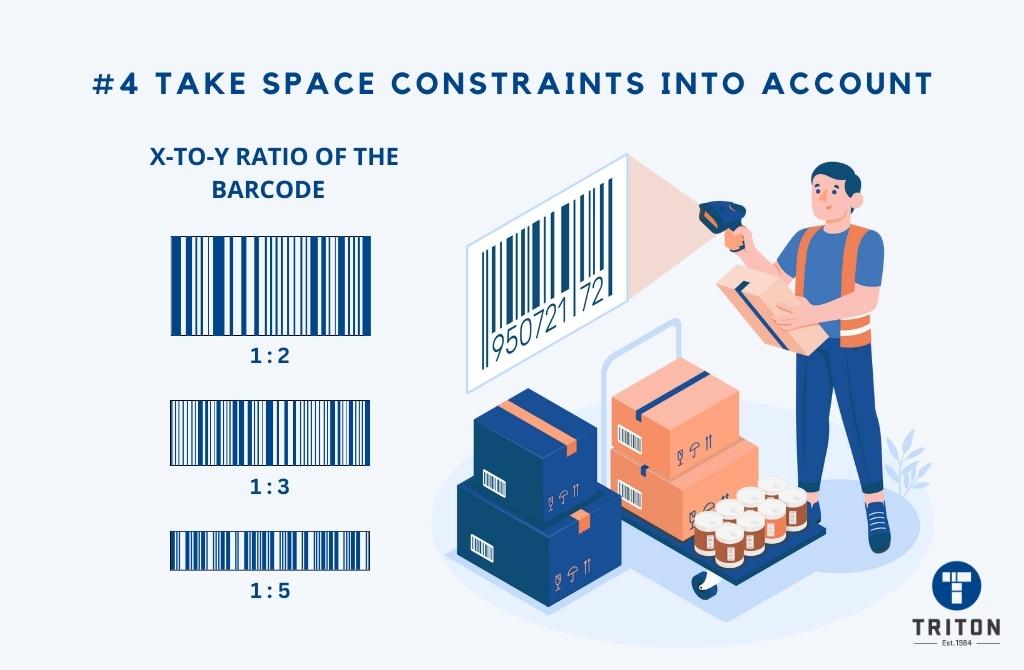 The amount of space available on a product label or packaging is a key consideration when choosing the right barcode type. Check out our article on best practices for designing labels and barcodes to create top-notch barcode labels.
Each barcode has a different required minimum X-dimension and Y-dimension, which are the width and height of the narrowest bar in a barcode. Failing to maintain the minimum X-Dimension and Y-dimension leads to barcode quality issues such as readability problems and scanning errors.
Barcodes are generally printed with an X-to-Y ratio ranging from 1:2 to 1:5, with 1:3 being the most popular. Some barcodes are size flexible, which means they can be resized without affecting readability, data integrity, and accuracy. QR codes, Datamatrix, Aztec barcodes, and PDF 417 are some size-flexible barcodes.
Check out our guide on QR codes vs barcodes to know more about these two popular types of barcode symbologies.
#5 Examine the Surface Material on Which the Barcode Will be Placed
Barcode scanning is an optical process, and the quality of a barcode's print largely depends on the type of surface it is printed on. Different surfaces have different reflectivity levels, which directly impact the scannability and readability of a barcode.
For instance, if you are printing for a glossy surface, barcodes such as QR codes and DataMatrix will work best. On the other hand, if you are printing for corrugated boxes and cartons, Code 128 and Interleaved 2 of 5 would be the ideal choice.
Please note that apart from surface material, environmental conditions such as lighting and the type of barcode reader used also affect the scannability and readability of a barcode.
For low-reflective surfaces like paper labels or cardboard boxes, laser barcode scanners are your go-to choice; but if you're dealing with shiny materials like glass and metal, camera-based barcode scanners (also called mobile terminals) will be much more successful.
At Triton, we offer a comprehensive range of barcode scanners at highly competitive prices. Our barcode scanner range includes mobile terminals, general barcode scanners, rugged barcode scanners, and fixed scanners & sensors.
#6 Check the Industrial or Third Party Requirements if Applicable
Another factor to keep in mind is the industry in which your product will be used. Different industries have different requirements and specifications related to barcodes.
For instance, in the food and beverage industry, GS1 System barcodes such as EAN-13 (European Article Number) and UPC-A (Universal Product Code) are used for product identification. In the healthcare industry, ISBT-128 barcodes are mandatory to be used for the tracking and tracing of medical goods of human origin, like blood, cells, tissues, milk, and organ products.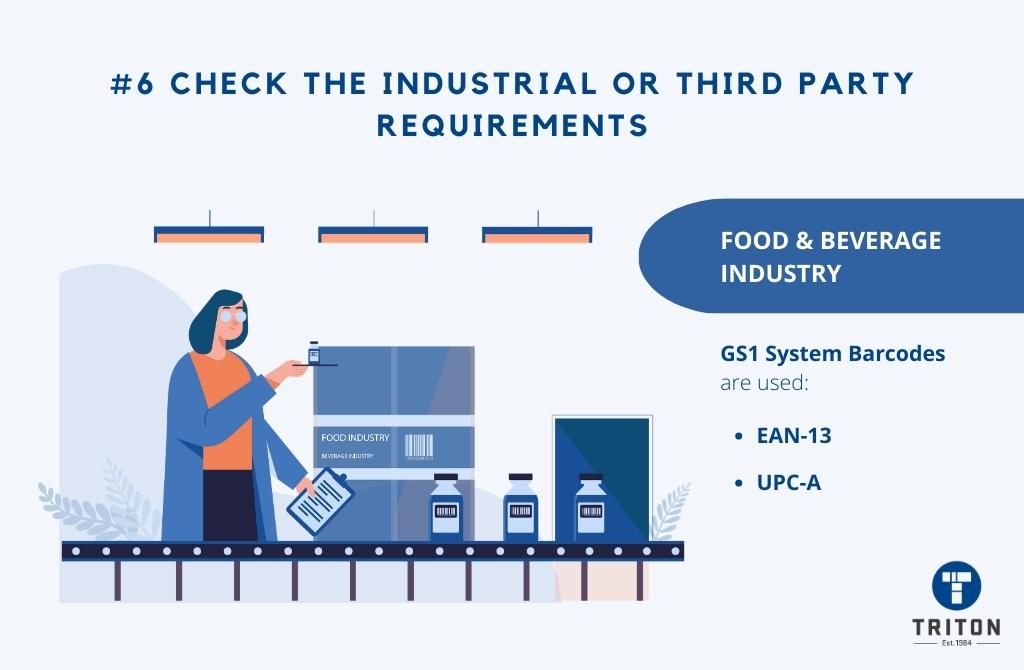 #7 Consider the Printing Methods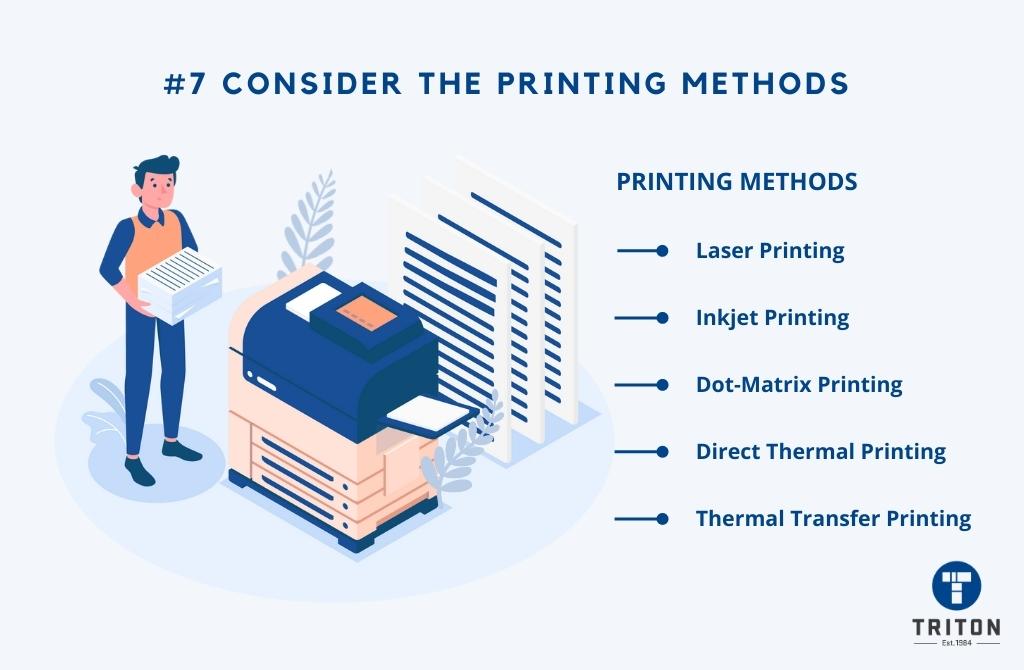 Barcodes are printed using various methods such as inkjet, dot-matrix, laser printing, thermal transfer printing, and direct thermal printing. When choosing the right barcode type for product labels or packaging material, ensure that it is compatible with your chosen printing method.
Thermal printing is considered the best choice for barcode printing as it is compatible with all barcode types. Thermal printing is of two types – Direct Thermal printing and Thermal Transfer printing.
Please refer to our direct thermal vs thermal transfer printing guide to understand the difference between the two types of thermal print technologies and know which is most suitable for your requirements.
Triton is your one-stop shop for all thermal printing requirements. We have a broad range of thermal printers from leading brands such as Honeywell, Zebra, and TSC. We also offer printer accessories such as thermal printheads and printing consumables like thermal labels and thermal transfer ribbons.
#8 Consider the Environmental Conditions
Throughout their lifecycle, barcodes are exposed to various environmental conditions such as dust, moisture, extreme temperatures, and harmful chemicals. Such environmental conditions lead barcodes to rip, fade, distort, and discolour, making them unreadable for barcode readers.
Therefore, to counter such environmental challenges, barcodes with high print tolerances and correction capabilities were developed. QR code, Datamatrix, Maxicode, and PDF 417 are barcodes with enhanced print tolerance.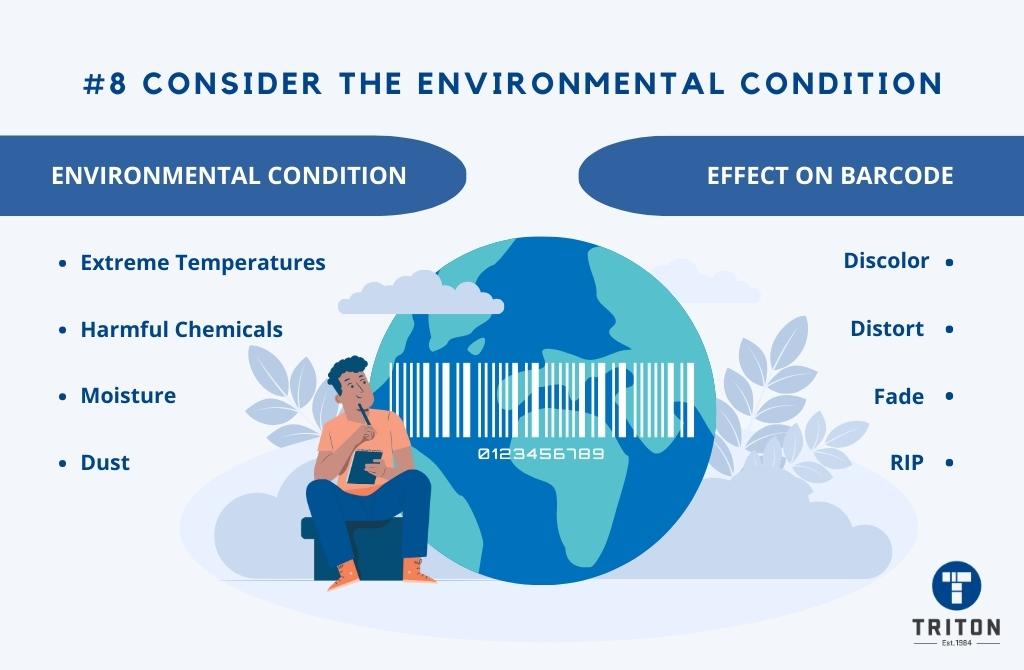 Apart from the factors mentioned above, there are other things to consider when selecting barcodes for products.
Here are some questions you should consider before selecting barcodes.
Are there any additional costs or subscription fees associated with the barcode?

Should the barcode label include a human-readable interpretation (HRI)?

Do you need to store additional information on the label, like lot numbers, expiry dates, and serial numbers?

Will the barcode be scanned using a smartphone?

Do you have all the necessary equipment for barcode printing?

Will the chosen barcode type work in all countries if the product is shipped internationally?

Will the selected barcode be scanned from almost any barcode reader?
Choosing the correct barcode for products is an important decision that could significantly affect the success of your business. Each barcode type has its advantages and disadvantages, so it's essential to consider all the above factors before making a decision.
Once you've decided on a barcode type for your products, the next big step is designing and incorporating it into the product label. So, to help you out in this process, Triton offers you a label design and printing software called BarTender.
BarTender is a powerful yet easy-to-use tool to design, automate and manage the entire labelling and printing process. You can refer to our understanding BarTender software guide to learn more about BarTender and its features.
We hope that this article helped you to gain a better understanding of the factors to consider when selecting barcodes for products.
Happy barcoding! 🙂