BarTender is one of the most popular and top-picked label design software programs on the market today. 
With its newest 2022 release, it's a great time to learn about its capabilities and answer some common questions about the software.
What is BarTender Software?
BarTender is a versatile label designing and printing software. It allows you to create labels with images, texts, barcodes, or RFID tags for your products. It also helps to automate and manage the labeling and printing processes.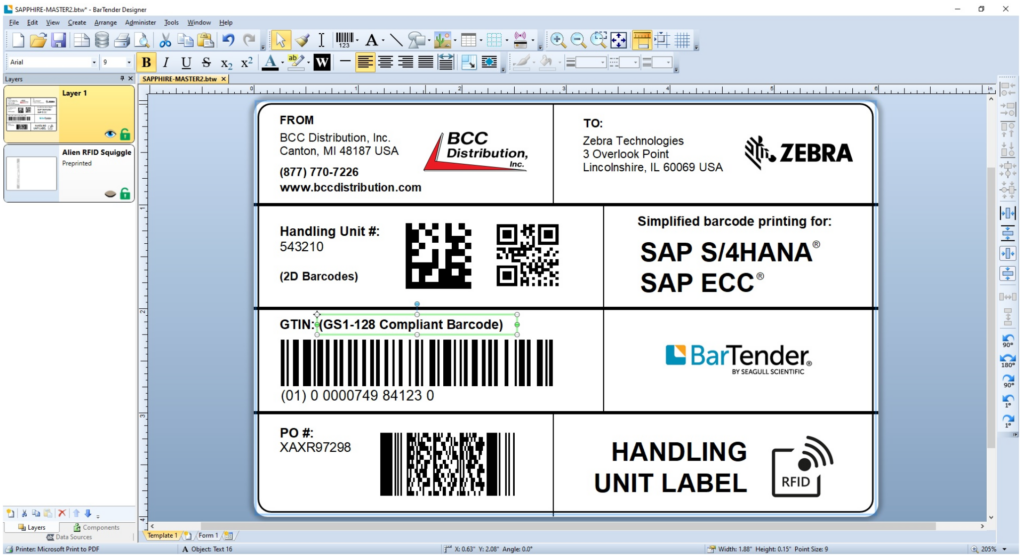 Who Owns BarTender Software?
BarTender is developed and owned by Seagull Scientific.
Seagull Scientific is a software company specializing in developing and providing barcode software and labeling solutions. It was founded in 1985 and is headquartered in Bellevue, Washington, USA.
Why is BarTender Software so Popular?
BarTender is a popular labeling software for several reasons.
BarTedner is versatile and can be used for various purposes, including designing & creating labels, printing labels, and automating labeling processes.

It's easy to use and offers advanced features for designing more complex labels.

BarTender integrates with many popular applications and databases, making it a good choice for businesses that need to print labels from multiple data sources.
One most popular features of BarTender is the ability to create "smart" labels. Smart labels can be automatically updated with changing data, such as expiration dates or lot numbers, without redesigning the entire label.
BarTender takes up barcode/text/RFID encoding from Excel or .csv files and updates the label information without you needing to touch a thing.
Which Industries Can Benefit from BarTender Software? / What Industries Can be Served With BarTender?
BarTender software is trusted across a variety of industries. Some of the industries that can benefit from using BarTender are.
Supply chain

Retail

Food and beverage

Manufacturing

Pharmaceutical

Medical devices

Chemical manufacturing and distribution

Aerospace
Can BarTender Generate Barcodes?
Yes, BarTender can generate various barcodes, including linear (one-dimensional) and two-dimensional barcodes. The software can also create RFID tags using thermal printers.
Which Barcode Symbologies Does BarTender Support?
BarTender supports both 1D and 2D barcode symbologies. 
Here's a list of all barcodes that can be generated using BarTender.
Anker Plessey

Australia Post

Aztec Code

Aztec Rune

BC412

Canadian Customs

CEPNet (Brasil)

Channel Code

Circular Code 39

Circular Code 93

Circular Code 128

Circular Interleaved 2 of 5

Codabar

CodaBlock F

Code 11

Code 16K

Code 39 (Full ASCII)

Code 39 (Regular)

Code 49

Code 93

Code 93i

Compact PDF417

Composite

Data Matrix

Datalogic 2 of 5

Deutsche Post Identcode

Deutsche Post Leticode

DotCode

DUN-14

EAN-8

EAN-13

Grid Matrix

GS1-128

GS1 Composite

GS1 DataMatrix

GS1 QR Code

Han Xin Code

IATA 2 of 5

Industrial 2 of 5

Interleaved 2 of 5

iQR Code

ISBN-13

ISS Code 128

ITF-14

JAN-8

JAN-13

Japanese Post

KIX Code

Korea Post

Matrix 2 of 5

Maxicode

Micro QR Code

MicroPDF417

MSI Plessey

NEC 2 of 5

NW-7

OPC

PDF417

PD417 Truncated

PosiCode A

PosiCode B

PosiCode Limited A

PosiCode Limited B

PPN

QR Code

Royal Mail 4 State Mailmark Type C

Royal Mail 4 State Mailmark Type L

Royal Mail CMDM Mailmark

Royal Mail Customer Bar Code

RSS

Singapore Post

Standard 2 of 5

Telepen

TLC39

TLC39 MicroPDF417

Trioptic

UCC/EAN-128

UK Plessey

UPC-A

UPC-E

UPS Tracking

USPS Intelligent Mail

USPS Planet

USPS Postnet
Is BarTender Available in Different Languages?
Yes, BarTender is available in 21 different languages. 
These 21 languages are.
Chinese Simplified

Chinese Traditional

Czech

Danish

Dutch

English

Finnish

French

German

Italian

Japanese

Korean

Norwegian

Portuguese European

Portuguese Brazilian

Polish

Russian

Spanish

Swedish

Thai

Turkish
Does BarTender Provide Any Training? / Does BarTender have Training Videos?
Yes, BarTender provides training videos and manuals to help you get started with the software.
You can view the training resources on Seagull Scientific's support page.
What is BarTender File? / What is .btw File?
A BarTender file or .btw file is a barcode label created using the BarTender software. This file includes all the design elements of a label, such as text, barcodes, images, and shapes. 
The file also contains metadata such as label properties, and the version of BarTender used to make the label.
Can BarTender Print Excel?
Yes, BarTender can print labels from Excel spreadsheets.
To do this, you'll need to create a label template in BarTender and link it to your Excel file. When you're ready to print, the data in your spreadsheet will be pulled into the label template and printed on your labels.
Can You Enter Data in BarTender Using a Barcode Scanner?
Yes, you can use a barcode scanner to enter data into BarTender. 
Check out our list of the best barcode scanners to find the best one for your needs.
Is BarTender Software Only an RFID Software?
No, BarTender is not only an RFID software.
BarTender can encode RFID tags and print them using special RFID printers.
Which RFID Printers Does BarTender Support?
BarTender supports a wide range of RFID printer manufacturers by providing printer drivers for many popular printer models. Seagull Scientific keeps on adding new drivers to support the latest RFID printers as they come out.
Some popular brands of RFID printers that are compatible with BarTender include.
To see a list of all compatible RFID printer models, click here.
Which RFID Frequencies Can BarTender Encode?
BarTender can only encode UHF RFID tags, which cover the frequency range of 300 MHz to 3000 MHz.
What Types of RFID Tags are Compatible With BarTender Software?
BarTender supports the following RFID tags.
EPC Gen 2 (ISO 18000-6C)

ISO 15693

ISO 18000-6B

EPC Class 1

Tag-It

I-CODE

TagSys

My-d and Picotag
Which RFID Encoding Schemes Does BarTender Support?
BarTender supports the following encoding schemes.
DoD

GDTI

GIAI

GID

GRAI

GSR

SGLN

SGTIN

SSCC

SGLN
BarTender In-Build Applications
What is a BarTender Print Station?
BarTender Print Station is a companion application that can be used to perform point-and-click printing of BarTender documents.
Print Station eliminates the need to open each document and print them using an external application.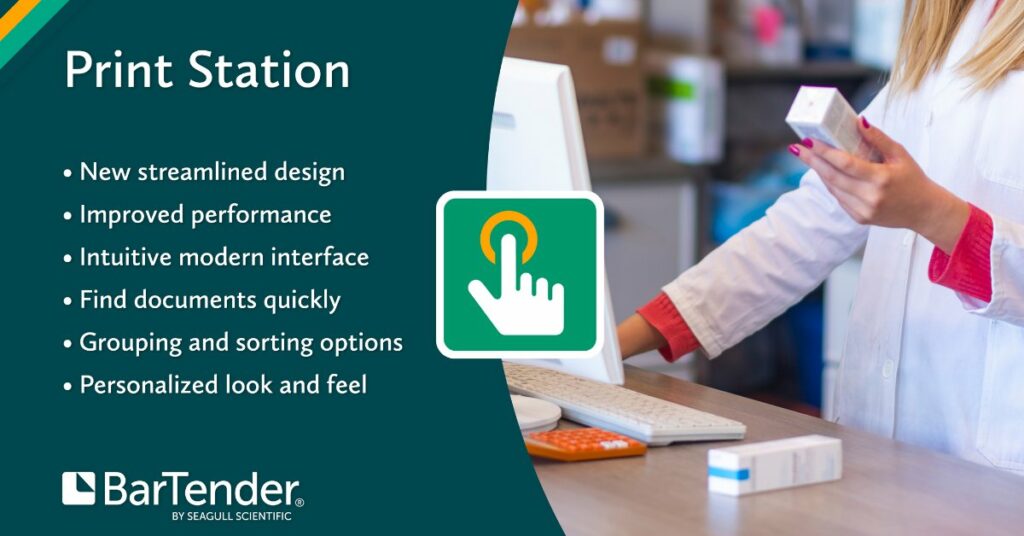 What is a BarTender Data Builder?
BarTender Data Builder is a data entry and database management application. It can be used to create tables, define data types and fields, enter data, and then link that data to label templates.
Data Builder is an excellent replacement for external applications such as a text editor, Microsoft Access, Microsoft Excel, Google Sheets, etc.
What is a BarTender Print Portal?
BarTender Print Portal is a web-based application to locate and print BarTender documents from any browser with an active Internet connection.
Print Portal enables you to access BarTender documents stored from any computer without installing the BarTender software.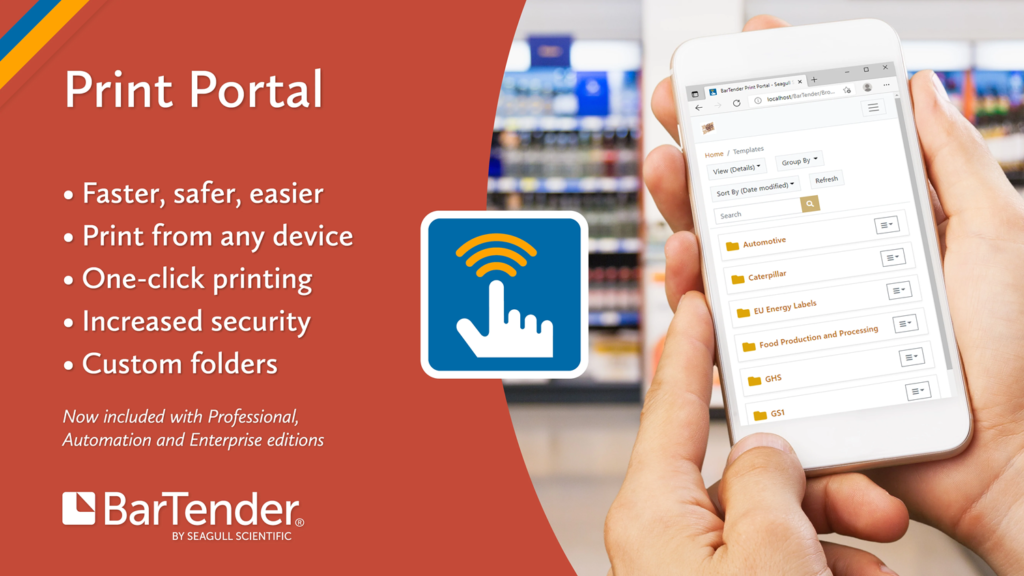 What is a BarTender Integration Builder?
BarTender Integration Builder is a tool that automates the printing process by integrating BarTender with other business systems like SAP and Oracle for a seamless printing experience.
With Integration Builder, you can define a trigger event that will automatically run the service action when the conditions are met. For example, you can create a trigger event that will automatically print shipping labels whenever an order is placed in your system.
What is a BarTender Process Builder?
BarTender Process Builder is a companion application used to design a process flow to print one or more documents or to perform other actions to automate repetitive operations.
What is a BarTender Printer Maestro?
BarTender Printer Maestro is a user-friendly application used to monitor, configure and manage a network of printers from a central location. The application tracks your printer-related inventory, like labels, print heads, and toner.
What is a BarTender Mobile Application?
BarTender Mobile application is a free android app that enables you to print labels, tags, and other documents directly from your mobile device or mobile terminals.
Requirements and Compatibility
What are the System Requirements for Running BarTender Software?
The system requirements to run BarTender software are as follows.
| | | |
| --- | --- | --- |
| | 4 GB (32-bit), 8 GB (64-bit) | 4 GB (32-bit), 8 GB (64-bit) |
| | | |
| | Windows: 11,10, Windows Server: 2022, 2019, 2016 | Windows: 11,10, Windows Server: 2022, 2019, 2016 |
| Microsoft .NET Framework, Components | Microsoft .NET Framework Version 4.7.2 or newer. | Latest Microsoft .NET Framework version. |
| | | |
Note – If your computer lacks .NET framework components, BarTender will automatically install the necessary .NET framework components.
Which Printers is BarTender Compatible With?
BarTender is compatible with more than 6500 printer models, including models from Honeywell, Zebra, TSC, and Datamax.
A complete list of compatible printers can be found here.
Which Windows Version is BarTender Compatible With?
The supported Windows versions vary depending on the version of BarTender you are using.
Here is a table containing a complete list of BarTender versions and the corresponding compatible Windows version and server.
| | | |
| --- | --- | --- |
| | | Server 2022, Server 2019, Server 2016 |
| | | Server 2022, Server 2019, Server 2016 |
| | Windows 11, Windows 10, Windows 8.1, Windows 8, Windows 7 | Server 2022, Server 2019, Server 2016, Server 2012 R2, Server 2012, Server 2008 R2 |
| | Windows 11, Windows 10, Windows 8.1, Windows 8, Windows 7, Windows Vista | Server 2022, Server 2019, Server 2016, Server 2012 R2, Server 2012, Server 2008 R2, Server 2008 |
Is BarTender Compatible With macOS or Other Non-Windows Operating Systems?
No, BarTender is not compatible with macOS or any other non-Windows operating system.
Currently, BarTender software can only be installed and run on a Windows computer or server.
Is BarTender Compatible With Virtual Machines?
Yes, BarTender is compatible with virtual machines. However, there is no assurance that the software will work 100% of the time.
The supported virtualization platforms are as follows.
VMWare

Microsoft Virtual PC and Virtual Server

Parallels for Macintosh

WINE for Linux
Which Business Systems can BarTender Integrate With?
BarTender allows the following business system integrations.
Oracle

SAP

IBM Websphere

Sage

Infor

HighJump

NetSuite

Epicor

Microsoft Dynamics
Label Designing and Printing
What Image Formats Does BarTender Support?
BarTender supports more than 70 image formats, including JPEG, PNG, TIFF, GIF, and BMP.
However, the supported image format varies depending on whether you import or export the image.
For a complete list of supported image formats, please click here.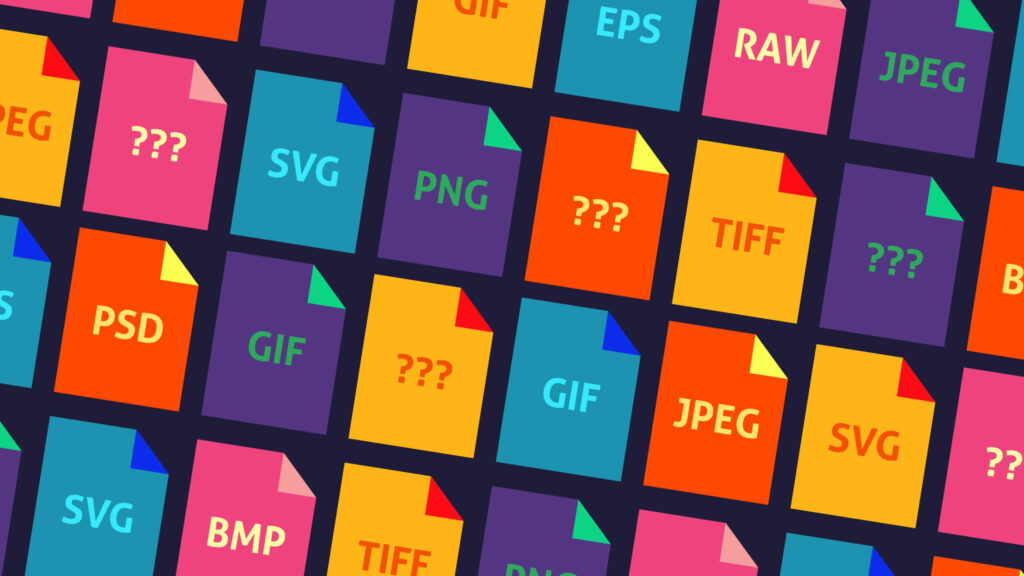 What Fonts Does BarTender Support?
Bartender supports the following fonts. 
OpenType 

TrueType

Symbol Font characters

Native printer-based fonts.
Additionally, It has MS Word-like tools for formatting and creating texts.
Do Bartender Support Colored Barcode Label Designing?
Yes, BarTender supports colored barcode label design. 
You can design commercial quality labels using data-sourced colors and PANTONE.
Does BarTender Have a Built-In Template Library?
Yes, BarTender does have a built-in template library. The template library contains more than 160 exclusive intelligent templates for common industries. 
What Standards and Regulations can BarTender Help You Follow?
BarTender will help adhere to the following standards and regulations.
EU food allergen labeling (FIC)

FDA 21 CFR part 11

GHS

UDI
Different Editions and Upgrades
What is the Difference Between the BarTender Editions?
The main difference between the editions is the functionality and included features.
The Starter edition is ideal for small businesses and departments looking for a quick, easy label-generating solution. It comes with support for dynamic variable data from .csv or Excel files.
The Professional edition is designed for medium-sized businesses that need more design and integration features than the Starter edition offers. This edition includes secure Internet printing, RFID encoding, data entry forms, and linking content from databases like spreadsheets.
The Automation edition is created for companies that require advanced automation capabilities for printing and managing label printing. This edition is intended to enable business continuity and reduce downtime.
The Enterprise edition is the most comprehensive edition and includes all the features from the other editions. It has a centralized management console, workflow orchestration, revision control, web printing, and the highest security. It is ideal for enterprises that operate in multiple locations. 
For an in-depth comparison of each edition, please visit our Bartender Software page.
What's New in the 2022 BarTender Software Release?
The latest release of BarTender, version 2022, includes the following new features and enhancements.
Expanded access to remote printing with Print Portal

New SAP HANA database connector

Redesigned Print Station application

New BarTender REST API
Can I Upgrade My BarTender Software? / Can I Upgrade to a More Advanced BarTender Edition Later on?
Yes, you can upgrade your BarTender software at any time.
How Many Different Versions of BarTender are Available?
There are five versions of BarTender. Below is a table showing the version name and its release date.
Please note that BarTender 10.1 is no longer supported.
For How Long is Each BarTender Version Supported?
The duration of support for each BarTender version varies. However, starting with BarTender 2019, the company now guarantees support for six years from the release date.
The duration of support for each BarTender version is as follows.
What is a Product Key Code in BarTender?
A BarTender product key code is a 16-digit alphanumeric code separated by dashes used to activate the software.
What is BarTender Licensing and How Does it Work?
BarTender licensing is a way to purchase the software depending on the number of printers you want to use the software with.
There are four types of BarTender licenses.
BarTender Application License – It enables multiple users to use the software from any networked computer.

BarTender Printer License – A license for each printer that will print labels created in BarTender.

BarTender Support and Maintenance Application License – It is a support and maintenance agreement for the BarTender software.

BarTender Support and Maintenance Printer License – It is a support and maintenance agreement for the printer used with BarTender software.
Why Should You Purchase BarTender Standard Maintenance and Support? / What is Included in BarTender's Maintenance Contract?
Here are some benefits of purchasing BarTender's Standard Maintenance and Support.
Email, phone, and chat support.

Guaranteed first response time within two business hours.

Access to well-trained, knowledgeable, and friendly support agents from all over the world.

Installation and configuration assistance

Problem diagnosis and help.

Software capabilities and features explanation and support.
Does Bartender Offer a Free Trial? / Can I Test the BarTender Software Before Purchasing it?
Yes, BarTender offers a 30-day free trial with full functionality.  You can download a free trial right here.

How Much Does BarTender Software Cost?
To get a quote, simply fill out this form and our Solutions team will get back to you.  Otherwise you can reach us through the live chat widget at the bottom of your screen.
There is no doubt that BarTender is one of the most popular label design software on the market. It offers a wide range of features and is suitable for businesses of all sizes.
With BarTender software, Seagull Scientific enables organizations to improve safety, security, efficiency, and compliance by automating printing labels, barcodes, RFID tags, smart cards, etc.
We hope this article has answered your questions about BarTender software.
If you want some other label design software options, check out our list of the best label design software.