In an age where quick and efficient data processing has become a necessity, barcodes have become an integral part of our daily lives. One such type is the MSI Plessey barcode, especially popular in libraries and retail sectors for inventory management.
MSI (also known as Modified Plessey) is a type of numeric barcode that was developed from the original Plessey Code symbology, using continuous symbology that is not self-checking. The length of the MSI Plessey barcode varies depending on its application. Each character in the code represents a piece of different information related to the item.
In this blog post, we'll explore the history and purpose of the MSI Plessey barcode, its unique features, and how it's utilised in today's world.
What Are MSI Plessey Barcodes - A Deep Explanation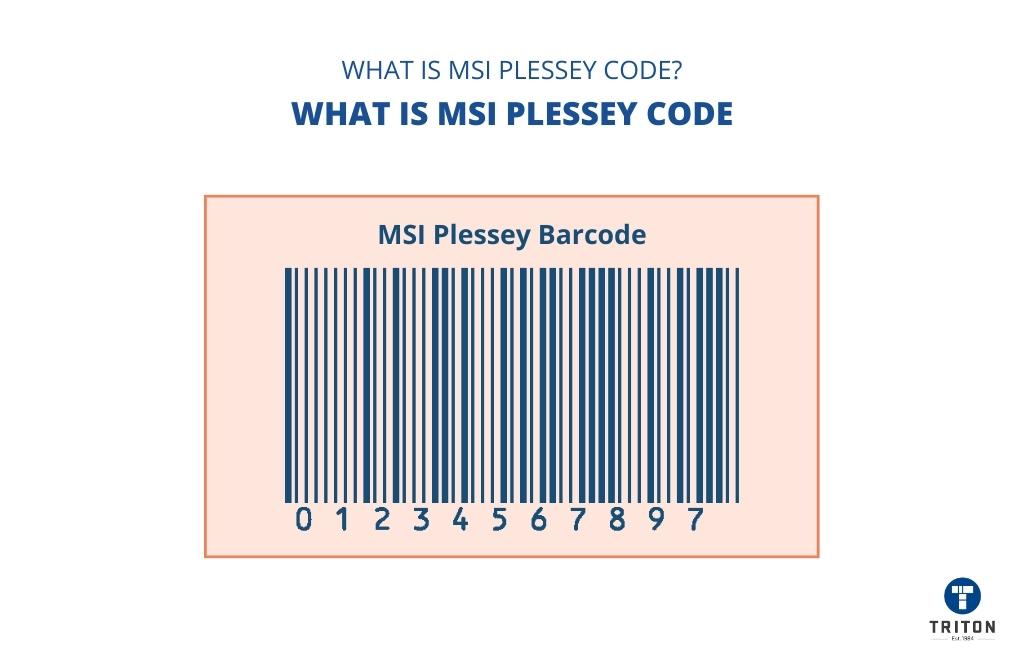 An MSI Plessey barcode is a numeric-only, variable code length 1-dimensional barcode symbology developed by the MSI Data Corporation. It is a modified version of the Plessey barcode, which was developed in 1971 by the Plessey Company of England. 
Currently, the MSI Plessey bar code is maintained by Symbol Technologies, Inc., which has made significant efforts to ensure its relevance and continuous improvement over the years.  
The MSI Plessey barcode was developed to resolve the drawbacks of the original Plessey Code. These drawbacks included an inefficient way of encoding numbers and a tendency for errors to occur. 
To greatly enhance MSI Plessey's reliability, a second optional check digit was incorporated into the MSI Plessey barcode. As a result, this advanced barcode system has been extensively utilised in specialised applications, offering a more precise encoding method with reduced error possibilities.
MSI Plessey Barcodes serve a crucial role in inventory management for various businesses, including supermarkets, warehouses, and other storage facilities. These barcodes help track items and monitor their locations on retail shelves or storage spaces, ensuring better organisation and efficiency.
In addition to tracking products, MSI Plessey Barcodes can also be used for marking storage containers and other objects needing identification. This comes in especially handy in situations where there are numerous containers or items that must be easily differentiated from each other.
MSI Barcodes have a long history and are known for their reliability. As a result, it has been widely adopted by various businesses, including warehouses and small startups, that require barcode systems. 
However, users must remember that the MSI Plessey Barcode is an older technology that may not be appropriate for certain applications. For instance, it might not be the best choice for point-of-sale billing in retail stores. 
How to Recognise an MSI Plessey Barcode?
MSI Plessey barcodes are a type of 1-dimensional barcode symbology that can be identified by their distinguishing pattern. It is composed of bars and spaces, with the bars representing the numerical data encoded in the barcode and the spaces separating them. 
The MSI Plessey barcode begins with a start character, then the encoded data, followed by a check digit for error detection, and finally, a stop character to indicate the end of the code.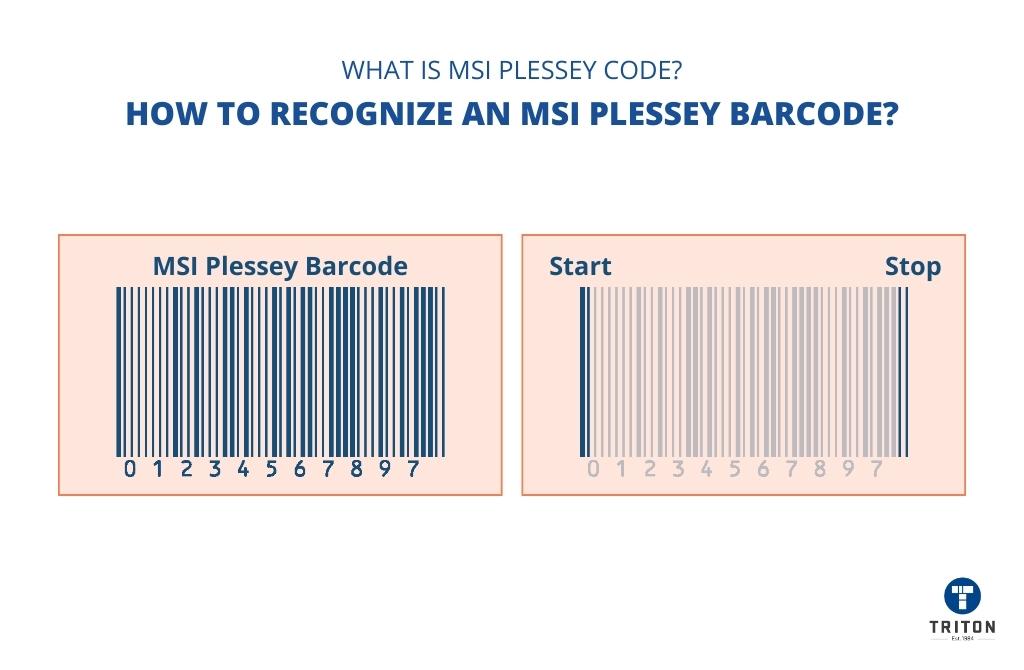 How Does an MSI Plessey Code Work?
MSI Plessey barcodes are made up of alternating black and white lines that form vertical bars and spaces, which can be scanned by a barcode reader to decode the values encoded within them. 
Why do we Need MSI Plessey Barcodes?
MSI Plessey barcodes are useful for inventory control and managing warehouse environments. By utilising a unique string of bars and spaces, these barcodes enable businesses to swiftly identify products and reduce the time it takes to locate items manually.
How to Get an MSI Plessey Code?
MSI Plessey barcodes can be effortlessly created using online tools or free barcode generators. You simply need the numerical digits associated with the specific product you want to create a barcode. These digits are then transformed into a unique MSI Plessey barcode that can be easily printed and utilised.
You don't have to pay any fees to get your MSI Plessey codes. They are old but still widely used by various businesses for internal operations. Even though GS1 doesn't support this type of barcode anymore, it remains popular among many companies due to its ease of use, affordability, and convenience. 
MSI Plessey Code Barcode Structure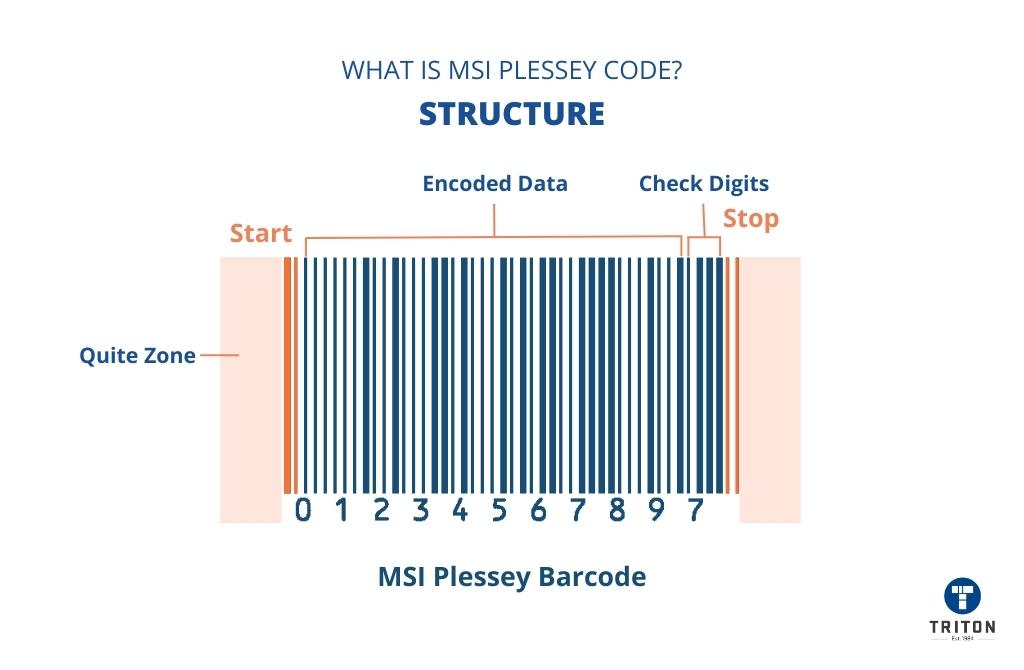 The data encoded in the MSI Plessey barcode is represented by binary digits, with black bars being represented as "1" and spaces being represented as "0." 
Each barcode contains bars/spaces with data bits, start and stop characters (one at the beginning and one at the end), and one or two check digits.
The MSI Plessey code has a structure consisting of the following. 
Leading quiet zone

Start character

Encoded data

Check digits

Stop character

Trailing quiet zone
Quiet zone refers to empty space surrounding a barcode. 
The leading quiet zone is an important component of the MSI Plessey barcode and is necessary for successful scanning. The quiet zone must be at least 0.125 inches wide on both the left and right sides for the scanner to read the data accurately.
The start character of the MSI Plessey barcode serves as an indicator that a valid barcode is being scanned. It marks the beginning of the symbol.
Encoded data follows the start character. These characters contain product information and other data stored in the barcode. 
The MSI Plessey barcode symbology has no data capacity limit. 
Check digits are added to the barcode structure to ensure the accuracy of the barcode. The check digit follows the encoded data in the barcode symbol and consists of one or two digits.  
The MSI Plessey barcode has check digits based on one of the following algorithms.
Modulo 10

Modulo 11

Modulo 1010 

Modulo 1110
Finally, there is a stop character after the check digit. It marks the ending of the symbol.
Stop character helps to detect the direction in which the symbol should be scanned to decode it accurately.
There's a trailing quiet zone, an empty space at the end of the barcode symbol. 
Designing Rules for MSI Plessey Code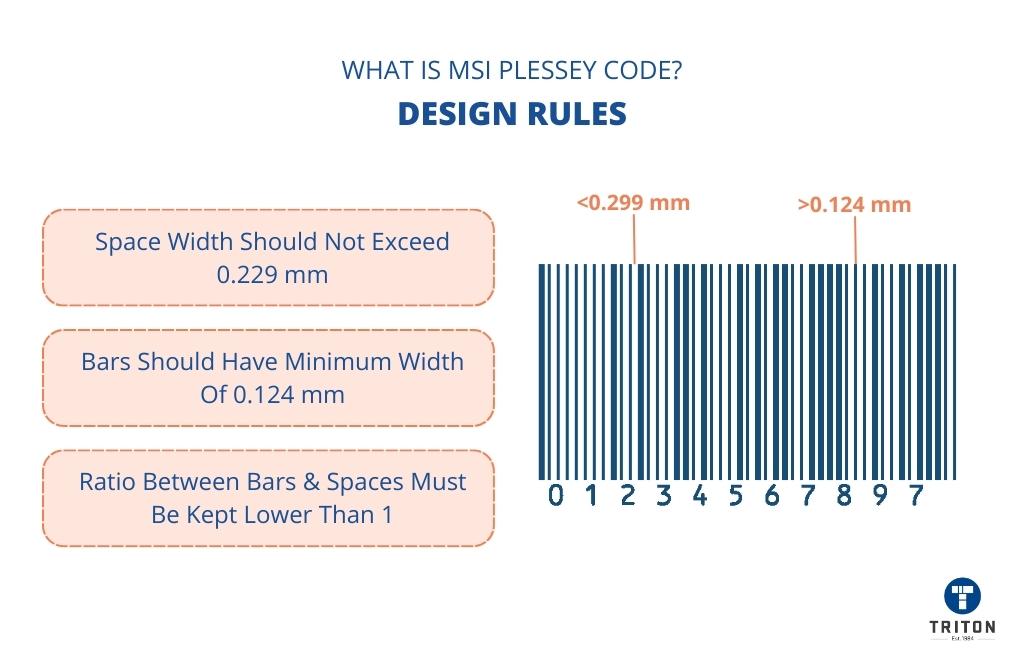 The MSI Plessey barcode adheres to the design principles of the original Plessey code. The main aspects of the design focus on the proportions of the barcode's elements, specifically the bars and spaces, as well as the inclusion of margin spaces for improved readability.
In terms of proportions, the ratio between the bars and spaces in an MSI Plessey barcode must be kept lower than 1. This ensures a balanced appearance that is easily decipherable by scanning devices. 
The space width should not exceed 0.229 millimetres, as a larger space would create ambiguity in the barcode's interpretation. The bars should have a minimum width of 0.127 millimetres to ensure they are prominent enough for the scanning device to recognise properly.
Another significant aspect of MSI Plessey barcodes is the inclusion of margin spaces before and after the main code. These margins should have a width equivalent to 4 bits, which helps to separate and delineate the barcode data from its surroundings. 
Printing Rules For the MSI Plessey Code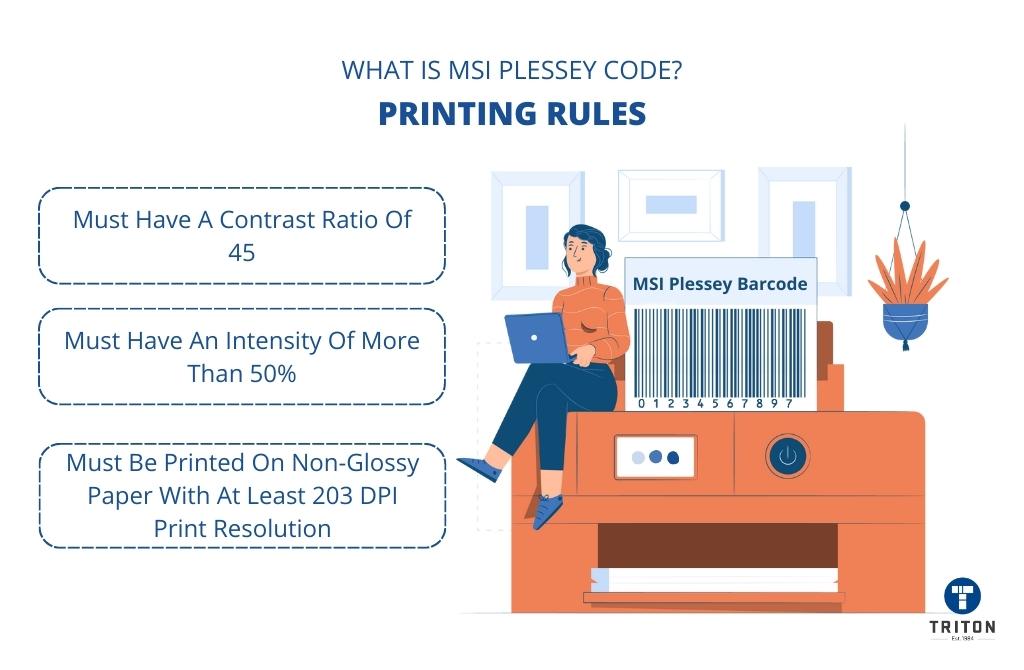 MSI Plessey codes do not come with strict printing rules. However, adhering to certain guidelines ensures accuracy. For optimal results, the use of non-glossy paper and a minimum resolution of 203 dots per inch (dpi) is suggested.
The most common method for printing MSI Plessey barcodes is thermal printing. This technique utilises heat to form the desired image on the printing surface. Compared to traditional dot matrix printers, thermal printers offer increased speed and better quality.
While the initial investment for thermal printers might seem high, they are more cost-effective over time. This cost-efficiency results from their durability and eliminating the need for ink or toner cartridges.
Triton Store is a comprehensive shopping destination for all your thermal barcode printing requirements. We provide an extensive selection of thermal printers tailored to your business needs and budget constraints. Our product range includes high-quality printers from industry-leading manufacturers such as Honeywell, Zebra, and TSC.
At Triton, we have a diverse inventory that features a wide range of printer models to choose from. Our offerings include direct thermal printers, thermal transfer printers, barcode label printers, desktop printers, and industrial printers.
We also provide a range of print consumables, such as thermal labels and ribbons. Our print consumables are manufactured to the highest standards with superior adhesion and long-lasting print quality. Our range of thermal printer consumables includes thermal transfer ribbons, thermal labels, thermal carton labels, thermal carcase tags, and food-compliant thermal inserts.
If you are looking at designing a label with your own MSI Plessy Barcode then Triton also supplies the leading label design software BarTender in a number of editions, Starter, Professional, Automation and Enterprise. Book a time with one of our solution experts to understand which edition is right for you.
Advantages & Disadvantages of MSI Plessey Barcodes
Let's have a look at the Advantages and Disadvantages of MSI Plessey codes: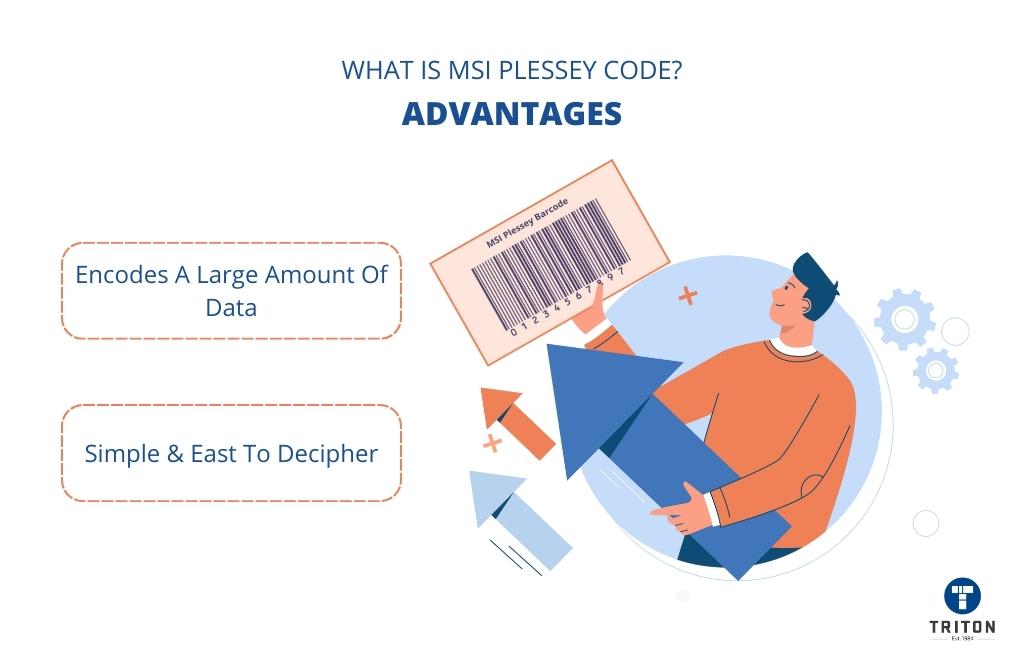 Ability to encode large amounts of data. 
Simple and easy to read, making it well-suited for applications like product tracking.
MSI Plessey Disadvantages
Can only encode numerical data. 
Because of its binary structure, the code is more prone to errors than other barcode formats. 
Not as widely available and supported as other barcode formats, meaning it may not be compatible with certain systems or equipment.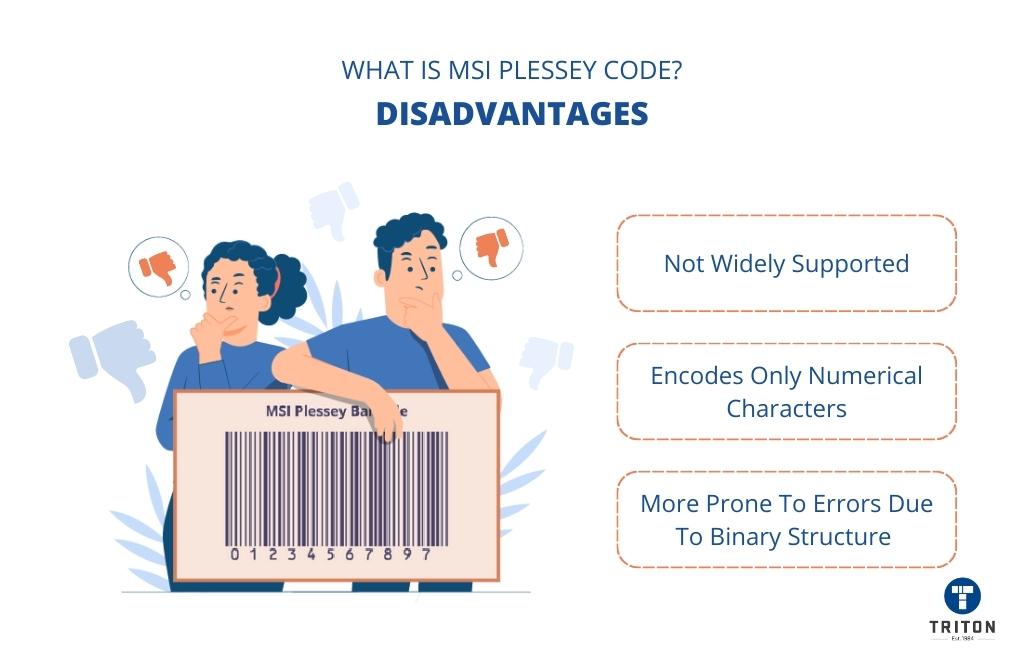 MSI Plessey barcodes offer businesses an affordable and reliable way to store data. Their simplicity and ease of use make them ideal for product tracking applications where accuracy is paramount. 
Although the code has limited capacity and may not be compatible with certain systems, its advantages far outweigh its disadvantages. If you're looking for an efficient method of encoding numerical data into a barcode format, then the MSI Plessey code is worth considering, as it could save your business time and money in the long run.