Advances in technology have revolutionised modern society, and printing has seen a huge leap forward as well. In 1965, the invention of the thermal printers changed how we print labels, tags and other print media. With time, there have been further innovations in the world of printing, one of them being the use of RFID in thermal printing.
But what is RFID?
RFID stands for Radio Frequency Identification. It is a type of wireless communication that uniquely identify an object by utilising electromagnetic or electrostatic coupling in the radio frequency (RF) portion of the electromagnetic spectrum to identify an object uniquely.
RFID works by transmitting a signal from an RFID tag to an RFID reader. The tag stores information about the item it is attached to while the reader processes and reads that data. The data can contain information such as the item's serial number, expiration dates, shipping information, and other valuable details related to its function.
When combined with barcodes and thermal print technology, RFID technology becomes a powerful tool for streamlining the identification, tracking, and management of products. To incorporate RFID label printing technology into your business, you need an RFID printer.
In this article, we will familiarise you with the world of RFID printers. We will first understand what RFID printers are, their type and their working mechanism. We will then compare RFID printers with barcode printers and suggest some best RFID printers on the market.
Finally, we will answer some frequently asked questions about RFID printers. So, without any further delay, let us get started!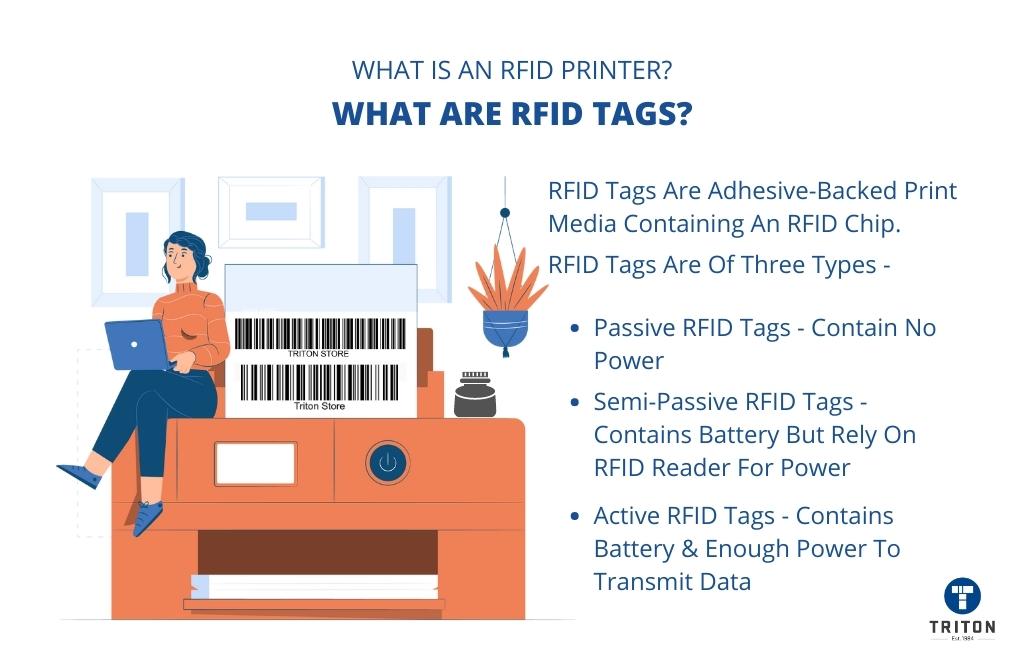 RFID tags, also called RFID labels, smart labels, and smart tags, are adhesive-backed print media that contain an RFID chip. RFID chips are tiny microchips that are embedded with miniature RFID antennas that store information about the product to which it is attached.
RFID tags can be divided into three categories.
Passive RFID tags – These tags do not contain any power. They receive power from the RFID reader to transmit data.

Semi-passive RFID tags – These tags utilise a battery to power the internal operation of the tag. However, they rely on the RFID reader to power the signal transmission to the reader.

Active RFID tags – These tags have enough battery to supply power for internal operations as well as transmit the signal to the reader.
Generally, RFID labels are identified by their radio frequencies. Based on frequency, RFID labels are divided into three groups.
Low Frequency (LF) RFID Tags – These tags use 30 KHz to 300 KHz frequency and have a read range of around 10 cm (0.33 ft).

High Frequency (HF) RFID Tags – These tags have a range of 3 MHz to 30 MHz frequency and a read range between 10 cm to 1 m (3.28 ft).

Ultra-high-frequency (UHF) RFID Tags – These tags use 300 MHz to 3 GHz frequency and feature a read range of up to 12 m (39.37 ft).
Why Do We Need RFID Printers?
RFID printers are great tools for businesses looking to provide fast and reliable inventory tracking. RFID tags or labels can be attached to items and help organisations; 
Easily monitor their assets.

Identify where those assets are located.

Track them through the supply chain.

Know when they need maintenance or replacement.

Ensure inventory is accurately maintained. 
Furthermore, as RFID printing technology stores all required information on a single RFID tag, it allows businesses to reduce labour costs as it eliminates the need for repeated manual data entry and data-matching processes. RFID print technology also reduces human errors and increases the accuracy & efficiency of inventory management.
RFID printers come in various configurations, shapes and sizes, allowing businesses to find the best fit for their needs. We have classified them by their usage and their tag compatibility. 
Let's take a look at different types of RFID printers.
Industrial RFID printers can print over 10,000 tags daily, making them ideal for high-volume production lines. These printers are rugged, durable, and can be used in most applications.
Industrial printers often have advanced features, such as built-in maintenance software and large media capacity. As a result, these printers can handle complex printing tasks with ease. 
Check out our collection of industrial label printers here.
Desktop RFID printers are a more affordable option than their industrial counterparts. These printers can print 500+ tags in a day. Usually, these printers are made to be used in offices or stores.
Desktop printers have smaller print widths and lower print speeds than industrial printers, but they are still capable of encoding data onto labels accurately and efficiently.
Check out our range of desktop label printers here.
Mobile RFID printers are an advanced type of RFID printing technology. These printers can print 200+ tags a day. 
Mobile RFID printers are portable and lightweight, making them perfect for companies that need to encode tags while on the go. These devices are great for businesses that require access to information in challenging environments.
Mobile printers often feature robust connectivity options such as Bluetooth and Wi-Fi, enabling seamless integration with existing systems. 
There are three types of RFID printers based on their encoder's frequency range, Ultra-high frequency RFID printers, High-frequency RFID printers and Low-frequency RFID printers.
Ultra-high-frequency RFID thermal printers are designed to encode UHF RFID tags. Likewise, High-frequency RFID thermal printers are designed to encode HF RFID tags, and Low-frequency RFID thermal printers can encode LF RFID tags.
Specialised RFID printers provide additional functionality beyond what regular RFID printers offer.
Specialised RFID printers can create customised labels or name tags. They can also print on foam-backed tags, metal back cards and badges.
In direct thermal print, a direct thermal RFID printer prints use heat-sensitive RFID media (also called thermal labels). This heat-sensitive material has ink embedded in it, which darkens when exposed to the heat received by a thermal printhead.
Direct thermal RFID printers only require RFID thermal labels. They do not need printer consumables like thermal ribbons, making them cost-efficient over time.
Visit our direct thermal transfer printer category page for a complete range of available printers.
Thermal Transfer Printing
In thermal transfer print, an RFID thermal transfer printer uses a thermal ribbon, a thin film made of wax, resin or a combination of both.
The thermal ribbon gets placed between the print material and the thermal print head. The thermal print head then transfers heat, which melts the ribbon and transfers it onto the material beneath it.
Thermal transfer offers the highest quality printouts, but they require the use of thermal ribbons, which becomes costly over time. 
Visit our thermal transfer printer category page for a full range of available printers. 
Barcode Printers vs RFID Printers - What's the Difference?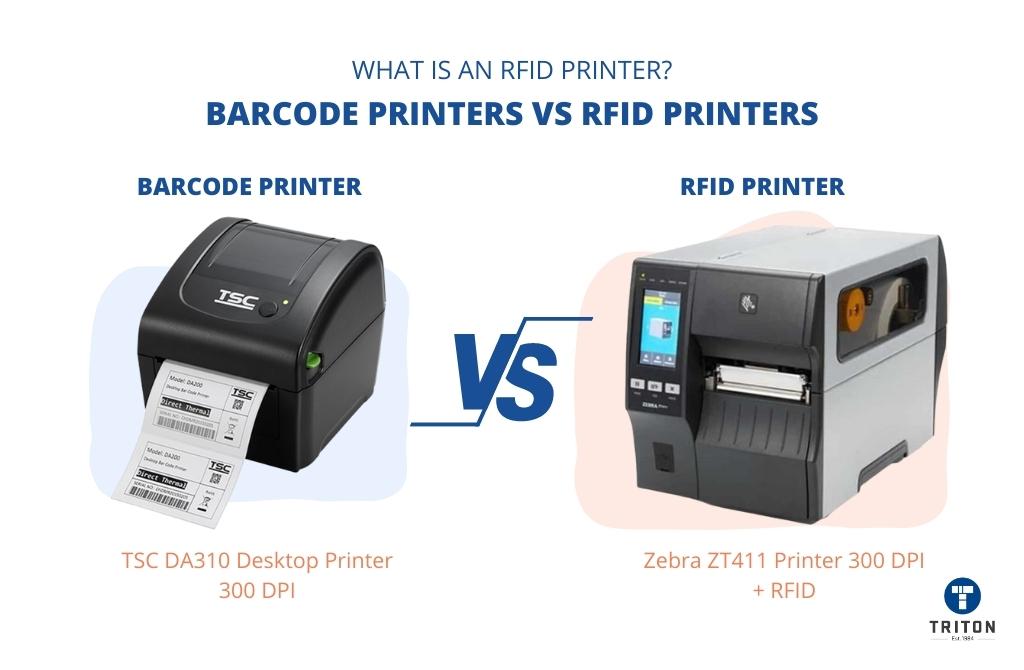 Barcode printers and RFID printers are two different types of printers. Both allow users to print labels and barcodes and are used in similar industries such as retail, manufacturing and logistics. However, there are some significant differences between the two types of printers.
Here are some key differences between a barcode printer and an RFID printer.
| | | |
| --- | --- | --- |
| Direct thermal/ thermal transfer | | Direct thermal/ thermal transfer |
| Only used for printing barcodes | | Can print tags, labels, cards, barcodes and other small documents. |
| Usually, slower than RFID printers | | Faster than barcode printers. |
| | | Slightly complicated in comparison to barcode printers |
| Generally, prints in 203 dpi resolution | | Can print at different resolutions, ranging between 203 dpi to 600 dpi |
| Lacks features in comparison to RFID printers and mostly requires a host device | | Features include a built-in touchscreen display, multiple connectivity ports, accessory support etc. |
RFID Printer Applications and Use Cases
RFID printers are a valuable tool for various industries and applications.
Let's have a look at some of the applications of RFID printers.
Retailers use RFID printers to encode model numbers and prices onto RFID tags. Using RFID tags makes it easier for store staff to identify products quickly.
Many retailers also use RFIDs to provide customers with enhanced shopping experiences, such as locating products quickly or offering personalised discounts. 
Warehouses and shipping centres encode cargo information like serial numbers and codes onto RFID labels, allowing companies to track shipments in real time.
RFID printers encode product information like manufacturing date and batch numbers onto tags before packing them into boxes, saving time and manual labour in the process.
Hospitals use RFID printers to identify patient records or medical equipment. They also use these devices to track the movement of drugs or other sensitive items within the hospital.
Companies use RFID printers to create secure access RFID cards, enabling employees to enter restricted areas or buildings.
RFID printers can also print custom barcodes or QR codes which link users directly to an online database, providing another layer of security and preventing unauthorised access.
Best RFID Printers in the Market
RFID printers are becoming more popular and widely used in a variety of industries. Today, a wide range of RFID printers are available on the market, each with its own features and capabilities. 
Let's take a look at some of the most popular RFID printers on the market today.  Models notated with "RFID" have specific RFID models available.
How Much Do RFID Printers Cost?
When it comes to RFID printers, the cost can vary significantly depending on the features and capabilities that they offer.
Generally, budget-friendly models cost around $900, while heavy-duty systems designed for large-scale operations can run up to around $10,000.
Additionally, RFID printers use printer consumables such as ribbons, tags and labels to print and encode information. Thus, the cost of such printer consumables should also be kept in mind.
Frequently Asked Questions
Can Mobile Phones Read RFID?
No, mobile phones cannot read RFID.
However, some smartphones with NFC (Near field communication) ability can act as an HF (High frequency) RFID reader and decode the RFID information.
What Are Some Common Problems With RFID Printers?
Some common problems with RFID printers are.
 Prone to inaccurate encoding and printing due to high speed.

 Requires thermal ribbons, which are costly over time (for thermal transfer printer models).

 Experience technical difficulties due to complex internal components.  
Are RFID Printers Easy to Use?
RFID printers are slightly complicated to use without any knowledge or experience. However, most RFID printers come with a touchscreen display and intuitive controls, making them simple.
Also, there are specific printer troubleshooting guides available online. These guides give users access to helpful resources if they encounter any problems regarding the printer.
In conclusion, RFID printers are an efficient and cost-effective solution for businesses that need to print RFID smart labels. These thermal printers offer the ability to both encode and print barcodes, alphanumeric characters, and other human-readable characters. By leveraging RFID printer technology, businesses can ensure the accuracy of encoded information on each label. 
We hope this article helped you understand what an RFID solution is and why you should consider using one. If you need help choosing the right RFID printer for your business, contact us via the live chat widget. Our team of experts will help you find the perfect solution for your needs.
Thank you for reading!