Barcodes are used across many industries for identification, tracking, and inventory management. However, different types of barcodes serve different functions. One such barcode is Codabar, a linear barcode commonly used in libraries, blood banks, and other industries. 
In this article, we'll explore what exactly a Codabar barcode is and how it can benefit your business in streamlining inventory practices and enhancing customer experience. We will explain the Codabar code's structure, format, and advantages. We will also share some Codabar applications, barcode design, and print tips and tricks to help you get started with Codabar. 
So, read on to find out more about this innovative code format. 
What is a Codabar Barcode?- A Complete Overview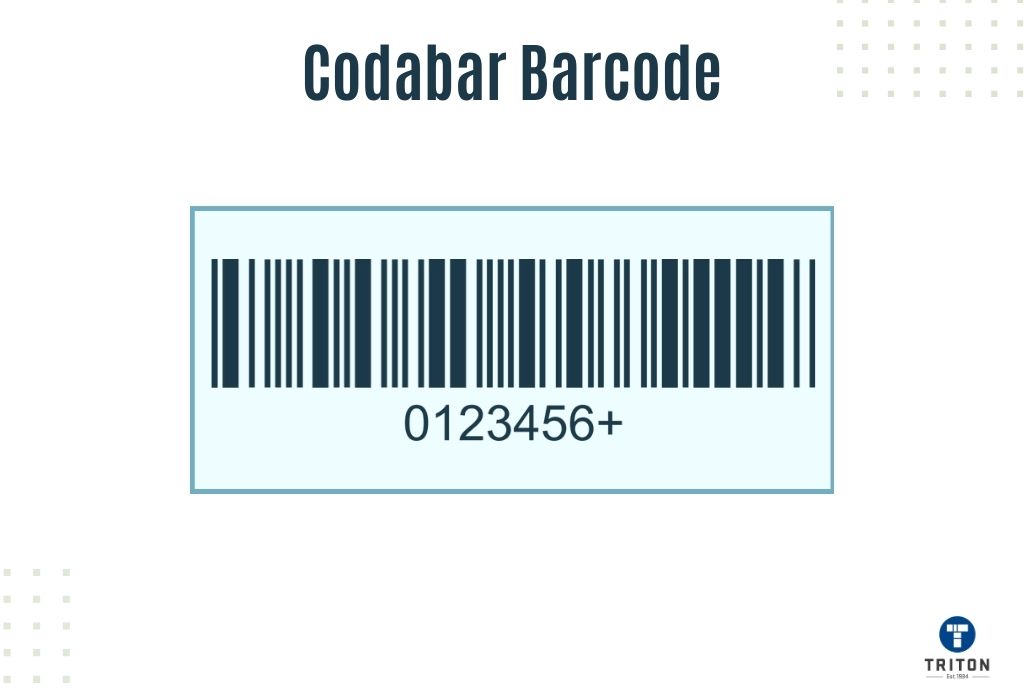 Codabar was developed in 1972 by Pitney Bowes, an American manufacturer of postage meters and other mailing equipment and services. This barcode was initially intended for use in the retail merchandise industry. However, its professional applications soon extended to medical and educational institutions and shipping companies.
Codabar barcodes were designed to overcome difficulties faced when using Monarch Code and to be accurately read even when printed using dot-matrix printers and typewriter-like impact printers. As a result, this barcode symbology gained popularity in multi-part forms like FedEx airbills and blood bank forms. Today, Codabar barcodes are commonly used in the library industry to facilitate the organising and tracking of books. 
A Codabar barcode can encode numeric digits ranging from 0-9 and five special characters, including Plus (+), Minus (-), Forward Slash (/), Colon (:), Dollar symbol ($), and Dot (.). It is worth noting that Codabar can also encode the first four alphabets from 'a' to 'd', but only as start and stop symbols. 
A unique feature of the Codabar barcode is that it allows for self-checking. In some cases, a check digit is not used, and the integrity of the data is tested using start and stop characters. The self-checking feature eliminates the need for a separate checksum that requires additional data input. However, the barcode still provides an option to add a check digit. 
Codabar has been a popular choice in the professional world for decades. However, with time and new barcode development, Codabar is no longer the go-to choice that it once was. Despite this, Codabar still holds its own unique place in many industries due to its loyal following and specialised uses.
Codabar is known by different names, such as USD 4, Codeabar, Monarch, Ames Code Code 2 of 7, Rationalised Codabar, and ANSI/AIM BC3-1995. Specifically in Japan, Codabar goes by the name NW-7. 
The Codabar barcode is defined in the AIM-BC3-2000 Uniform Symbology Specification. Please note that Codabar hasn't been registered for US federal trademark status; However, its hyphenated variant, Code-a-bar, is registered as a trademark.
Where Are Codabar Barcodes Used?
Codabar was created to ensure accurate barcodes even when printed using dot-matrix or typewriter-like impact printers. This allowed for the creation of consecutively numbered codes with ease, without fancy computer equipment, making Codabar a pretty popular choice.  
Codabar was once popular for multi-part printing documents. But technological advances led to the development of new barcode symbologies that can store more data in less space. Despite this, Codabar is still used in libraries (on book spines) and other organisations for internal operations.  
How to Identify a Codabar Barcode?
A Codabar barcode is identified by its unique pattern of bars and spaces arranged in specific ways. It has four bars that represent numbers, letters, or symbols with three spaces in between.
Every Codabar symbol begins with a quiet zone, followed by a start character (A, B, C, or D). After the start character, there are symbol characters that represent carrying important information about the product being identified. Each symbol character comprises seven elements: four bars and three spaces.
Finally, the Codabar symbol ends with a stop character (A, B, C, or D), followed by another quiet zone. 
Anatomy of Codabar Barcodes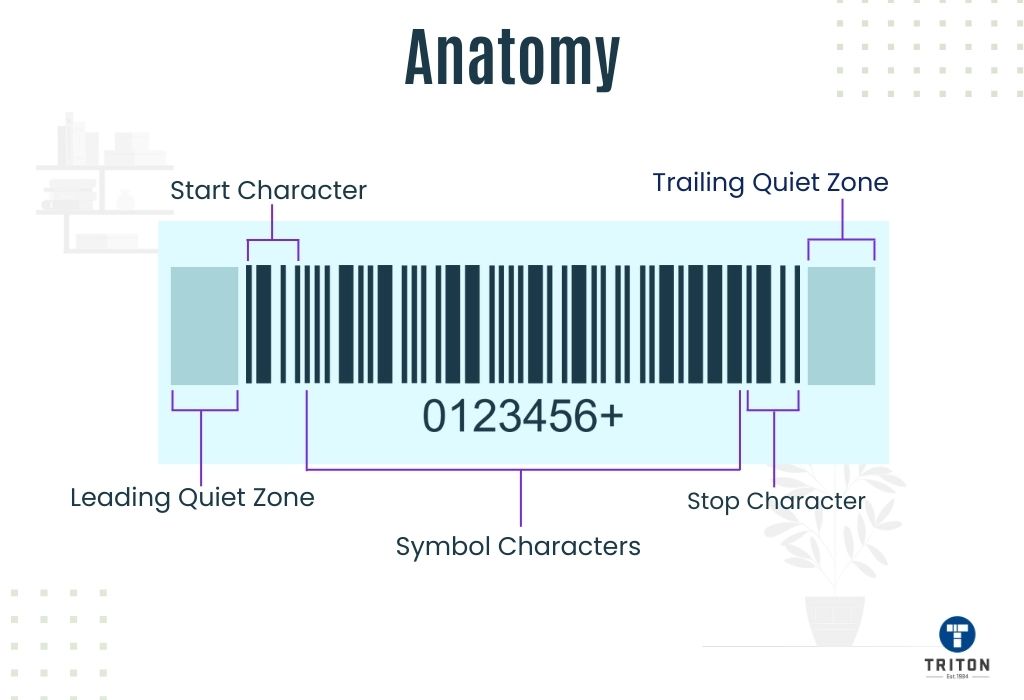 The structure of the Codabar barcode has the following elements.
Leading quiet zone

Start character

Symbol characters that represent data (including an optional check digit)

Stop character

Trailing quiet zone
Leading and Trailing Quiet Zones
The empty space areas at the beginning and end of a Codabar barcode are called leading and trailing quiet zones, respectively. These zones help the scanning device identify the beginning and end of the barcode, making it possible to scan and read the label.
Start and Stop Characters
Codabar barcodes are composed of one of four start and stop characters, represented by the letters A, B, C, and D. 
Each of these letters can be used to begin or end a Codabar barcode. Each encoded sequence can theoretically begin or end with any combination of these characters, which may reduce the data integrity of the entire barcode. 
It is also common for a barcode scanner to transmit the start and stop characters as part of the data set if the option is enabled. 
Symbol characters in a Codabar barcode are composed of seven elements: four bars and three spaces. Out of seven elements, the barcode has two to three wide elements, and the rest are narrow elements.
Each one character is separated from the next one by an intercharacter space, which can be set to have the same width ratio as a narrow space.
A Codabar barcode is a self-checking barcode. However, it still provides an optional check digit.  
The check digit of a Codabar barcode is computed using the Modulo 16 (mod 16) algorithm, which ensures that the data is valid when scanned. The check digit appears just before the stop character, guaranteeing that the barcode is correctly composed. 
Types of Codabar Barcodes
The Codabar barcode has two variants: the Traditional Codabar barcode and the ABC Codabar barcode. 
Traditional Codabar Barcodes
The version of Codabar that was originally developed is now referred to as the Traditional Codabar. It has some differences from the current Codabar barcode, specifically in the start and stop characters and density tolerances. 
The ABC Codabar is a variation of the Codabar symbology that allows for concatenation. It uses the D stop character in one symbol to indicate that it should be joined with data from an adjacent symbol with a D start character. This means that there is no limit to how many labels can be concatenated as long as they are within range of the barcode scanner. 
Advantages of Codabar Barcodes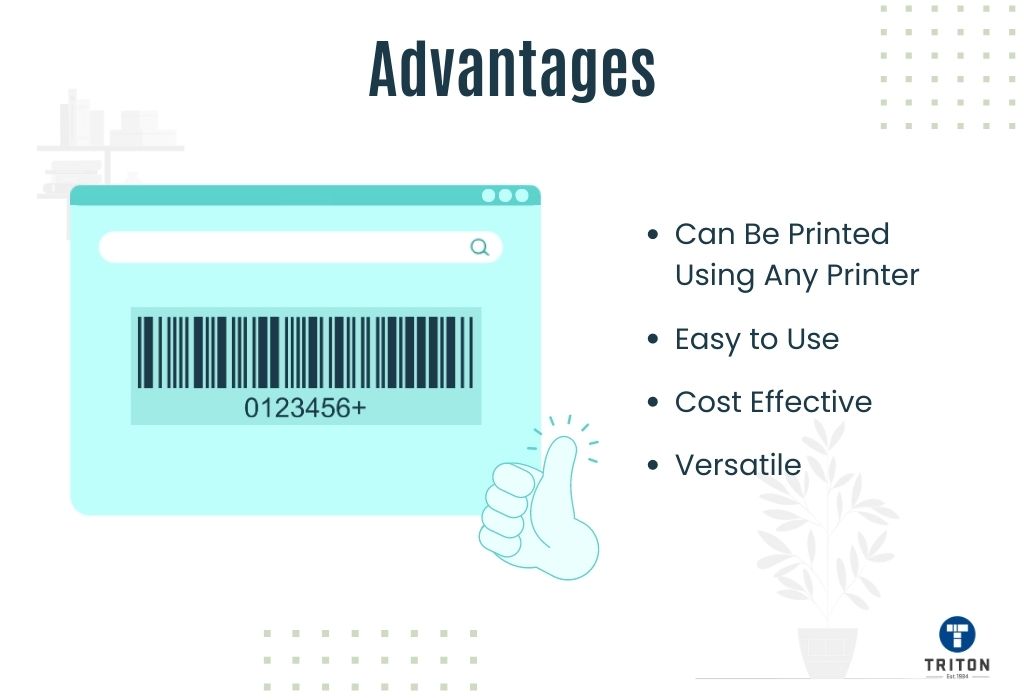 The Codabar Barcode is a reliable tool for tracking products. Codabar barcodes provide a secure code type with no information in the gaps between the narrow spaces.
Let's take a look at some of the other advantages of Codabar Barcode:
Codabar is a professional barcode standard that can be printed with all types of printers, from simple printers like dot-matrix printers to complex printers like thermal printers. 

They require minimal user training to understand the encoding and decoding techniques, making them very easy to use and implement in businesses. 

Due to their simplicity, Codabar barcodes are also cost-effective, as no additional hardware requirements or software packages are needed for implementation.

Codabar barcodes includes four start/stop combinations, which make it versatile for various purposes. For instance, you could use one variety for a price listing, a bargain price, and another for the sale price. 
Disadvantages of Codabar Barcodes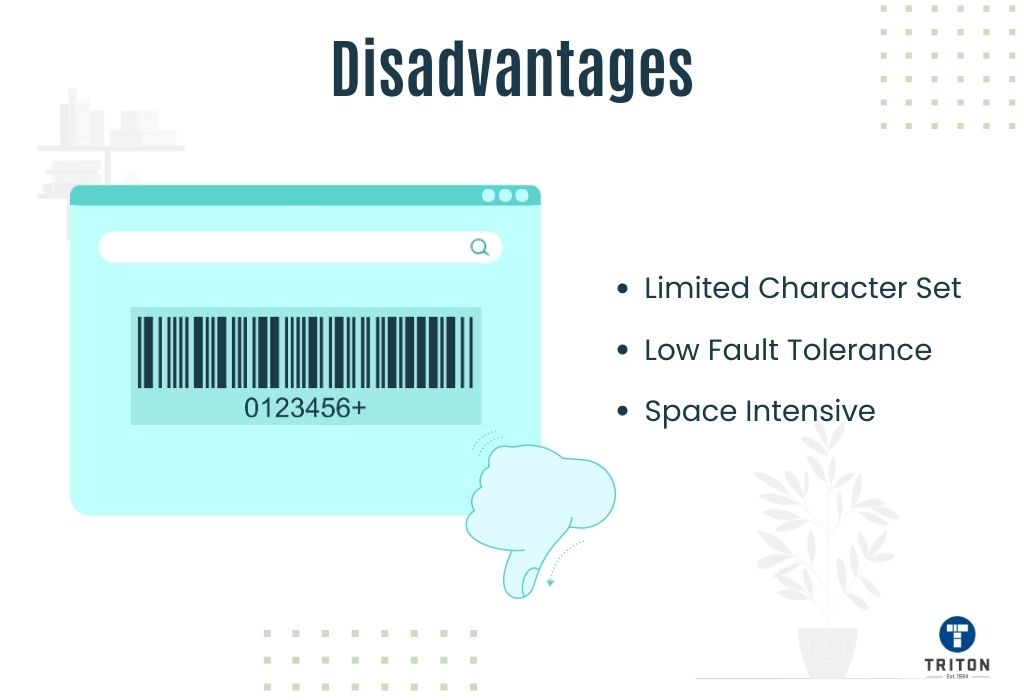 While Codabar codes are popular in certain applications, they also have some limitations and disadvantages that are important to consider.
Here are some of the main disadvantages of the Codabar barcode. 
Codabar can only encode a limited set of characters and alphabets, including numeric digits from 0-9, a few special characters, and some alphabets. This makes it unsuitable for encoding more complex data, such as product descriptions or other types of alphanumeric data.

Codabar has a minimal fault tolerance for damages and distortion. Even a small portion of these barcodes being damaged or distorted can result in difficulty recovering data.

If a large amount of data has to be stored, Codabar's length has to be increased. This means that more space on the labelled product or asset is needed to accommodate the barcode, which can be problematic for smaller items or products with limited surface area.
How to Get a Codabar Barcode
Generating Codabar barcodes is a quick and easy way to create professional-grade barcodes for your products. With the help of free and open-source tools and barcode generators available online, you can easily create your own Codabar barcode in just a few minutes. 
All you need is the numeric code associated with your product, and the free barcode generator will take care of the rest.
Alternatively, to create a Codabar barcode, you can opt to utilise a label design and printing software such as Seagull Scientific's BarTender Software.
BarTender software is an excellent tool for barcode label printing. It offers advanced features that can streamline the process, reduce costs, and save time. To learn more about this software, check out our guide on understanding BarTender software.
At Triton, we offer the best prices on BarTender software with four stand alone editions available – Starter Edition, Professional Edition, Automation Edition and Enterprise Edition, and their latest cloud offering – BarTender Cloud. 
If you have any questions about BarTender software, don't hesitate to get in touch with us via the live chat widget below or by filling out a form.
Design Rules of Codabar Barcodes
Having barcodes and labels is an essential part of any successful business operation. It is important to adhere to certain best practices in order to ensure that your barcodes and labels are accurate, effective, and up to industry standards. By doing so, you can guarantee that your products meet the highest quality standards for both customers and end-users alike. 
When designing Codabar barcodes, it is important to focus on three main factors: the X-dimension, quiet zones, and barcode height. Let's explore these design considerations in detail.
The quality of a Codabar barcode when scanned or printed is dependent on its X dimension, which is a critical parameter. X dimension refers to the width of the narrowest bar of a barcode.  
Codabar barcodes must have an X dimension of 0.0065 inches (0.165 mm), allowing the barcode to encode 11 digits per inch.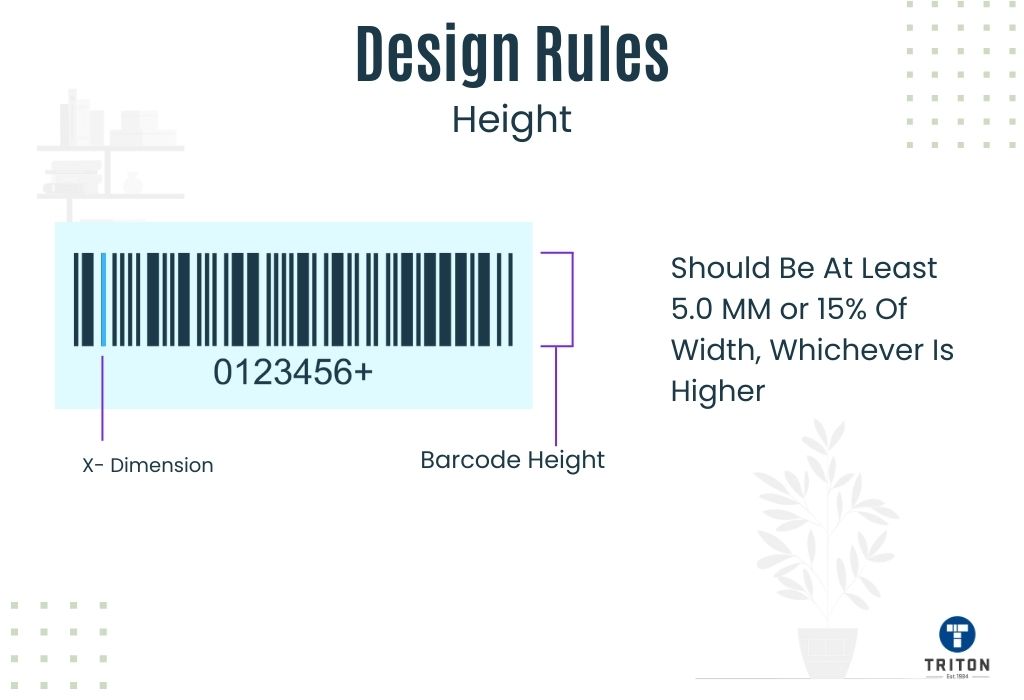 The symbol height of Codabar barcodes is another important factor in their design. 
The barcode height should be 5.0 mm or 15% of the symbol width (excluding the quiet zones), whichever is greater. 
The quiet zones of the Codabar barcode are an area of blank white wide spaces, appearing before and after the barcode. Quiet zones help scanners identify the start and end of the barcode, allowing them to read and interpret the information accurately. 
The size of the quiet zone must be at least 10X wide in order to meet industry standards, where "X" represents the current X dimension of the Codabar barcode. 
Printing Rules of Codabar Barcodes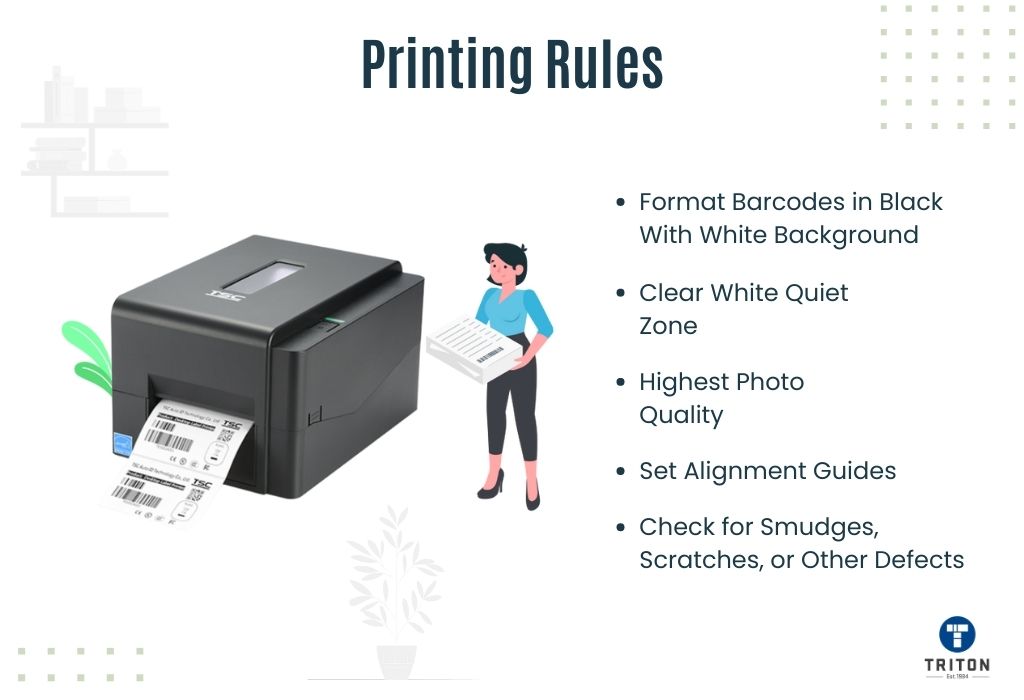 Barcodes are an indispensable tool for tracking products in today's business world. 
In order to be scanned accurately, certain guidelines must be followed when printing the Codabar barcode image. These include. 
Format barcodes in pure black on a white background with the highest contrast possible.

Make sure there is a clear white (or very light-coloured) border around your barcode.

Print using a thermal printer for best results.

Test the printed barcodes to ensure accuracy.
For businesses that rely on printing Codabar barcodes, using high-quality thermal printers is essential. Thermal printers provide superior precision and accuracy, as well as cost savings due to their lack of need for ink or toner.
Thermal printers also offer faster output than other printing technologies with fewer maintenance needs over longer periods. This makes them an ideal choice for businesses looking to produce accurate and reliable barcode prints in a timely manner. 
To understand how a thermal printer functions, please consult our guide on how thermal printer works which explains the scientific principles involved. 
Looking for top-of-the-line thermal barcode printers that won't break the bank? Look no further than Triton Store!  
We offer an extensive selection of top-of-the-line printers from industry leaders like Honeywell, Zebra, and TSC. With our diverse inventory, you can choose from a variety of printer models, including direct thermal printers, thermal transfer printers, desktop printers, industrial printers and barcode label printers. 
At Triton, we also stock print consumables that take your thermal printing experience to the next level. Our print consumables are crafted with exceptional attention to detail, ensuring the highest quality standards with superior adhesion and long-lasting print quality.  
Our range of diverse thermal printer consumables includes thermal transfer ribbons, thermal carton labels, thermal carcase tags, and food-compliant thermal inserts. 
Frequently Asked Questions
What Type of Barcode is a Codabar?
Codabar is a type of linear barcode. This linear barcode symbology includes self-checking features and is suitable for being read on printed forms, specifically those printed using dot matrix printers. 
How to Read a Codabar Barcode?
Codabar barcodes can be easily read using any barcode scanner. 
Check out our guide on types of barcode scanners to learn about the different types of scanners available in the market today. 
Do Codabar Barcodes Need a Check Digit?
No, a check digit is not necessary for a Codabar barcode, as it is a self-checking code. However, for additional security, there is an option to a check digit.
Codabar Barcodes have been used for decades and are still commonly found in many industries. This versatile barcode is capable of encoding numeric digits from 0-9 as well as five special characters, making it a great choice for businesses that need to store data. 
Although other more modern barcodes are available on the market today, Codabar's simplicity makes it an attractive option for those looking to implement a reliable barcoding system without breaking the bank. 
We hope this article was useful. Thanks for reading!