Barcode identification plays a key role in enabling efficient barcoding operations. One way to identify barcodes is through visual examination.
Different barcodes have distinct patterns and features that allow them to be identified visually. By visually recognising the barcode type, one can determine the data type encoded in the code, its usage and the most suitable barcode readers to use.
In this article, we will provide you with an overview of the distinct features associated with the most popular barcode types that can be identified with the naked eye. We will start by covering 1D barcodes, followed by 2D barcode types. But first, here is a quick overview of what a barcode is.
Understanding the Basics of Barcode Technology
Barcodes are machine-readable symbols that store data about a product, item or object. This data can be encoded in the form of numbers, letters and special characters. Barcodes are composed of patterns such as lines, dots, rectangles and other shapes with varying widths arranged in a specific sequence.
Barcodes are of two types, namely, 1D and 2D barcodes. 1D barcodes encode data horizontally, from left to right, in a single line, whereas 2D barcodes contain information both horizontally and vertically on a two-dimensional plane.
Check out our detailed guide, Barcode 101, to learn more about barcoding technology. The guide covers topics such as the working of barcodes, the representation of data in a barcode, anatomy, drawbacks and more.
How to Identify 1D Barcode Types Visually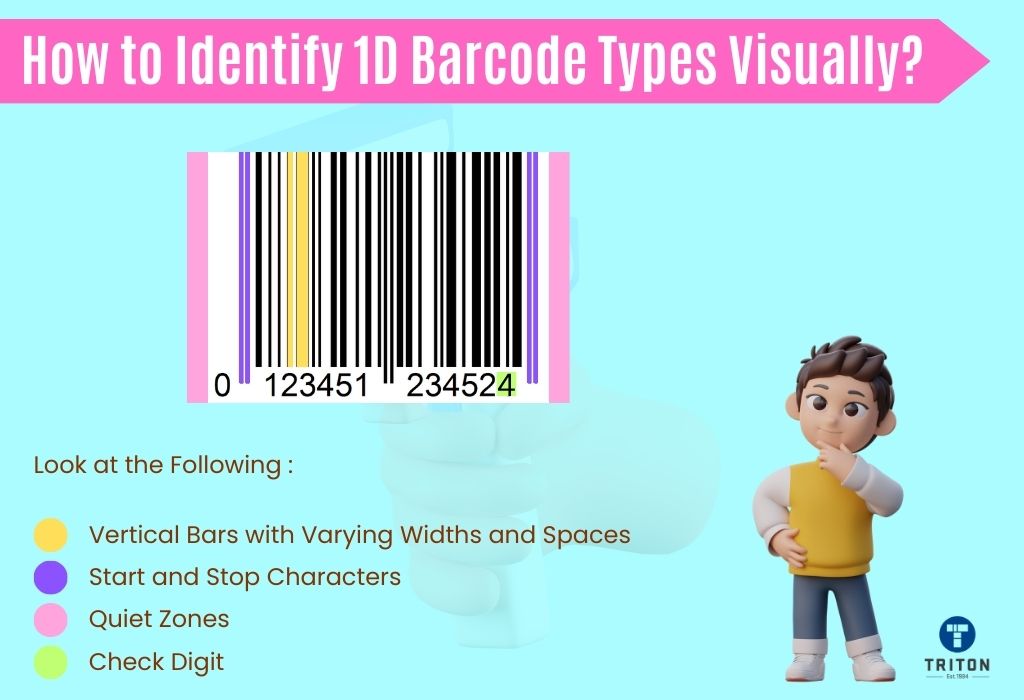 One-dimensional barcodes, also known as linear barcodes, are the traditional types of barcodes.
1D barcodes typically consist of a series of vertical lines with varying widths and spacing between them. They have an additional start and stop character at either end of the code, representing the beginning and end of the code.
1D barcodes have quiet zones, which are empty white areas on all sides of the barcode symbology. The widths of these zones vary between different 1D barcode types. 1D barcodes also have a single check digit, used to verify the accuracy of data encoded in the barcode.
By identifying vertical lines, start/ stop characters, quiet zones and check digit, one can easily visually identify the type of barcode. Here is the list of 1D barcodes that can be identified visually.
UPC

EAN

Code 39

Code 128

GS1-128

Code 49

Code 39

Interleaved 2 of 5

GS1 DataBar

MSI Plessey

Telepen

POSTNET

Intelligent Mail Barcode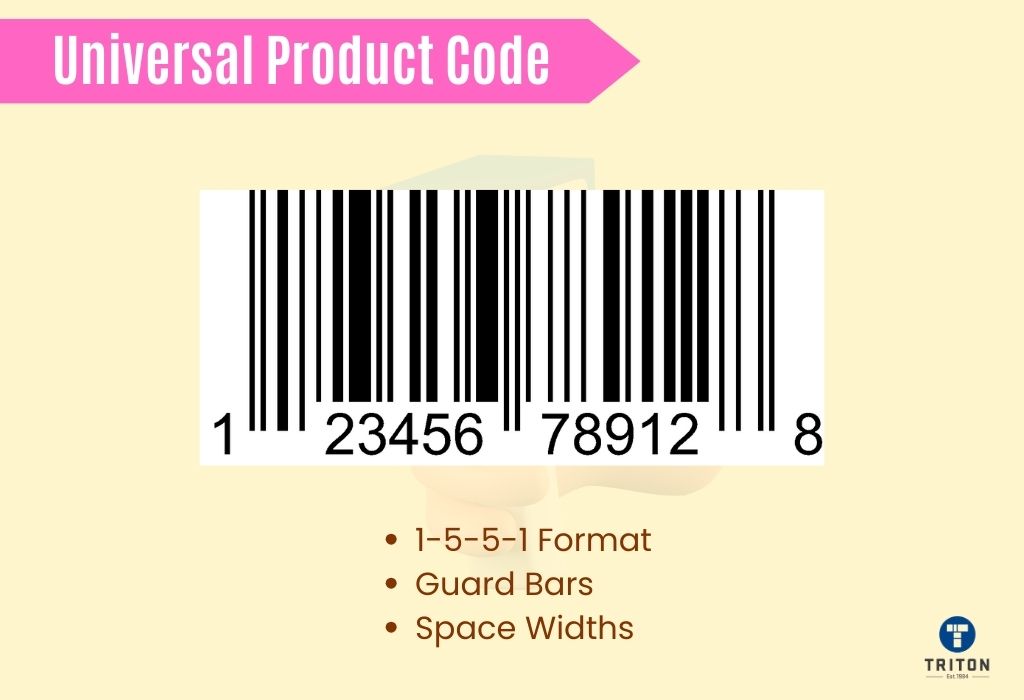 The UPC stands for "Universal Product Code" and is the most common type of 1D barcode. It consists of 12 numeric digits with a 10-digit GS1 company prefix followed by one check digit and a product number.
UPCs are mostly used for retail products, allowing them to be identified upon purchase.
Here's how you can visually identify a UPC barcode.
Look for the 1-5-5-1 format: A UPC barcode symbol is made up of 12 individual numbers grouped into four segments. The arrangement follows a pattern of 1-5-5-1. The 1-5-5-1 pattern means that the barcode starts with a single digit, followed by two groups of five digits each, and ends with a single digit. 

Observe the guard bars: They have guard bars, which are two parallel, equal-height bars located at the beginning, middle, and end of the barcode symbol.

Note the bar and space widths: UPC barcodes use four different bar and space widths to encode each number. These widths vary to represent binary patterns that correspond to the specific digits being encoded. When examining a UPC barcode, you will notice variations in the thickness and spacing of the bars and spaces. The module widths of each bar and space are determined by multiplying the X-dimension by 1, 2, 3, or 4 units.
There are two types of UPCs – UPC-A and UPC-E.
UPC-A commonly called UPC is the standard version of the UPC code. It can be identified by following the above process.
UPC-E, also called 0-Suppressed UPC, is a shortened version of the UPC-A barcode designed for items with limited packaging space. UPC-E encodes a total of eight digits – six numeric message digits, a number system digit, and a check digit. Therefore, if a UPC barcode has only eight digits, it is a UPC-E barcode.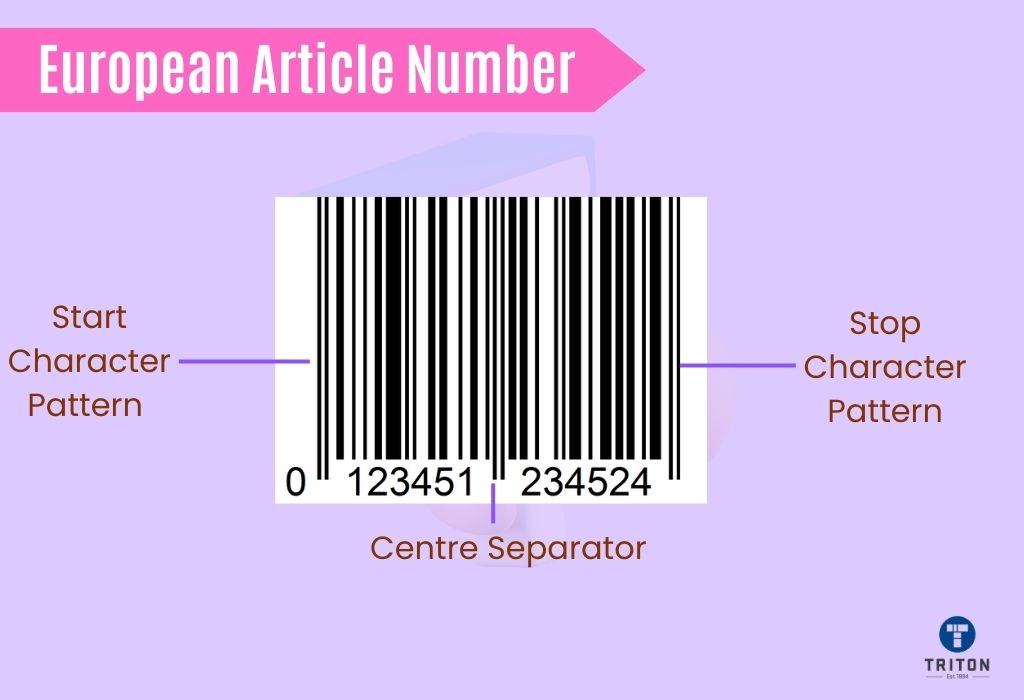 The EAN stands for "European Article Number." These barcodes are similar to UPCs in appearance and function, with the only difference in geographical application.
EAN barcodes can store 2 to 13 numeric digits based on the type used.
Here are the visual cues to identify an EAN barcode.
The start and stop patterns: EAN barcodes always begin and end with two parallel, equal-height thin bars.

Identify the centre separator: EAN features two parallel, equal-height thin bars located in the centre of the barcode. These bars act as separators, dividing the barcode into left and right halves.
There are two types of EAN codes EAN-13 and EAN-8.
EAN-13 is the standard version of the EAN barcode. It encodes 12 numeric digits and a check digit. It can be identified by following the above process.
EAN-8 is the shortened version of the EAN-13 barcode designed for items with limited packaging space. It encodes seven numeric digits and a check digit. Hence, if an EAN barcode has only eight digits, it is an EAN-8 barcode.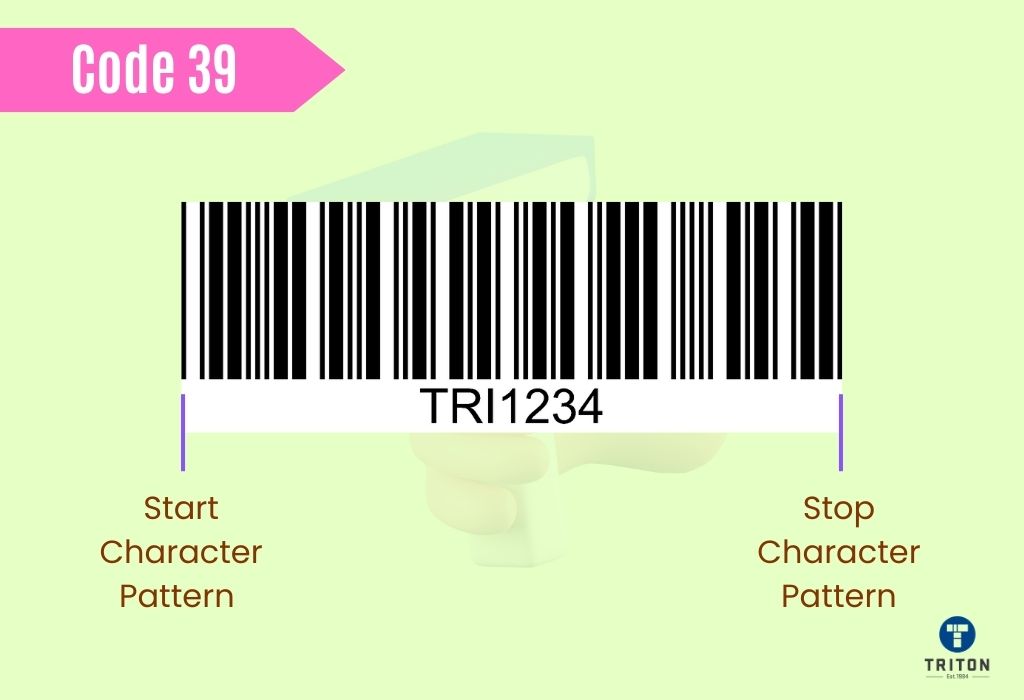 Code 39 barcodes, also known as Alpha39, Code 3/9, Type 39, or Code 3 of 9, is a variable length, discrete symbology used to store alphanumeric data. It is the first alphanumeric barcode format widely used and found in non-retail sectors such as aviation, medical and military.
Code 39 is capable of encoding 43 characters and supports the following data types.
Upper-case letters (A–Z)

Numeric digits (0–9)

Special characters, including.

Slash mark (/)

Period(.)

Hyphen (-)

Plus sign (+)

Dollar sign ($)

Per cent sign (%)

Space symbol
Code 39 can be visually identified by.
Counting the elements: Code 39 barcodes are composed of nine elements, consisting of five bars and four spaces. Among these elements, three are wide bars, and the remaining six are narrow bars.

Look for the start and stop character patterns: The barcode features identical start and stop patterns, each composed of five bars. These patterns consist of the following sequence: a narrow bar, a wide space, another narrow bar, a small space, a wide bar, a small space, a wide bar, a small space and finally, a narrow space.